Barfoot & Thompson Commercial has released its third and final portfolio for this year focusing on the Auckland region only and featuring 22 properties from north, western and southern regions.
John Urlich, commercial manager, says the portfolio includes a variety of properties for sale along with some excellent premises for lease.
"The demand we are currently experiencing for property of all sizes and types and on the back of a series of significant recent sale results leads us to anticipate that the property opportunities contained in this portfolio will be highly sought after," Urlich says.
"Auckland's commercial and industrial property markets have continued their strong gains over the last year with investor demand for good quality stock remaining unsatisfied.
"Low interest rates and a lack of uncomplicated investment alternatives are underpinning the investor demand at current levels of return. Yields demonstrate the strong competitive nature of the current market and do not always reflect the level of risk associated with individual transactions particularly for low valued properties."
Urlich says pent-up tenant demand for good quality office space is resulting in increased development activity. "There is now over 100,000 square metres of office space under construction. To some extent the lack of good quality vacant space within the city centres has encouraged tenants to consider options in other locations with the performance of the suburban office markets improving during 2016.
"Positive net absorption combined with a moderate level of development activity resulted in overall suburban office building vacancy rates dropping by about 1.5 percent over the last 12 months. Development activity is now responding with increasing work in the suburban precincts. Over 65,000 square metres of space is now under construction."
He says the industrial building investment market continues to provide robust returns supported by low interest rates, strong tenant demand, low vacancy rates and growth in rental rates.
"The retail property market has continued to improve this year with good quality vacant retail space difficult to find for prospective tenants."
Urlich says his agency's new portfolio includes retail, office and industrial properties along with development sites which are being marketed for sale by auction, by tender and deadline private treaty.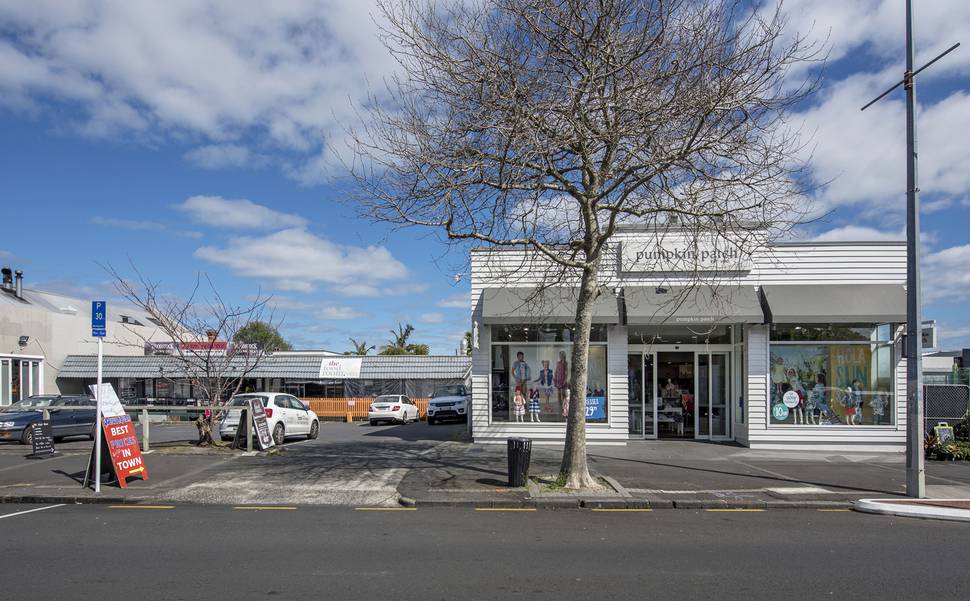 A feature property is a big Ponsonby block on Auckland's western city fringe which has been held by its family owners for many years. It encompasses seven retail and hospitality business tenancies with lease term expiries ranging from 2017 through to 2024.
"The property is held under four titles with a total freehold area of 1900 square metres," says broker Marie-Anne Molloy, who is marketing 244-246 & 250-252 Ponsonby Rd for sale by tender as one package closing at 4pm on Thursday, November 3 - unless sold earlier by negotiation.
"The attributes of the offering with its diverse and strong lease profile will be very attractive to a variety of purchasers including investors, developers and potential owner occupiers," Molloy says.
The property is on the block bounded by Ponsonby Rd, Summer St and O'Neill St with the land contour falling very slightly from the Ponsonby Rd frontage of 61.49m to the west where the rear boundary abuts residential land. The depth to Summer St and O'Neill St is 34.48m and 28.34m respectively.
A variety of addresses comprising the block for sale are:
• 242 Ponsonby Rd - an older type of warehouse built circa 1935 which has been converted into retailing on the road frontage and with a rear refurbished area. Construction generally consists of plastered brick exterior walls, wooden trusses, solid plastered linings, timber flooring, corrugated iron roofing and a glass front facade.
The front southern portion of the building with a net floor area of 159 .11sq m is occupied by Totos Pizza. It generally comprises open space throughout having a frontage to Ponsonby Rd of 5.43m by depth of 13m which then opens out to a width of 10.21m and a depth of 9.53m.
The front northern portion of the building is occupied by a Thai restaurant leasing an area of 80.75sq m which is irregular in shape. It has a main frontage of 4.62m by depth of 12.74m and is also on an irregular shaped site area.
Beyond this area is a rear character refurbished tenancy totalling 126.11sq m and occupied by Little Bird Unbakery leasing 116.34sq m plus a mezzanine storage area of 9.77sq m.
• 252 Ponsonby Rd - a vacant land area of about 167sq m occupied by the Ponsonby Plant Centre with four open car spaces provided at the rear of the centre.
• 246-248 Ponsonby Rd - a rectangular shaped retail building built circa 1960 and more recently subdivided into two retailing tenancies containing the Emkay Trading liquor store on the southern side leasing 75sq m and the Food Room Cafe on the northern side occupying 79.59sq m. Both tenancies are generally open space throughout with the exception of rear toilet rooms.
A large car park is located in front of the building accommodating 14 cars on asphalt seal. "This is of considerable benefit on Ponsonby Rd where car parking is at a premium," Molloy says.
• 250-252 Ponsonby Rd - a modern retail building built in 2011 with a net floor area of 278sq m and occupied by Pumpkin Patch Ponsonby Rd. Construction mainly consists of concrete flooring, steel beam framing, weatherboard exterior walls, glass front facade, galvanised iron roofing, netting and sisilation. The building is generally open retailing space throughout with the exception of a rear toilet room.
The property is of rectangular shape with site plans indicating the longest retail frontage to Ponsonby Rd of 60m.
Molloy says the block for sale is situated within the popular commercial strip of Ponsonby Rd and is surrounded by a mix of converted villas, apartments, offices, boutique retail outlets, cafes and restaurants.
"This area has seen substantial growth in recent times and is now regarded as one of Auckland's most upmarket shopping precincts," she says. "Public transport in this area along major arterial routes is excellent and the locality is conveniently situated within 2.5km to Auckland's CBD to the east while bordering affluent city fringe suburban residential areas.
"Access to and from the motorway network in a northerly direction is within 1.5km and 2km in a southerly direction."
Under the recently confirmed Unitary Plan, the property is zoned Business - Town Centre Zone Ponsonby with a maximum height of 13m. The zoning is applied to suburban centres throughout Auckland with the centres typically located on main arterial roads, which provide good public transport access.
The objectives of the zoning under the Unitary Plan are to encourage a network of town centres that are the focus of commercial, residential, community and civic activities for the surrounding area. The scale and intensity of development in town centres is increased while ensuring development is in keeping with the centre's planned future character. Key retail streets are identified to support focal points of pedestrian activity.
"This is one of Auckland's hottest locations and seldom do we see a property like this come to the market," Molloy says.