24 HENARE PLACE, ROTORUA
SIZE: Land 2966sq m, house 345sq m.
PRICE INDICATION: Circa $2.7 million.
INSPECT: By appointment.
SCHOOL ZONES: Rotorua School (primary), Rotorua Lakes High School.
CONTACT: Kathryn Passier, imarket real estate, ph 022 464 7774.
As a teenager, Steve Perrett used to hang out with mates on the piece of land he bought nine years ago in Rotorua.
"I actually buy and sell a bit of property and I just came for a drive up here and saw this. I remembered hanging out here and I thought, 'I've got to have this'. So I sold my house and bought it."
The almost-3000sq m section sits on a pinnacle above Rotorua, with 360-degree views of the entire Rotorua basin, including Lake Rotorua and Mokoia Island, Whakarewarewa Forest, surrounding farmland and mountain ranges to the south. Steve was determined to build a home worthy of the location, and it was such a labour of love that it was only completed at the end of last year.
"It was a difficult site and a lot of expense so even though it was always going to be a home, I began to think it would be a good idea if it could generate some income," Steve says.
So as he started designing the house, it began to evolve into a building that could work as a lodge as well as a family home. After a long gestation period, he had enough down on paper to brief an architect. He wanted lots of glass, tall windows that all opened, big bedrooms, a kitchen that would be central to everything else in the house, and warmth.
He says the first architect he approached didn't get it, but the second one "wanted to do what I wanted to do and it was great. We worked together and it took about a year to get the final design. Then the house was too big and we had to downsize a bit. But I didn't mind that because I wanted it to be right."
And it is right -- he says there's nothing he'd have done differently.
The classic weatherboard house has accents of schist, but in general is recessive both inside and out, to allow the view to take centre stage.
"I didn't want people to be distracted from the view, so I added a few artworks and some tropical touches like the Tasmanian oak floors, but that was it," he says.
When the house is occupied, Steve and his partner stay at her place on the outskirts of town. "But when there's no one here, it's our home and it's actually a fun way to live because every time we come back it's a bit like a holiday."
Sitting on a massive platform at one end of a ridge, the house can sleep up to nine people. The kitchen Steve was determined would be the central point of the house has engineered stone benchtops, dual dishwashers, a 900mm induction hob, a 900mm pyrolytic oven, and a butler's pantry.
The adjoining lounge on a slightly lower level has a double-sided gas fire, boosted with underfloor heating, and there's a dedicated media room with a high end sound system and 60" smart TV.
The whole first floor is dedicated to the master suite, which includes a walk-through wardrobe, lounge, office area and en suite. Private balconies allow access to the views. At night, the lights reflecting off the water give the impression of a much larger city below.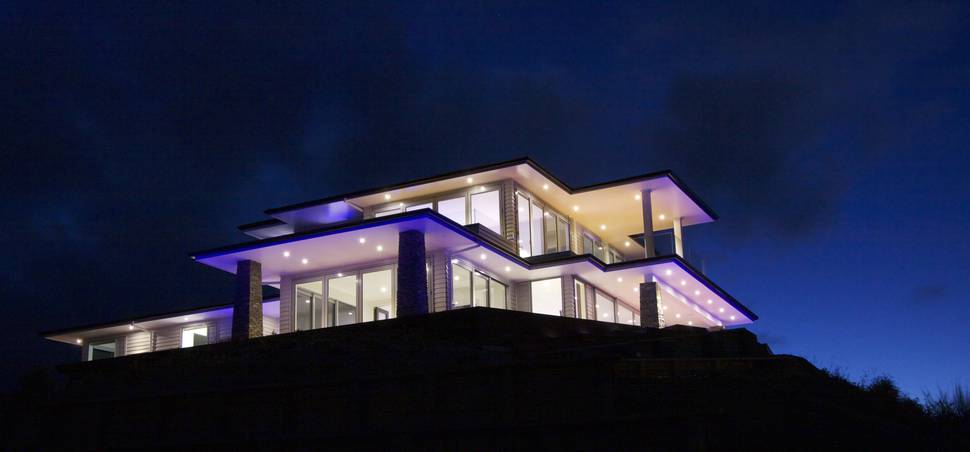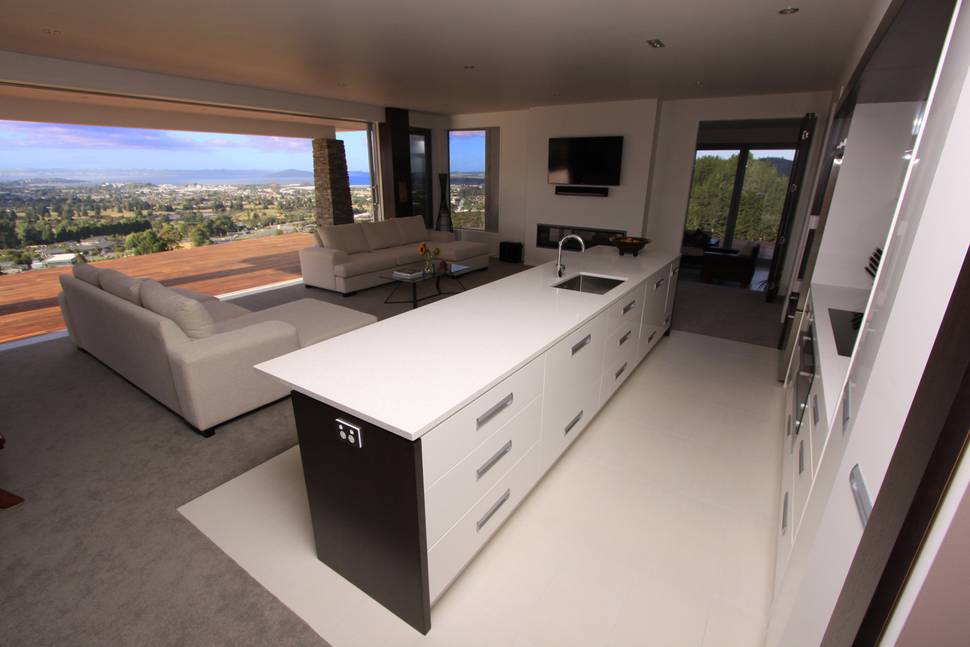 The guest suites have similar attributes, including full en suites with double-ended baths, and serene bush views.
Steve started planting the site soon after he bought it and has put in 500 native trees. "I wanted to encircle the house with natives," he says.
When the property sells he plans to take a holiday, and give himself time to kick back and re-evaluate things.
"I'll really miss the peace up here," he says, "but I'm young and I want to keep moving. I'm on for a new adventure."