SOMERSBY HOUSE, 5789 STATE HIGHWAY 27, MATAMATA
SIZE: Land 1.46ha, house 343sq m.
PRICE INDICATION: CV $850,000. Auction December 12.
INSPECT: Sun 2pm-3pm. Or by appointment.
SCHOOL ZONES: Firth School, Matamata Christian School, Matamata College, Matamata Intermediate, Matamata Primary, St Joseph's Catholic School, Te Poi School.
CONTACT: Neville Jacques, Bayleys, ph 021 774 190 or 07 881 9241.
FEATURES: Large English-style homestead in park-like grounds with tennis court and in- ground swimming pool. Family room as well as formal dining and formal lounge. Self-contained flat. Extra garaging and storage in 400sq m shed with mains power.
Ron and Robyn Donaldson drove past what was to be their future home many times when they were living in Tauranga. Trips to Auckland took them past iconic Somersby House in Matamata and, although they admired it, it was a little dilapidated by the time the opportunity to buy it arose.
"We were driving past one day and saw there was an open home on, so we went in," Robyn recalls. "We fell in love with it immediately, despite all the work that needed to be done."
They decided half jokingly that the restoration would probably kill them, and bought it. Happily, it didn't kill them, but it was far from the typical renovation people carry out on their homes.
Built in the 1950s, the house was originally the home of Ronald Candy, a pioneer in dairy beef production. His farm was a showplace noted for high production, and he was instrumental in establishing dairy beef as important to dairy industry production. He employed a carpenter full-time for 18 months to build the house.
Somersby House was later subdivided from the main property and now sits on 1.46ha of garden, which has also been part of Ron and Robyn's renovation.
"We regarded this project as a job," Robyn says. "We'd wake up at 7am and discuss the itinerary for the day over a cup of tea in bed."
The superb views from the bedroom across green countryside to the Kaimai Ranges did not distract them from the blackberry in the pool, work to do on the sheds, the tennis court to restore, and the entire house to refurbish.
Inside, many doors and windows needed replacing. Much of the woodwork was rimu, and the new windows were double-glazed, which Robyn says made a huge difference to the house's warmth over winter. They also added wide Venetian blinds throughout, and got the five fireplaces into working order.
The interior was repainted, and Ron and Robyn actually managed to restore the original wallpaper in the great lounge, where a superb Art Deco fireplace and chandeliers contribute to the period style. There's also a more casual family living room, and formal and casual dining rooms.
The kitchen, though renovated with contemporary surfaces and appliances, retains its link to the 1950s with a coal range in addition to the modern oven and hob. The five bedrooms, three bathrooms, spa and sauna also offer modern comforts.
It's been a perfect property for entertaining, and they've celebrated three Christmases with lots of friends and family at a long trestle table under the weeping elm.
The garden and its huge trees have always been Robyn's passion.
"I think that's why we always loved this place," she says. "You come in off the highway and up a gently winding driveway under beautiful silver birches. There are 60-year-old-trees here - copper beech, weeping elm and cypress."
There are gardens filled with camellias, bluebells and irises, climbing roses over the pergola, and several orchard trees including grapefruit (no sugar needed, Robyn promises), fig, guava, orange, lemon and passionfruit.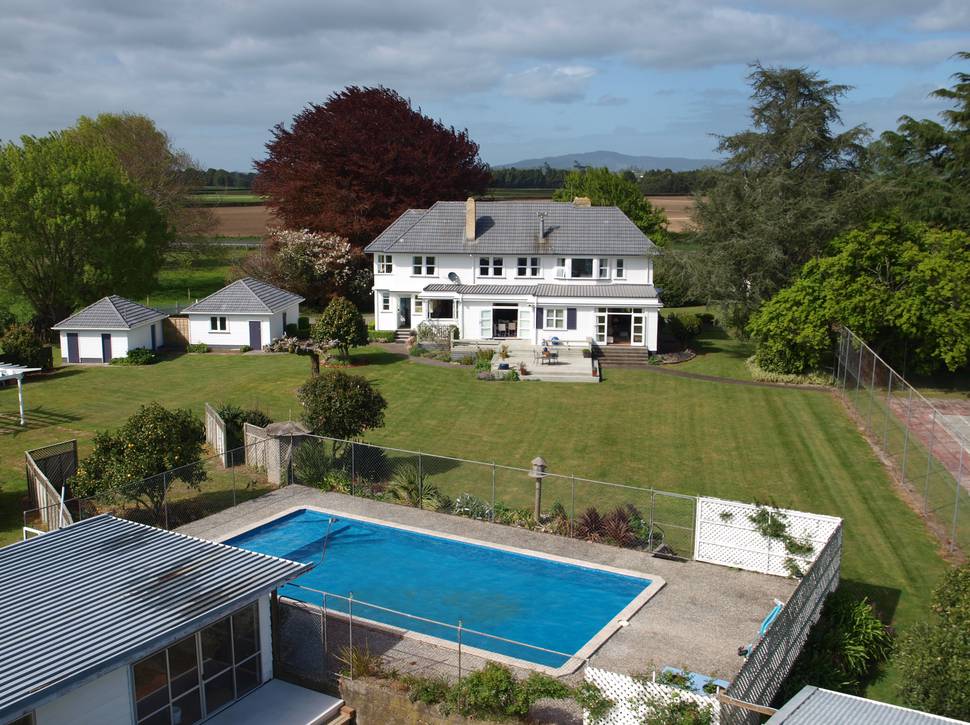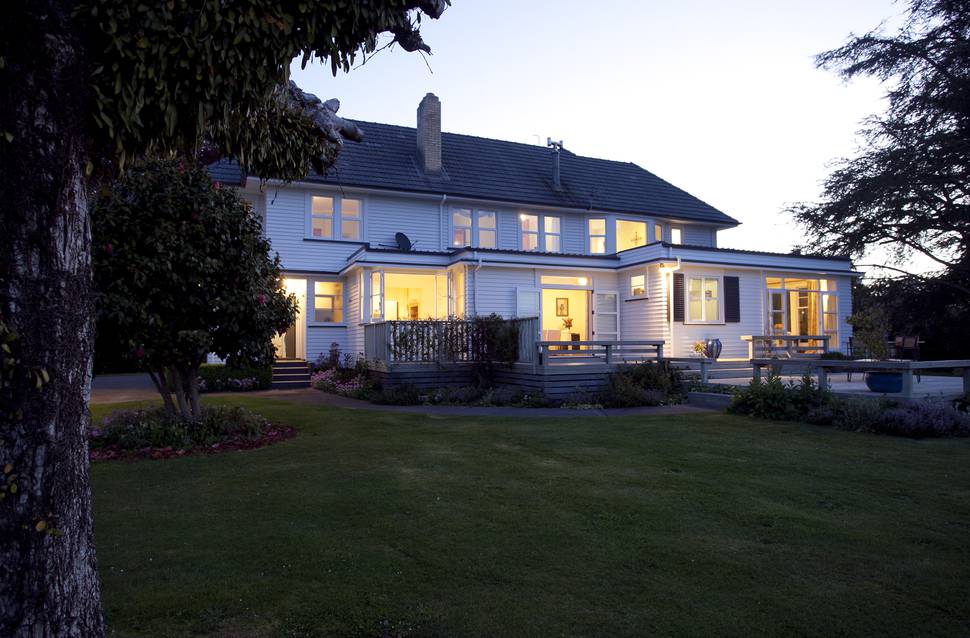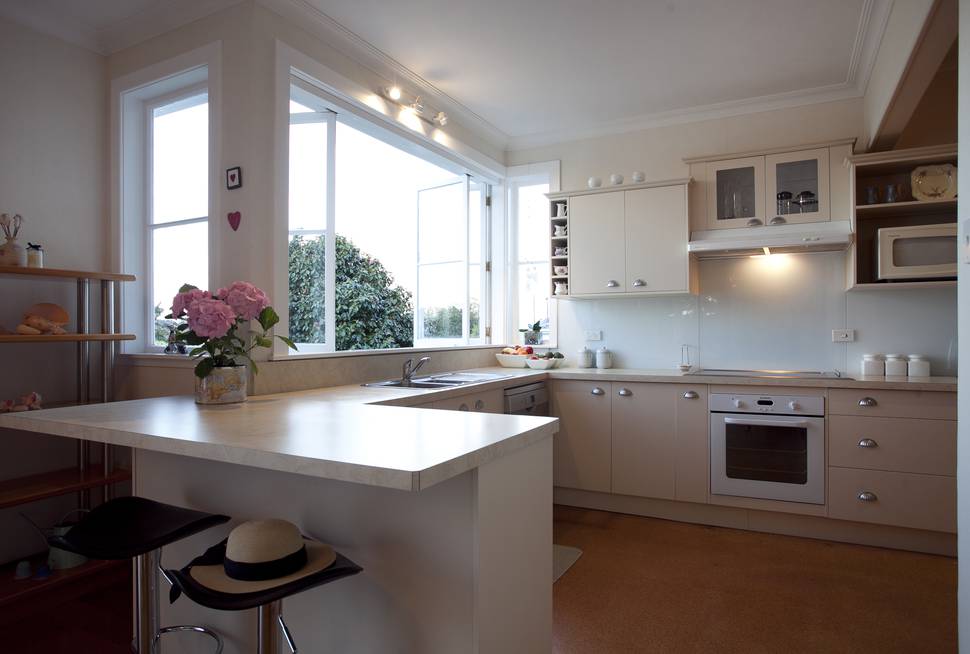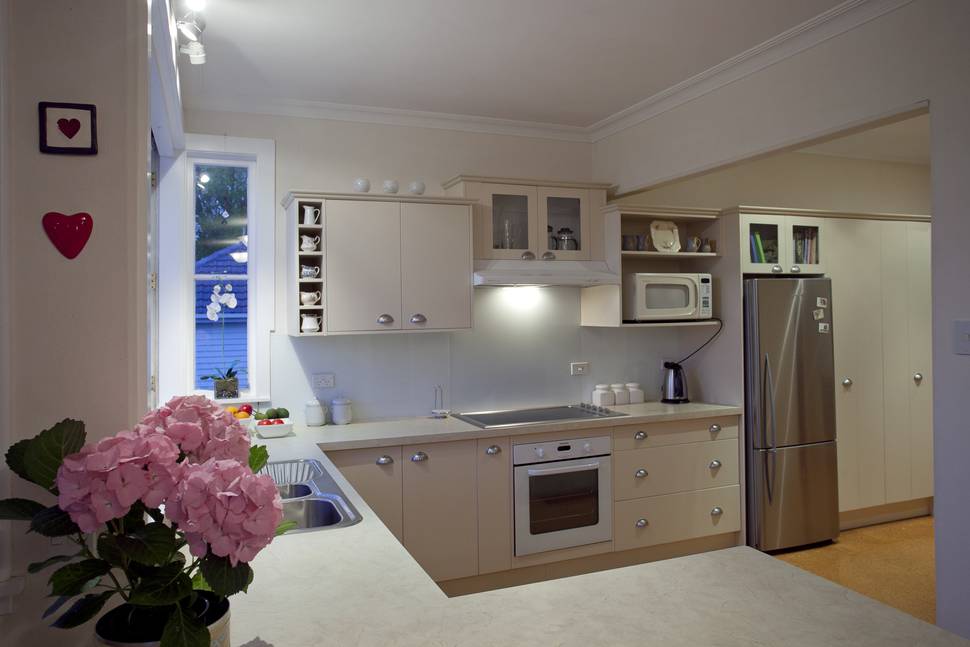 "That's what I'll miss the most when we leave here," Robyn says. "We'd like to stay in the area because we love living in the country but being close to the main cities. All my family is in Auckland and it's only an hour and a half to the North Shore, 40 minutes to Hamilton and 45 minutes to Tauranga."
Now, though, all their children are in Australia and looking after Somersby House, its grounds, swimming pool and tennis court is a big commitment.
"It's too big for us. Ron and I rattle around in here with just the cat."