Northland teachers appeared to be in favour of a two-day strike if more industrial action is required after further negotiations with the Government.
Up to 2000 Northland teachers, parents and children marched through Whangārei, Kerikeri, Kaitaia and Dargaville yesterday asking for better working conditions and better pay.
At a pre-march gathering in Whangārei's Forum North, the crowd was informally asked if they preferred rolling geographical strikes or a two-day national strike.
There was a much louder response to the two-day strike option, which mirrored the response by the thousands of teachers asked the same question in Auckland's Aotea Square.
No dates had been set for a further strike, which would only happen if the next round of talks with the Ministry of Education failed to make progress on August 24.
Nationally, close to 30,000 teachers took to the streets.
Te Tai Tokerau Principals Association president Pat Newman said teachers were deadly serious about future strikes.
"Quite simply I hope we don't have to do either, it's in the hands of the Government."
Newman favoured the two-day strike, because it meant everyone was off at the same time, and he thought it would be easier for parents.
Whangārei intermediate teacher Neke Adams said she marched for the kids.
"To make a stand to make sure they're given what they deserve."
Morningside School teacher Michelle Evans was at the march with her two sons.
"Sometimes I'm doing more time teaching and doing home stuff than spending time with these guys, which is why we're here today. We want to make a change."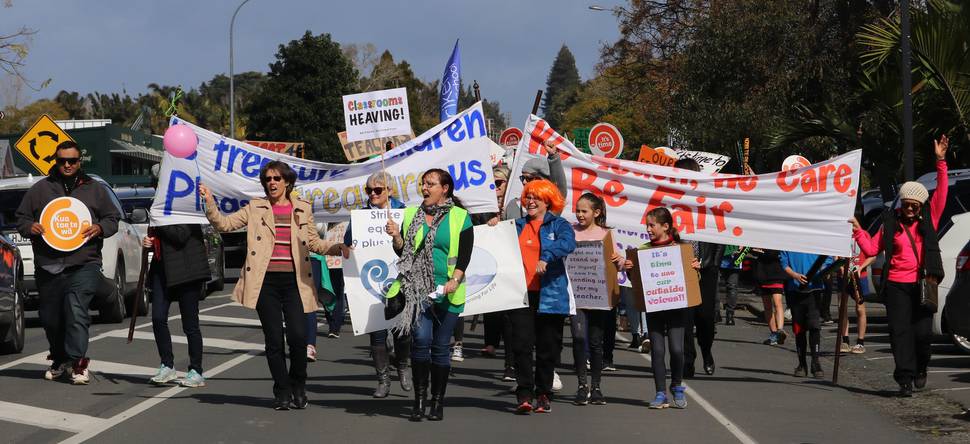 Meanwhile, an estimated 300 people marched through Kerikeri in the biggest protest the town has seen in many years.
Most schools in the wider Bay of Islands, including Kawakawa, Kaikohe and Kaeo were represented.
Opua School new entrants teacher and NZEI Bay of Islands president Juliette Ridge said members were calling for less paperwork, more support for children with special needs, and more pay.
A ''pay jolt'' was needed to attract people to the profession, which had seen a sharp drop in trainee numbers.
''The Government has indicated they believe what we're saying but they're not prepared at the moment to put their money where their mouth is,'' Ridge said.
Several hundred teachers and supporters marched from Kaitaia Intermediate School to the old Pak'nSave in the town's main street.
Northern Wairoa NZEI branch president James Nyssen said about 60 people gathered for a march in Dargaville.
"We're pleased we had something here in Dargaville."
He said it was important to make their community aware of the plight of teachers.
The marches were well received, with plenty of toots from cars and workers coming out of shops to show their support.
The Ministry of Education had offered to increase pay, in most cases, by between 2.2 and 2.6 per cent a year for three years, well short of the 16 per cent teachers are seeking over two years to retain current teachers and recruit new ones.
Prime Minister Jacinda Ardern and Education Minister Chris Hipkins spoke to the Wellington rally.
"We have heard the concerns that you've been raising with us. We have heard that you want to be a respected, trusted, and valued profession," Hipkins said.
"We are here to show you that we are listening, and we are here to work with you for hopefully longer than the next nine years, so that you get the support you need to thrive and children need to thrive."