Today, Tuesday, is the deadline for President Donald Trump to file his financial disclosure form for 2017. That fact may seem trivially bureaucratic, but lurking at its core is a dilemma for Trump that continues to metastasise into something ever more grotesque.
The need to submit this form shows that in the Stormy Daniels matter, Trump has been boxed in by his lawyer Rudy Giuliani - and by his own tweets - with no good way out.
The Post reports that Stormy's lawyer, Michael Avenatti, is using Trump-like tactics, such as flooding the media zone and trash-talking about his opponents, leading some legal experts to question whether Avenatti is truly acting in his client's best interests. Some Republicans suggest Avenatti is really out to get Trump.
But the Daniels story is being driven to no small degree by Trump himself - by his efforts to outrun the facts, and by the ways in which those facts are catching up with him. And Trump's financial disclosure report will be an important marker in that tale.
Here's the problem for Trump: He needs to decide whether to disclose the debt he incurred to his personal lawyer, Michael Cohen, when Cohen paid $130,000 to Daniels just before the election, buying her silence about their alleged affair. Trump did not disclose this debt in the financial disclosure form he filed one year ago - back when this payment, and Trump's reimbursement of it, remained unknown.
But thanks to Giuliani, we now know that Trump did, in fact, incur this debt to Cohen. In January, the Wall Street Journal broke the news of Cohen's payment to Daniels. But it was Giuliani who recently admitted to Sean Hannity that Trump had paid Cohen back, which forced Trump to issue two tweets acknowledging that he agreed to reimburse Cohen for the payment via a "monthly retainer."
As it is, that blew up Trump's previous lie on Air Force One that he didn't know about the payment. But now it gets worse. Trump is in the awkward position of deciding what to say about his liability to Cohen on his financial disclosure form. "He has to disclose any liability he had over $10,000 at any point in 2017," Noah Bookbinder, the executive director of Citizens for Responsibility and Ethics in Washington, told me Tuesday morning.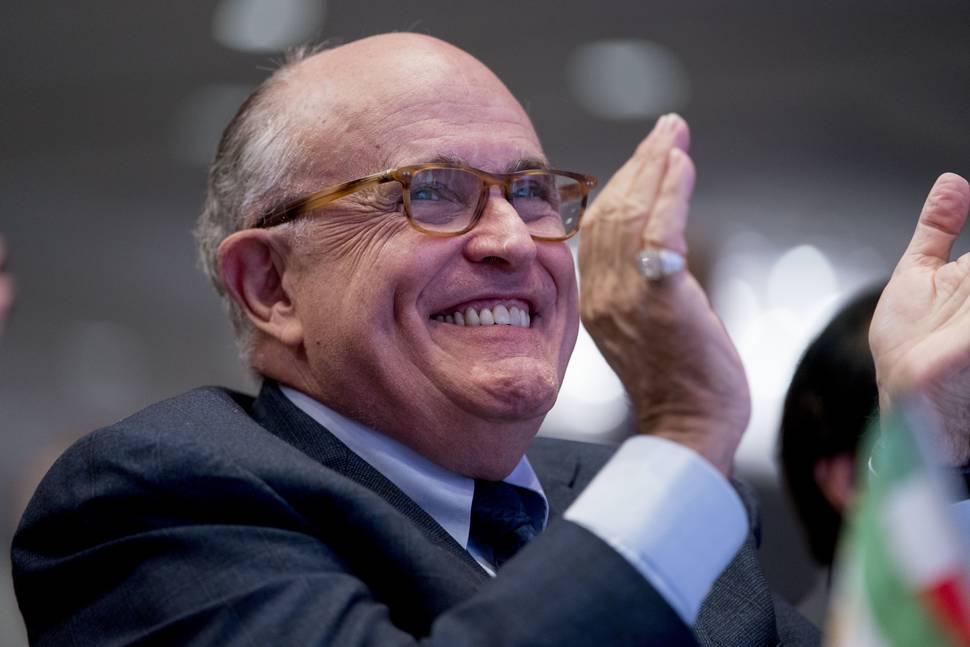 Helpfully enough, Giuliani has also laid out a detailed timeline of Trump's payments to BuzzFeed, acknowledging that Trump agreed to give Cohen $35,000 per month starting early in 2017, which continued throughout the year. "This was a liability of well over $10,000 through much if not all of 2017," Bookbinder told me.
Thanks to Giuliani, Trump's excuse for not disclosing this liability has now evaporated. To justify his failure to disclose it on his 2017 form - which detailed his finances for 2016 - Trump could claim he didn't know about Cohen's payment or make any agreement to reimburse it. Whether that's plausible or not, we can't really disprove it. But now we know that Trump did take on this debt in 2017, because Giuliani compelled him to admit it - by blurting out the truth.
The plot gets even more tangled. That's because we have since learned that Cohen made the payment from a company he created called Essential Consultants, and that Cohen and/or his company may have made payments for Trump to other women as well. Giuliani admitted to ABC News that there may have been other payments, saying: "I would think if it was necessary, yes."
And so, if Trump agreed to reimburse those payments as well, these liabilities would also have to be disclosed on his financial form - because Trump must indicate the amount of his liabilities within a general range. Bookbinder points out to me that the amount of debt Trump acknowledges to Cohen - if, say, he notes liabilities that are well in excess of $130,000 - will raise additional questions along these lines.
"He going to have to check a box that will give us a ballpark" for his liabilities to Cohen, Bookbinder says. "That will tell us a lot about whether there were additional payments by Cohen to benefit the president."
Of course, Trump could try to conceal such additional liabilities while only admitting to reimbursing the Daniels payment. But then he'd be lying on his financial disclosure form, and those payments (and liabilities) could subsequently come out, revealing Trump's effort to conceal them. Trump could also try to find additional loopholes, such as claiming that the reimbursement was a campaign expenditure, which wouldn't have to be noted. But as Walter Shaub and Adav Noti point out in a USA Today piece on this whole dilemma, Giuliani foreclosed that option, too, when he insisted that the payment was not campaign-related.
Trump could very well seek an extension of 30 days on his form. But he can't outrun these facts forever. And hopefully, this will illustrate that there are limits on just how tangled Trump's web of lies can grow before it finally traps him.
Greg Sargent writes The Plum Line blog, a reported opinion blog with a liberal slant — what you might call "opinionated reporting" from the left.