There are no new cases of Covid-19 in the community today.
Prime Minister Jacinda Ardern and director general of health Dr Ashley Bloomfield will hold a press conference at 3pm after a Cabinet meeting.
The last community case reported is Case O which is a household contact of Cases I, J, K and L who all are in the Auckland quarantine facility. Case O was reported last night.
They were moved to the Jetpark Hotel as a precaution on February 23, so were in quarantine during their infectious period which means there is no risk of spread in the community.
Case M and N - the 21-year-old who went to the gym after getting tested for Covid and his mother - have also been moved to the Jetpark along with their other household family members.
Contact tracers have identified 21 close contacts from the Manukau Institute of Technology who are being followed up with.
Health officials said to check the Ministry's website for the specific times where there could have been exposure to the virus.
"The vast majority of people on the campus at the same times as Case M are considered casual contacts and need to watch for symptoms. They do not need to have a test unless they have symptoms, or are a close or casual plus contact. All casual contacts should be limiting their movements and interactions with other people. Under level 3, everyone in Auckland should also currently be staying at home."
There have also been 154 casual plus contacts identified from the student's visits to City Fitness Manukau and Hunters Plaza. These people need to stay home until they get a negative test result.
If you were at the gym on February 20 between 12.20pm - 1.45pm or February 26 between 3.25pm - 4.30pm and have not been contacted then please phone Healthline for advice
The first three cases from the Valentine's cluster - cases A, B and C - have now recovered and left the quarantine facility.
There is also ongoing wastewater testing happening near Papatoetoe High School which continues to be negative.
Boozed at the border
Meanwhile police have thanked motorists for their patience after more than 25,000 vehicles passed through Auckland checkpoints yesterday. A total of 263 vehicles were turned away between 6am and 3.30pm on Sunday, Inspector John Thornley said.
One motororist was arrested at a southern checkpoint at around 3.30am Sunday for alleged drunk and disorderly behaviour. He will be appearing in Hamilton District Court.
Contact tracing for Valentine's cluster
KFC Botany Downs contacts
• There are 11 "close plus" contacts who worked at the KFC with Case L - seven have so far tested negative.
• All other testing relating to the location of interest is negative.
Progress with tests at Papatoetoe High School
• There are 31 close contacts to Case A at the school. Besides her classmate, everyone else has tested negative.
• All the remaining students and staff at the school have been designated as casual plus contacts of Case A.
• There are 1,519 casual plus contacts. As at 8am this morning, 1,514 students and staff have returned at least one negative test result since February 15. Three people - Cases E, I and J - tested positive.
• All casual plus contacts have been told to do follow-up test - more than 97 per cent of results are back and all are negative.
Kmart Botany contacts
• 33 staff members have been identified as close plus contacts. All have tested negative.
• 1,847 people have contacted the Ministry of Health and reported being at the store at the times of interest. These people have been asked to isolate for 14 days and be tested at day 5 and day 12 after their exposure to the case.
• There are 1,794 negative test results for this group.
Dark Vapes East Tamaki
• Seven close and close plus contacts have been identified. All people have returned negative results for their day five test.
If you've been in Auckland
If you live in Auckland or have recently been in Auckland health officials are asking you check the locations of interest in case you might have been infected.
You are also being asked to monitor your health for symptoms - including some of the less usual symptoms like muscle aches and pains and fatigue.
Testing times
There are 10 community testing centres in the Auckland region open today, including six in South and East Auckland. The centres are in Takanini, Wiri, Mangere, Otara, Pakuranga, Balmoral, New Lynn, Henderson, Northcote and Kohuora Park in Papatoetoe.
Health officials reported there being an increased demand for testing but there were manageable queues at the Otara and Takanini testing sites – with wait times of about an hour.
"We understand that this situation is difficult for many and news of alert level changes over the weekend can be frustrating," the Ministry of Health said.
"Now more than ever, people in Auckland need to look out for each other. We appreciate what you are doing is for the benefit for all of us."
There is mental health support available 24/7 by calling 1737.
The ministry asked Kiwis to continue using the Covid Tracer app with 1,314,904 scans in the 24 hours to 1pm on Sunday.
"It's critical to keep track of where you've been and the Covid Tracer app is an easy way to do this. Please continue to scan QR codes wherever you go and turn on Bluetooth tracing in the app dashboard if you haven't already done so."
On Sunday there were 4,648 tests processed but community testing centres and GPs reported being busy yesterday so officials expected to have the results of those tests tomorrow.
The total number of active cases in New Zealand is 67. Our total number of confirmed cases is 2,022.
There was also another imported case in managed isolation today. The person flew from India via the UAE and Singapore and tested positive on Day 0.
This morning, Ardern revealed there was a clear chain of transmission to the latest two cases which plunged Auckland into level 3 lockdown for a week.
Family members of the newest cases had contact with people from the second case during the last 72-hour lockdown when they were meant to be isolating.
While infectious, the 21-year-old then visited a number of high-risk environments, including the Manukau Institute of Technology, work and the gym.
How Covid spread
Ardern told Newstalk ZB's Mike Hosking this means there was a direct chain of transmission in the current outbreak.
After a number of interviews officials discovered the new contact - the two families had contact under alert level 3 last weekend.
"Obviously we've had contact here in level 3 when it shouldn't have happened," Ardern said.
"This was a family who was already identified as having Covid and so was part of contact tracing and did not identify that they did have contact with this family.
"So that means we go back, we re-interview and say 'now that we have identified that this has happened, we haven't had all of your contacts, are there others?' and we do all we can to identify whether or not there's anyone else that there's been contact with."
"The most important thing to us is people just telling us. Obviously, we've had contact here in level 3 when it should not have happened but the best thing people can do is still tell us the truth," said Ardern.
"Had we known this, the other family that we've now found a week later, they would have been a close contact and they would have been in quarantine and we would not have had this situation. The truth is so important to us."
Ardern told The AM Show the person had been interviewed by officials and did not disclose the meet-up.
"Whether or not they forgot or lied, I cannot tell you and it's obviously had devastating consequences," she said.
She said whether or not any action would result was not up to her.
"People do dumb things but we're not going to get through this if people pillory them to the point they do not tell the truth."
She said there were multiple breaches that happened across two families at the centre of the outbreak.
"A decision on whether enforcement action happens or not is not mine," she said.
Ardern said she was constantly in two minds over saving people from dying and keeping people onside to follow rules.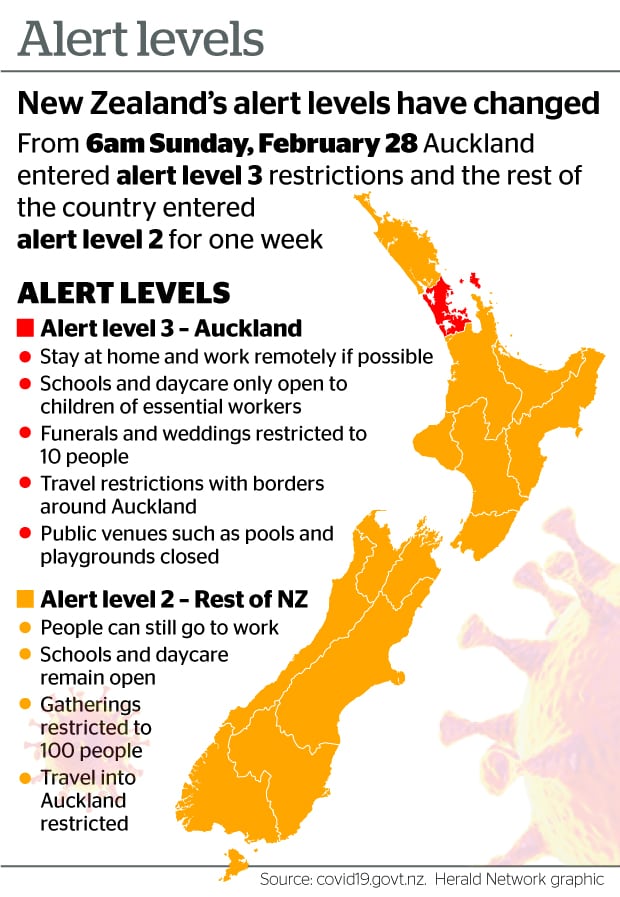 ‌