A Waikato man says he was horrified to find what looked like a maggot crawling around inside a packet of cigarettes he had just bought.
But the incident hasn't put the Te Aroha man off smoking. He returned the packet for another from Te Aroha Mountain Superette and Takeaways on Saturday.
"Bug man" Ruud Kleinpaste and the Ministry for Primary Industries have since solved the riddle as to what the insect was, confirming it was the cigarette beetle, a common insect found in New Zealand.
The man said after peeling off the plastic, opening the lid and then ripping off the tin foil, he was shocked to find three tiny black holes in the filters of three cigarettes and what appeared to be a small insect akin to a maggot crawling round inside.
"I s*** you not, man. I opened a fresh pack and not one hole in the pack and not one hole in the plastic and directly centre, as round as a pencil lead, there were holes inside the filters. And these grubs are crawling out of it.
"I took them back to the store to show [owner] and said check this out.
"These bugs have eaten through foam."
He said he took the cigarette packet straight back to the dairy and he was given a replacement.
Dairy owner Ranjit Singh said he had no idea what the little critter was but he was trying to reach British American Tobacco to find out what happened.
He said it appeared to only affect the one packet of cigarettes as the rest had been sold and none returned.
He was concerned as to how the beetle larvae got into the packet, but Kleinpaste said they were hardy creatures that could chew their way through not only plastic and cardboard but also aluminium.
"Classic cigarette beetle. It's only 2mm, it's tiny. The beetles themselves are even smaller, they're about a millimetre and a half and they're brown and look just like house borer beetles.
Kleinpaste said there were 80,000 beetle species in the world.
"These are a classic stored product pest. So their job is to recycle old material that once lived."
He said he'd had the bug in his cayenne pepper, chocolate and dog biscuits.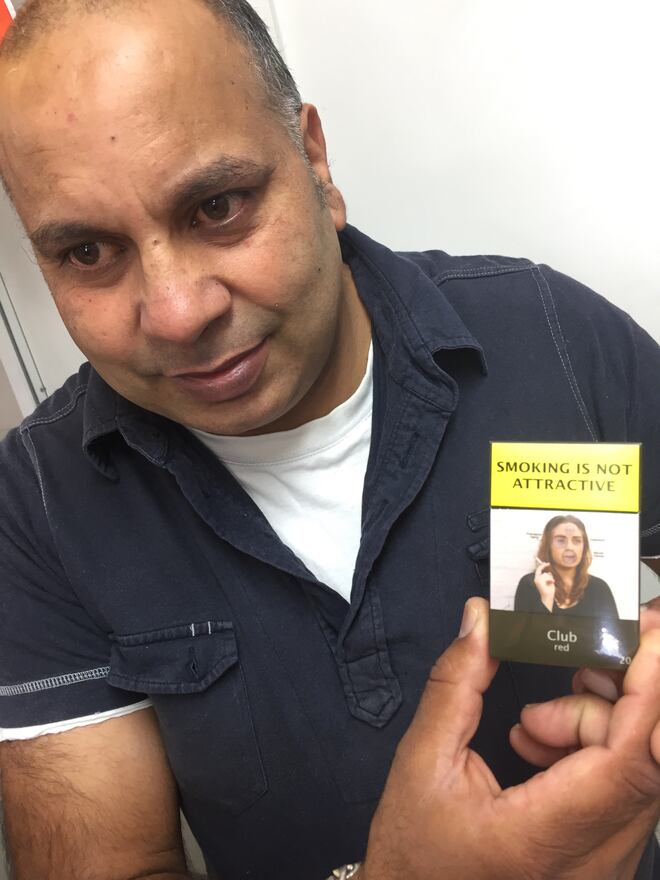 "These are quite catholic in their taste, they're as selective as a vacuum cleaner. They will go for sweet stuff, they'll go for protein."
He said he wouldn't be surprised if all of the tobacco inside the cigarettes had disappeared, having been eaten by the little critter.
"They have diamond-tipped mandibles. They can chew through plastic, they can chew through aluminium foil, they chew through the cardboard of the cigarette pack, through the filter and all they eat in cigarettes is the tobacco, leaving clean paper with some holes in it.
"I find it extraordinary. There must be a lot more in that packet. To be honest, I think that's a seriously cool exhibit."
Kleinpaste said he wouldn't be surprised if there were other beetles nearby.
British American Tobacco New Zealand (BATNZ) confirmed it had received information about a beetle that was found in a packet of cigarettes.
"Although it appears to be an isolated case, we are taking this very seriously," a BATNZ spokesperson said.
"We have been in contact with the Ministry for Primary Industries (MPI) in relation to this incident. We believe any risk can be managed appropriately and will continue to work closely with MPI.
"We apologise to this consumer who bought a product that isn't of the high quality they would usually expect and encourage any consumer who has a concern about their product to call the 0800 number on their tobacco packaging."
A Biosecurity New Zealand spokesman said one of its incursion investigators had looked into the matter and spoken with the dairy owner.
"This appears to be the larva of lasioderma serricorne, commonly known as the cigarette beetle, cigar beetle, or tobacco beetle.
"The female beetle may have laid eggs in the tobacco leaf, which provides a food source.
"The larvae are active and will move around on and bore into the product, feeding as they go."
He said Biosecurity NZ was not concerned about the find as the beetle was a common stored product pest reported in New Zealand.
"Since 2011, lasioderma serricorne has been confirmed 19 times in post-border goods, including cigarettes.
"Anybody who thinks they have seen a suspected exotic pest should contact Biosecurity New Zealand's pests-and-diseases hotline, on 0800 80 99 66."