A young family say they hate to think what could have happened after a fire believed to have started from fireworks nearly burned down their home while they slept.
Jessica Murray, her partner Blake Davison and their 6-month-old daughter Lily were fast asleep in their Kaiapoi home when they heard a banging on their window about 1am today.
"It was our neighbour yelling, 'Your house is on fire'," Murray said.
"It was terrifying, especially having a 6-month-old baby, my heart just dropped."
She and Davison jumped up, grabbed Lily and rushed outside to find their fence, just metres away from their house, had erupted into flames.
Within minutes the trees nearby had also caught fire.
"The flames went from about three metres high to 10m all within minutes. It was absolutely terrifying."
After about 10 minutes, two Fire and Emergency crews arrived and quickly brought the fire under control.
By then the fire had completely destroyed a section of their fence, their deck, several trees and caused heat damage to the house.
The heat pump on the side of the house was destroyed, downpipe melted and windows cracked.
"The firefighters said another few minutes and the house would have gone up in flames, Murray said.
"We are so thankful to them for the quick response and to our neighbours.
"Their dog was whining and trying to get outside. They opened their curtains, and then saw the flames and came over to warn us.
"I keep thinking if the neighbours dog didn't wake everyone up what could have happened.
"We could have woken up to the fire alarm going off with the house being destroyed."
Murray said she heard some people letting off fireworks in the reserve next to their house at about 11.30pm until midnight, but went back to sleep.
About an hour later they woke up to their neighbours banging on the windows.
"We have smoke alarms but these didn't go off, as no smoke came inside. We also have double-glazed windows and so could not hear the fire outside."
The fire had also destroyed their neighbour's playhouse, but their house was further back from the fence and had a big garden in between.
Murray said insurance would cover the damage, but she wanted to see tighter controls on fireworks.
"I agree fireworks should be kept to just public displays and not be sold to the public. These incidents seem to be getting worse and worse. They are being used irresponsibly - it is not safe."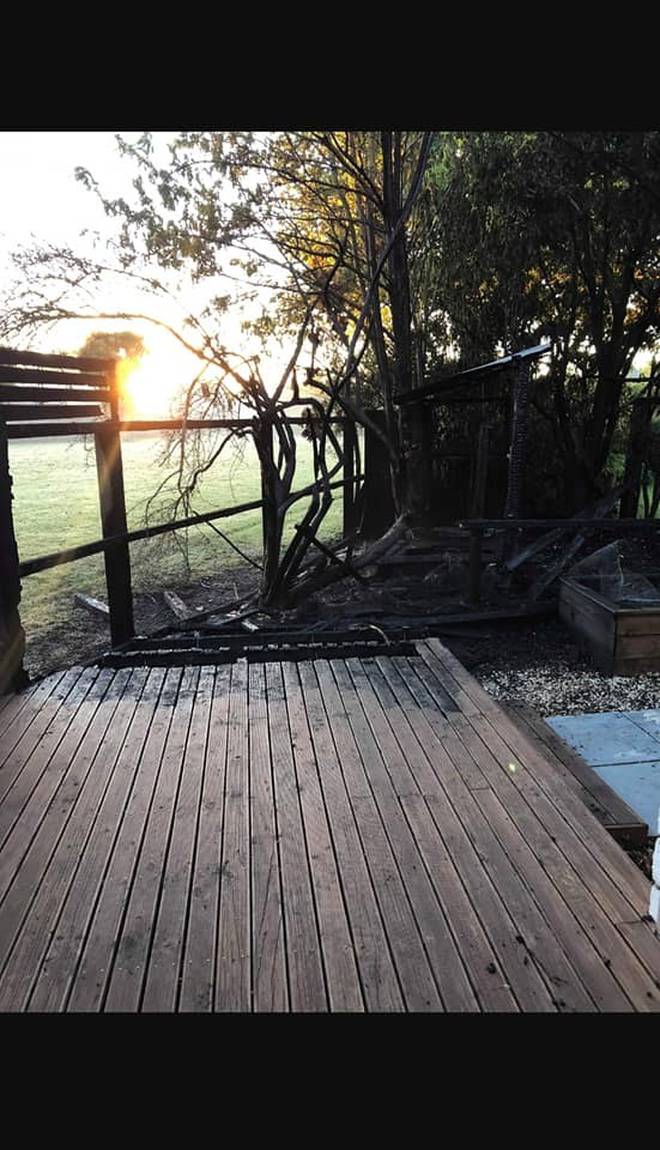 Fire and Emergency southern shift manager Andrew Norris said a call about the fire came in at about 1am.
When the two fire crews arrived they found the fence was completely on fire, with some heat damage to the nearby house. A child's playhouse next to the fence had also caught fire.
It took the eight firefighters about 30 minutes to extinguish the blazes, but the fence and playhouse were completely destroyed.

Norris said the fire was "believed" to have been started by fireworks.