Some of the Bella Vista homeowners protested outside the council offices in central Tauranga this afternoon.
A crowd of about 30 people, including homeowners and their family and friends, supporters and members of the public, gathered in Willow St in the CBD around 3pm.
Some were carrying signs. One said: "Fair Market Value, That's All We Want".
Another said: "TCC Set Us Free".
One of the Bella Vista homeowners, Ron McDiarmid, said he was getting nowhere negotiating with the council.
"The main reason for this protest is because a lot of the public seem to have got an impression this was all dealt with months ago and we just want to get back in the media and let them know it's not been dealt with, not by a long way."
He said it was also about reminding council that the homeowners are still here and are not going anywhere.
"Nothing has changed and we're just miles apart from what they want to offer us and what we want to accept."
Ron and Sarah McDiarmid are joining fellow affected homeowners Lee and Denese Konowe in court next Friday, where their legal fight against the council will begin.
McDiarmid said they are feeling "very confident".
Lee Konowe said he was feeling "optimistic".
"Only because there is a court and there'll be a judge and I'm sure it'll be a fair hearing and a fair hearing is going to give us an outcome we can live with."
Konowe said the court claim for the two households is $1 million each from the council.
He said that claim takes into account the value of the houses, legal costs and there is also a stress component.
The other 18 Bella Vista households who have not yet settled with the council and who are using a different lawyer, were also represented at the protest.
That group has not yet filed legal proceedings but has threatened to.
One of those homeowners, Tony Mann, was outside the council offices with his three young daughters.
He said, in his view, the council had been coming back to them with "ridiculous" offers.
"We're all ratepayers and we want an end to this. This is why we're doing what we're doing. We want an end to it so we can move on."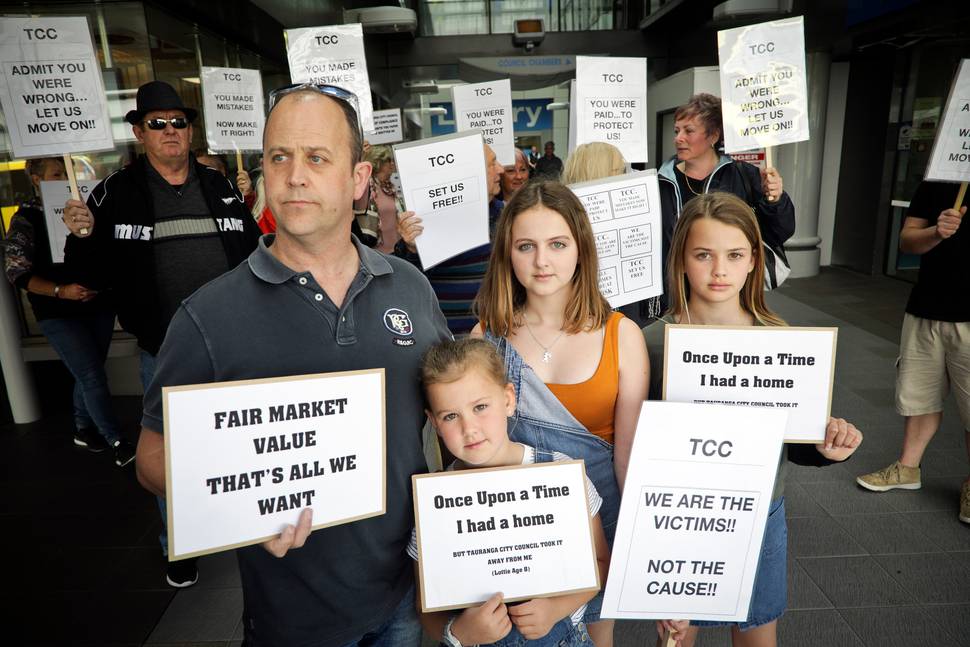 New Tauranga City Council chief executive Marty Grenfell and mayor Greg Brownless met the homeowners outside the offices on Friday afternoon and invited them upstairs for a chat.
Members of the media were not allowed to join them.
The Bay of Plenty Times Weekend asked Grenfell for comment.
In response, he said: "I'd rather speak with the homeowners before we make any comment. We'll go up there and have a conversation and listen to what they've got to say and then perhaps afterwards we can have a chat."
Brownless later said in a statement: "Today around 30 people met outside the Tauranga City Council buildings in Willow St to publically express their views in relation to the Bella Vista situation.
"Myself and the chief executive met personally with the homeowners present and have undertaken to share their messages of concern about the current settlement process with councillors."