Bruce Amas will never forget hearing the news of his brother's death.
It was March 31, 1960, during his wife's birthday party, and the message came by telegram.
Bruce's older brother, George Amas, died of a collapsed lung.
George was serving as a soldier in the Malayan Emergency (1948 to 60), a guerrilla war that arose out of an attempt by the Malayan Communist Party to overthrow the British colonial administration of Malaya.
He was a private in C Company, 2nd Battalion, in the New Zealand Regiment.
At 27, George was a loved sibling of four, happy-go-lucky and the life of the party.
He was one of 15 New Zealanders to die over 12 years of conflict and was buried at Taiping Christian Cemetery, Malaysia, for the next 58 years.
George's remains are returning to Te Awamutu as part of a Government-funded operation called Te Auraki (The Return).
The remains of 27 New Zealand Army soldiers and one child buried in Malaysia and Singapore are being returned to their families at a ramp ceremony in Auckland this morning.
The Amas family is originally from Dunedin, but Bruce and his wife Beth have lived in Te Awamutu for the last 24 years.
"Te Awamutu is my home now, and to bring George back here, that to me is bringing him home."
New Zealand Defence Force (NZDF) is repatriating personnel and dependents buried overseas between 1 January, 1955 and 1971 following a change in Government policy.
Remains have been exhumed from three cemeteries in Malaysia — Taiping Christian Cemetery, Terendak Military Cemetery and Cheras War Cemetery, and Kranji War Cemetery in Singapore.
The military were serving in Malaysia and Vietnam when they died. Twenty-seven were New Zealand Army soldiers and one a Royal New Zealand Air Force Officer.
A child belonging to a member of the New Zealand Army serving in Malaysia at the time has also been disinterred.
The operation follows the repatriation of three NZDF personnel from Fiji and American Samoa in May.
Two Service personnel from the UK will also be returned to New Zealand next month, followed by the return of two Service personnel from Korea in October.
Bruce says the repatriation process has been very well organised and immensely respectful.
"I can't speak highly enough of all personnel who have been involved in this very complex operation."
The disinterment team consists of bio archaeologists and forensic anthropologists from New Zealand universities, as well as NZDF forensic odontologists (dentists) assisting with the identification of remains. The team was led by an NZDF doctor.
An NZDF Chaplain, Kaumātua and Māori cultural advisers will be part of the NZDF contingent to ensure the remains are returned to New Zealand using contemporary cultural, religious and military protocols.
The remains will return to New Zealand on a chartered Air New Zealand Boeing 787 aircraft, accompanied by bearer parties from the 1st Battalion of the Royal New Zealand Infantry Regiment, and a bearer party from the Royal New Zealand Air Force.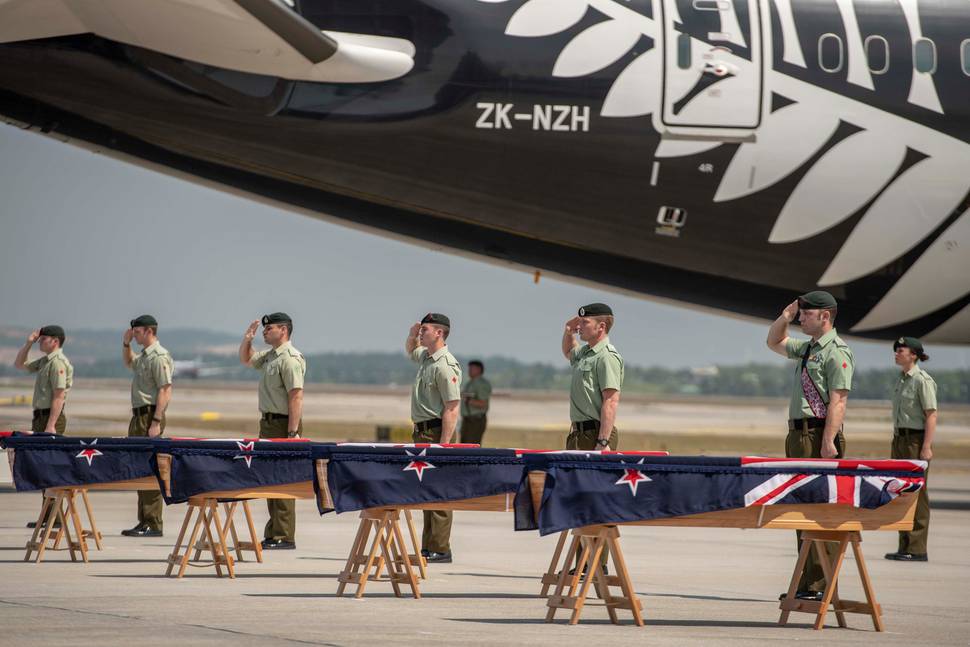 Included in George's bearer party is Private Robbie Soepnel from Te Awamutu.
On arrival at Auckland Airport, they would be handed over to families in a ramp ceremony which includes a guard of honour of Service personnel, haka and pōwhiri.
Te Auraki project manager group captain Carl Nixon says the NZDF is committed to making the project as dignified and respectful as possible for the families of those being repatriated.
"This project is about rectifying the inequalities and inconsistencies of the past, so we will be treating everyone the same, regardless of wealth, rank or cause of death."
"We are grateful to the governments of Malaysia and Singapore and the Commonwealth War Graves Commission for agreeing to the disinterments and caring for the resting places of our people for more than 60 years."
The Te Awamutu RSA is honouring George with a service on Thursday, August 23 before he is laid to rest at the Te Awamutu Cemetery. Gather at the RSA at 1pm, for a service start at 1.30pm.