Walk down a corridor in Tauranga Hospital on a Thursday, and it's likely you'll encounter Matt Ward and his red bandanna-clad dog Rosko.
Each week the pair visit sick patients to help "make them feel a little bit better about being here". Ward said.
The sight is enough to spark smiles from amazed children or make grown men cry.
"We've come in and had people break down in tears when they see us," Ward said.
"For some reason, [dogs] just seem really emotional for people. There was one guy in particular who was really angry and would not eat or talk to anyone, but when he saw us, he was 'oh, there's a dog, look at that'. It was a complete change of personality."
Ward and Rosko, a 50kg German shepherd, have been visiting patients for 18 months.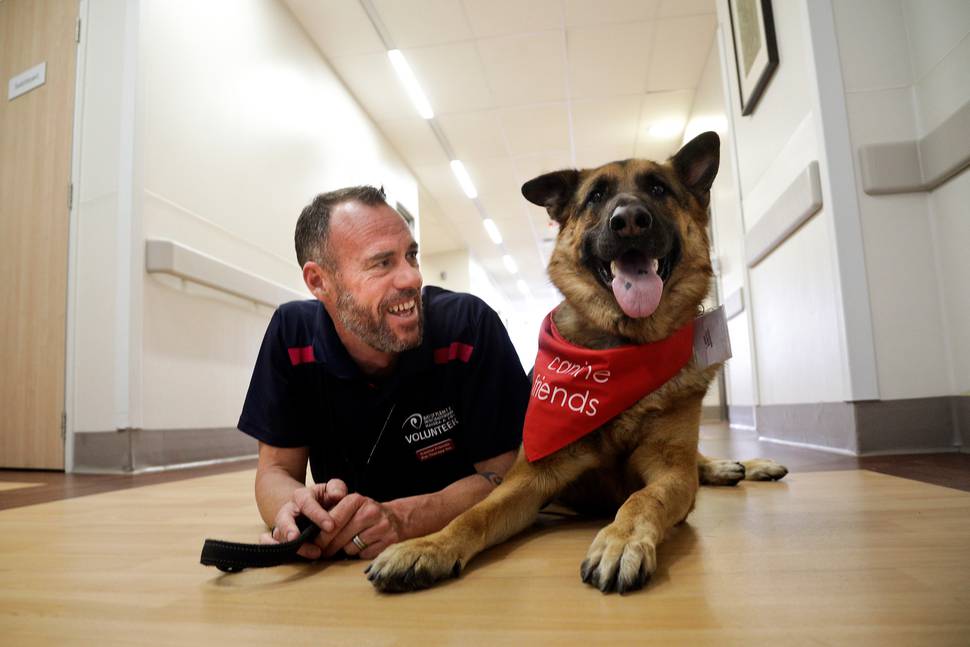 Ward said the idea came from a conversation with a friend who had a therapy dog.
"I thought it would be pretty cool for Rosko to get a job. It just has built from there really. We came in and got such fulfilment that first time, and we did it again and again and again. Eighteen months later, it's still as awesome as the first day."
Ward spends his days as a policeman and loves helping the community via the nature of his role, but he wanted more.
"I thought I'd give it a crack, and haven't looked back."
Rosko "who can be a bit of a goofball" also loved his job.
"When I get the scarf out at home, he knows he's going to the hospital, and he gets excited."
When children run up to him in the corridors, he'll sit down and laps up the pats and attention, Ward said.
Ward also works as a volunteer for Land Search and Rescue and spends many weekends away training or searching for someone.
He said his wife is his biggest supporter, which helps him to help others.
The couple also have Mia, another German shepherd, who he hopes to get involved in Land Search and Rescue.
"It's just cool to give something back," Ward said.
Ward and Rosko are one of 15 dog and handler volunteer teams that work on a roster at the hospital.
Bay of Plenty District Health Board regional manager for volunteer service Lesley Grant said as soon as a dog, and its handler, appear in hospital "people begin to smile and the atmosphere lifts".
"The Volunteer Pet Therapy Team is dedicated to their role in helping accelerate the recovery of patients. They get a great deal of satisfaction from seeing the positive impact they have. They are a humble, caring group of people that I am honoured to have in the BOPDHB Volunteer Service."