A colleague and friend lay wounded on the ground as an unseen gunman lurked in the house above.
Sergeant Campbell Taylor wasn't thinking about the possible consequences when he rushed in to save his fellow officer.
The Armed Offenders Squad member today received the top police award for his brave actions during the Porirua siege two years ago, in which police dog Gazza was killed when gunman Pita Tekira fired a shotgun through a closed door toward a team of officers.
READ MORE: Policeman tells harrowing tale of Porirua siege
Armed stand-off in Porirua: Gunman found dead
Gazza's handler speaks about his 'pretty special' boy
Rest in peace Gazza: Star police dog shot and killed in police incident
The group of police were looking for 29-year-old Tekira in a house on Kokiri Cres because he had breached his bail, when they heard screams coming from a bedroom upstairs.
Dog handler Constable Joshua Robertson tried to enter the room, but the door was slammed shut and a shot fired through, hitting Gazza.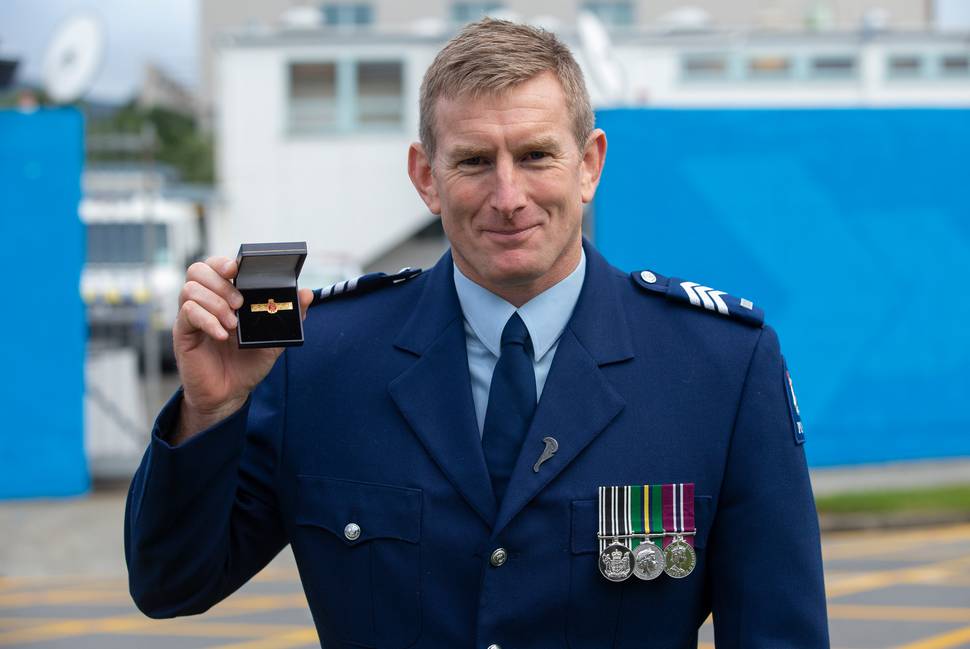 Sergeant Jonathan Westrupp had been standing in the doorway of a nearby bathroom and worried that if he made a run for it Tekira would hear and shoot him through the wall. He decided instead to leap from a second-storey window, badly injuring himself in the process.
Taylor left his place of cover to pull Westrupp to safety.
Tekira was holed up for nearly 23 hours after the shooting.
He was found dead at the scene the next day.
Taylor received the Commissioner's Gold Merit Award at a ceremony in Porirua today, but told the Herald the recognition was completely unexpected.
"It's a little bit strange, really, it's not something that I ever anticipated coming from the incident," he said.
Westrupp and Robertson, as well as Constables Giulia Boffa, Sean Burn and Rob Eastham, all received the District Commander's Commendation for their role in Operation Kokiri.
Burn was commended for his courage in, despite being unarmed, leaving his place of cover to run up the street and warn the public of the danger.
Eastham was also commended for his professionalism in choosing not to return fire with Tekira due to the risk it could pose to unevacuated residents nearby.
Taylor said he did not see his actions that day as bravery.
"The main part around it was a colleague and friend of mine that I've known for a number of years was there and was in harm's way, and I would like to think that anyone in my situation would have done the same thing, you know, not wanting to see someone like that in that position and being horribly exposed to something else that could happen to them."
The main thing in his mind as he ran out of his place of cover to reach Westrupp was that he didn't know where in the house the gunman was.
"Second to that, that Jono was lying on the ground and basically in the open. I needed to get to him and get him to somewhere safe."
It was "hard to say" what Taylor was feeling at the time, but "adrenaline just kicked in".
Taylor, who has been in the police for nearly 19 years, said the biggest thing that has stayed with him from the incident is the strong bond he shares with the other officers involved.
"It becomes a little bit of a group that no one else kind of gets an understanding of.
"It's just strengthened those ties and those friendships that we had."
When asked how it felt knowing his actions may have saved his colleague's life, Taylor said Westrupp himself had already said as much to him.
"It's humbling to have him think that. I suppose training just kicked in. I just need to get him and get him safe and never really thought about the consequences or what was going to happen.
"To be recognised like this ... is something that I'll remember for as long as I live."