Rifle shots are expected to ring out at the Hastings cenotaph at dawn on Wednesday as old soldiers continue an early-morning Anzac Day tradition that has been halted in other places.
While the Defence Force is no longer supplying firing parties and the Christchurch police are said to have quashed Returned and Services Association plans for a volley to be shot, former soldiers will still be loading up their blanks for the annual dawn service in Hastings.
Napier man Mark Bixley said he and about 13 other former soldiers had fired off a volley at Anzac Day parades for many years. The group would practice at the Hastings cenotaph today.
The tradition had begun with serving members of the Armoured Corps and was continued with former members of it and "a few ring-ins" who had been in other Army units.
"We have our front rank in World War I and World War II uniforms and the rear rank in Korea/Vietnam [War] and more modern uniforms representing the different eras of battle and to honour them all," said Bixley.
Earlier this month, the Christchurch RSA spoke of its disappointment at the Defence Force's withdrawal from the tradition.
The firing of volleys of gun shots into the air had long been a tradition at some Anzac Day services, although the Auckland RSA said Auckland had never had a firing party at its dawn service.
The Defence Force said in a letter to RSA branch presidents that firing parties would not be provided at Anzac Day services from this year on.
"Firing parties are a legacy from post-First World War Anzac Day services when the occasions were funereal in nature allowing the public to come together to mourn for family members who would never have a funeral at home."
The practice would, however, continue at "entitled military funerals and at designated sunset ceremonies".
READ MORE:
Anzac Day gun shots cancelled at dawn services, war veterans upset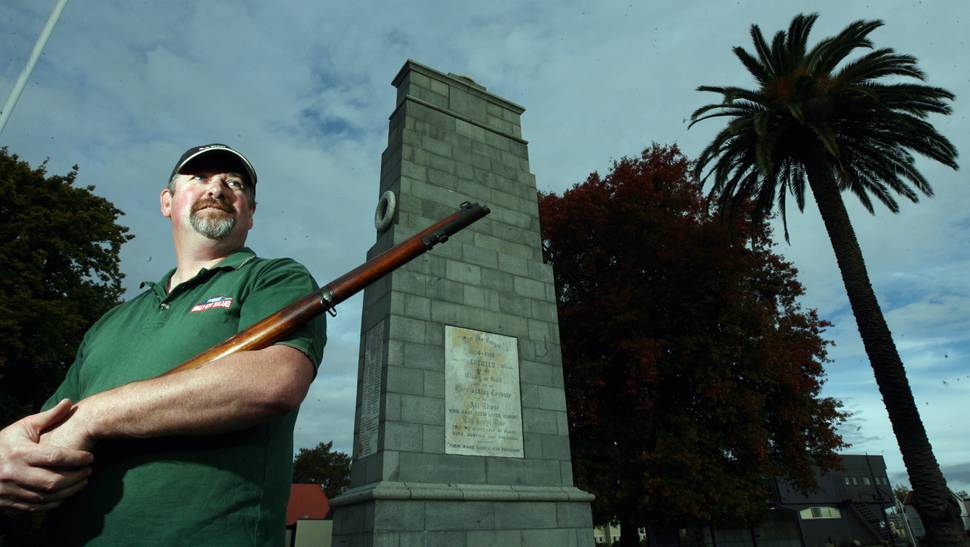 Bixley said the key was to keep the police and others informed.
"We always are in contact with them to let them know when we will be practicing and normally our weapons also get stored in the police armoury for the days leading up to Anzac so we don't have to carry them to the event on the morning.
"We have never ever had a problem with members of the public getting scared that there are 'men with guns' even when in civilian clothing for our practice session…"
"The only time we ever had a problem was in 1996 after Constable Glenn McKibbin had been killed by Terrence Thompson as we had contacted the station as normal but nothing had been handed on to control in Wellington and the Armed Offenders [Squad] turned up after hearing the gun shots as they were on a heightened state of alert after Thompson had made further threats to police.
"They were quickly set at ease when we talked to them and were even quite interested to see what we did.
"We do this with great pride and devotion to honour those ex-service men and women and off our own backs with supplying both uniforms, weapons and ammo …"