A woman has described dramatic moments - including motorists running to help and a baby being cradled in the back of an ambulance - after a serious two-car crash on Auckland's Southern Motorway that left one person fighting for their life.
Annie Beattie was in the passenger seat three cars back when traffic came to a sudden halt in the southbound lanes between East Tamaki Rd and Te Irirangi Dr.
The crash was one of two incidents on the Southern Motorway that caused traffic chaos for motorists.
The NZ Transport Agency said all lanes were open again by 1.50pm but delays are expected until traffic clears.

The response of other motorists to the crash was amazing, Beattie said.
"Everyone was just running from every direction. It was really heartwarming to see no one hesitating."
She saw six people righting a flipped car, which was "really badly crushed, both ends", Beattie said.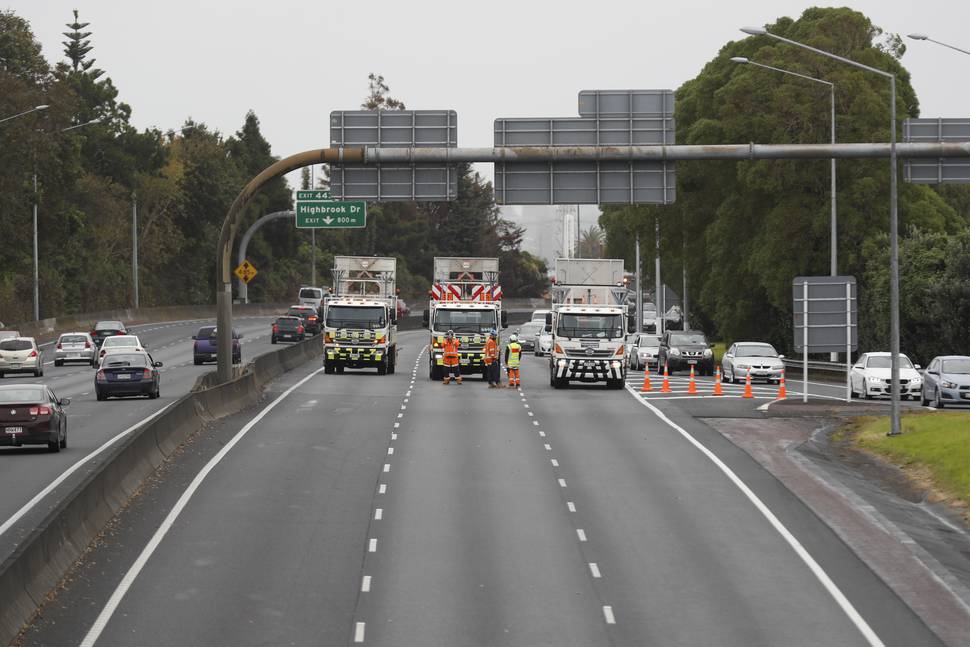 Those who helped later told her there were four adults and a baby in the car, but she believed the baby was ok.
"We saw it in the ambulance being cradled by someone in civilian clothes ... it looked ok."
The baby appeared to be about a year old, she said.
Beattie, who was travelling to a funeral in Katikati, left her home about 11am and by about 12.30pm she was near the Papakura off-ramp.
Police had opened one lane to allow traffic through, after earlier closing all southbound lanes between East Tamaki and Manukau.
But the NZTA warned motorists to expect long delays.
Auckland Transport Operations' Centre manager Rua Pani recommended avoiding the area or delaying travel.
"Alternative routes south are to use Great South Rd for shorter journeys or to go by the Western Ring Route taking SH16 and SH20 to reconnect with SH1 south of the crash site.
"Traffic is backing up in both directions on the motorway with southbound traffic queued back to Mt Wellington. All northbound lanes are open but rubberneckers are causing traffic to build up and queues are back to Manukau," Pani said just after 1pm.
Real time information is available by calling 0800 4 HIGHWAYS (0800 44 44 49), going to www.nzta.govt.nz/traffic or on twitter at https://twitter.com/NZTAAkl
Three ambulances and two fire engines were at the scene earlier and police confirmed one person had been critically injured in the 11.30am crash.
Traffic was "bloody heavy" going south and slow northbound, a photographer at the scene said.
The Serious Crash Unit was at the scene.
Two people had earlier been reportedly trapped in the wreck, a police spokeswoman said.
Another crash - between a truck and at least one car - happened near Greenlane and blocked two northbound lanes.
An earlier crash that had blocked lanes in the opposite direction was now clear of the road - but authorities warned of significant delays in both directions.
A police spokeswoman said no one was hurt in that incident.
NZTA says motorists should avoid the area or face "significant delays".
A man travelling south on the Southern Motorway said traffic was at a standstill as far south as the Panama Rd area in Mt Wellington - more than 6km from Greenlane.
And it was building further south than there, the man said.
"There's a fire engine stuck in traffic as well ... I won't be going north anytime soon."
Meanwhile, an ambulance was blocking a northbound lane on State Highway 2 at Upper Hutt after a crash on a nearby street.
A police spokeswoman said a car had crashed at River Rd, south of the Totara Park Rd turnoff, but the ambulance had to stop on the motorway to access the scene safely.
Four people involved in the crash had minor injuries.