After three days without power stricken Piha residents have been told it will be well into next week before their electricity is restored.
While Vector this afternoon said it had made good progress restoring power - with 95 per cent of customers restored - the remote West Auckland coastal community was still in the dark about when they would be restored.
Piha was yesterday on a list of Auckland towns likely to have power restored within 24 hours, after previously being told it would be back on by 6pm on Wednesday.
On Friday afternoon Vector worker Jenny Hunt took to the Piha Community Facebook group to explain why the restoration was taking so long, offering to answer as many questions as she could from the upset group.
The information was also provided to the Herald in the form of a statement.
"Restoring power to Piha is a priority for us. However, the damage to the radial feed into Piha ... is extensive. This work, and the restoration of hot water pilot lights will take us well into next week," she wrote.
She said four separate areas of feed had caused an outage and Piha's radial feed, rather than a ring feed seen in more populated areas, made the repair more complicated.
She said sending generators into the small town wasn't the most efficient way of dealing with the issue at hand.
"The quickest and most effective way to restore powers to areas like Piha is to keep all of our resources focused on fixing faults on the network," she wrote.
"Assigning generators to rural areas would divert our outage field staff away from those restore and repairs jobs for several hours at a time."
An official Vector spokesperson verified the information in the post.
Residents have remarked about the lack of storm warning, and being kept in the dark about when power could realistically be restored.
Thousands of homes across 40 suburbs in Auckland were without power today as temperatures reached a startling low of 7C early this morning.
Meanwhile, this afternoon Auckland Council's regional manager of arboriculture Bruce Edwards said "virtually every street in Auckland has some level of tree damage", noting it was the worst storm he'd seen in 24 years of working in that industry.
Council said contractors would likely be working "around the clock until Monday" to make safe and manage tree damage.
But Mount Eden resident Alison Murray said she felt like she was talking to robots when she contacted Vector about a tree branch that had been left dangling on powerlines for days, nearly bringing the line to the ground.
Murray, her husband and their three children had the misfortune of being the only home on Charlton Ave that had power knocked out following Tuesday night's storm.
She said she repeatedly contacted Vector and sent them photos of the tree which was dragging the lines down.
"Every time I went to them there's an automated response so you feel like you're not talking to a person who understands what you're saying," Murray said.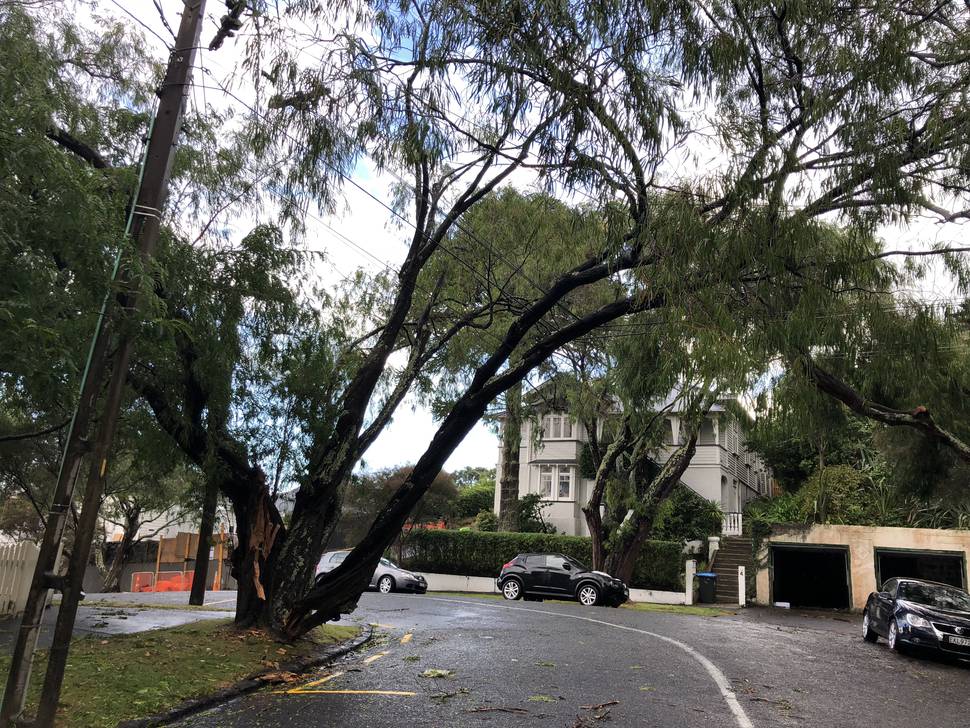 "They're trying to do their job and I know it's hard so I don't want to criticise them too much but it's frustrating to feel like they're not listening."
She became increasingly concerned at the overhanging power lines. Photos provided to the Herald show the branch's weight weighing the lines down further and further over the past three days.
With further strong winds predicted tonight, she decided to call emergency services after Vector advised her to call 111 in case of emergency.
Fire and Emergency responded today and removed the offending branch but there was still no confirmation from Vector about when power would be restored, she said.
She also called Auckland Council, because it was their tree, but was told it would take 10 days for someone to respond.
In the meantime the family has been taking cold showers in the morning- "They're bracing I tell you," - and occasionally showering at neighbours.
They've been eating takeaway meals by candlelight and have been going to the neighbours if they need internet access.