If you drive down the village of Faleula, there is no guessing whose family lives there - and who villagers will be backing this weekend.
Huge banners showing NZ Samoan boxer Joseph Parker's face line the main road heading to the capital, Apia.
They are old banners - put up when Parker was on the island two years ago - which have been brought out as one of their favourite sons prepares to take on Anthony Joshua in the heavyweight boxing title fight in Cardiff on Sunday, local time.
The excitement is starting to build days out from the big showdown, with school children encouraged to come up with chants as part of a "Cheer for Joe" competition being run by a local television station.
Buses have been decorated or painted in honour of the occasion - a now normal thing to see each time a significant sporting event is on.
Cars are being decked out with the country's national blue and red flag and local hotels and resorts are making a show of it by holding special events on fight day.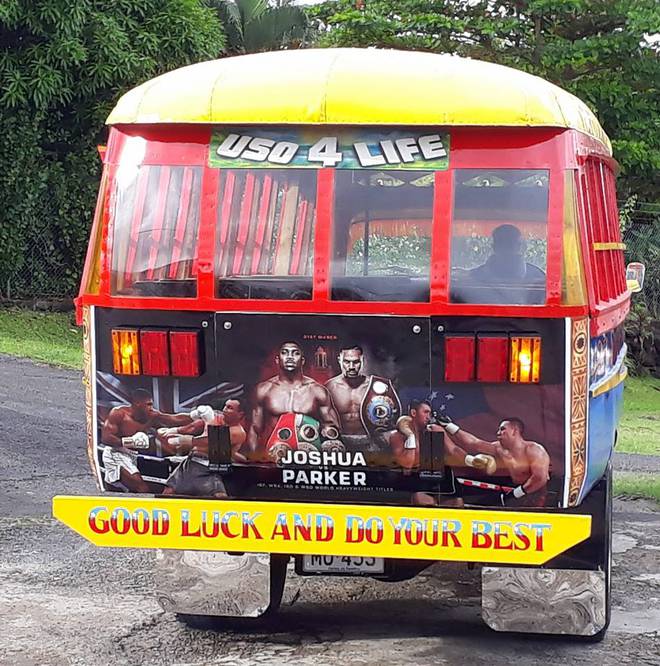 Local man Rapture Pagaialii is a sports-mad fan who has been following boxing since he was a youngster.
The 32-year-old hails from the same village as Parker, Faleula, and is not afraid to share just how proud he is.
"I haven't been this excited [about boxing] since the David Tua and Lennox Lewis fight in 2000. I was almost kissing the TV, watching closely, and I had my ula fala on.
"With Tua, he had the power, but not the height. But I think with Parker, he has height and reach and the power too.
"He's also got a hard chin and his style is good - quick hands. I'm really looking forward to this fight."
There were two kinds of people in Samoa at the moment, he said. Those who were backing Parker to win and those who were still sitting on the fence.
"I see a lot of people, they underestimate our boy still. They say he's not ready yet and he should've waited a bit longer. But I know those are the same people who will be jumping on the bandwagon if he wins.
"For me, I think he's ready. I hope he gets the win and then the Prime Minister will grant everyone a public holiday," he laughed.
Some of the country's most well-known hotels and resorts are using the fight to attract high-paying guests to specially themed events.
The Orator Hotel in Aleisa, about 20 minutes from Apia, is offering a big screen and a full to'ona'i (feast) and drinks on Sunday for the Parker vs Joshua bout.
General tickets start at 200 tala ($108) and a corporate table of eight guests will set you back 1500 tala.
A worker at the hotel said they were expecting about 200 people, mostly from the business community and politicians.
"We have a special menu and drinks and we've got some banners ready to go up already."