A damning investigation into Dr Nigel Murray's spending shows the former Waikato District Health Board chief executive was stood down from his top job at a health authority in Canada months before he secured the role in Hamilton.
And the critical information was missed in checks by former DHB chairman Bob Simcock during Murray's recruitment to Waikato because Simcock did not ask Murray's former employer for a reference.
Murray was president and CEO at Fraser Health Authority in British Columbia when a Government-ordered review found the health authority to be the worst-performing in the country.
After the 1200-page report was released an incoming chairman to Fraser Health, Wynne Powell, told Murray the review identified "unsatisfactory and unacceptable issues", according to the State Services Commission inquiry investigator John Ombler.
Powell went on to tell Murray: "Fraser Health is experiencing substantive leadership issues that do not serve the authority's required outcomes nor assist the health system as a whole for British Columbia".
Powell told Murray his employment would terminate the next year, on November 27, 2015 but that effective immediately on May 29, 2014 Murray would no longer continue as president and chief executive of Fraser Health.
Murray's at-risk bonus was withheld and he was offered another role within the British Columbia Government but turned it down, citing family reasons for wanting to return to New Zealand.
He was then recruited by New Zealand company Sheffield for the role at Waikato DHB, which paid $110,000 to the recruitment agency.
Simcock admitted yesterday that in hindsight it was a mistake not to check with Murray's direct employer at the time of the recruitment, a point Ombler said could have raised a red flag over Murray's suitability for the $560,000 a year role.
But Simcock defended his other checks saying he was never alerted to the fact Murray was effectively dismissed from his position.
"It is now clear the crucial information was withheld by people who were interviewed as part of the reference checks on Dr Murray," Simcock said.
"This includes the fact Dr Murray had already been dismissed from his position at Fraser Health in Canada when reference checks were made with the most senior health official in British Columbia."
The Herald understands this was then Health Minister Terry Lake but when the newspaper made inquiries around that reference check last year Lake's office did not return calls.
Simcock said if the senior health official knew Murray had lost his position he never said.
"It is inconceivable to believe that they didn't know Dr Murray had been dismissed, yet this information was never passed on."
Powell told the Herald yesterday he was never approached as a referee for Murray and if he was he would have been required to get Murray's approval to provide a reference.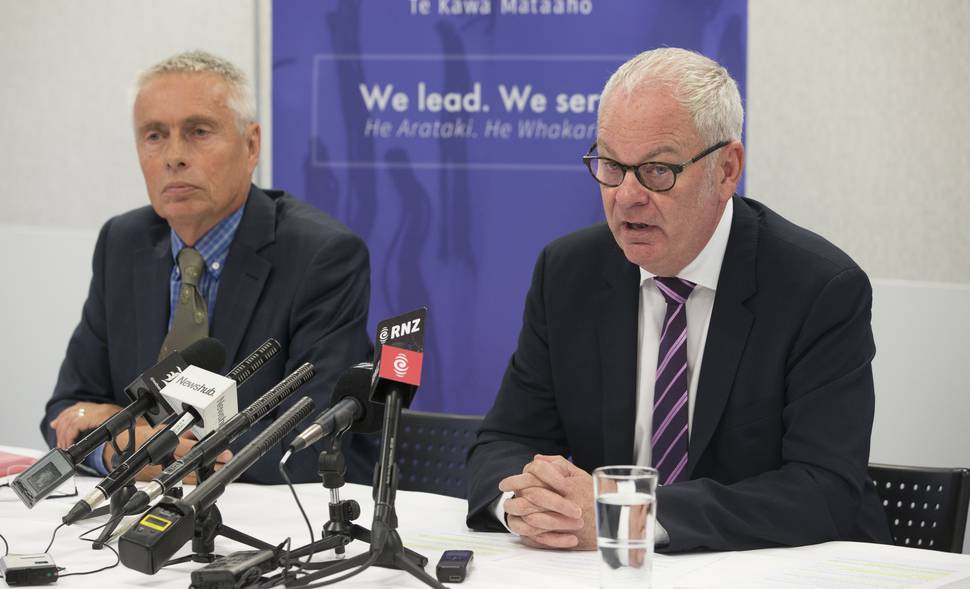 State Services Commissioner Peter Hughes said Murray let down taxpayers, took advantage of a trusting chairman and flouted his authority as a senior state sector leader when he used $120,000 of taxpayer money for unjustified travel, outlined in yesterday's announcement.
Murray's actions were in breach of his role as a chief executive of a public organisation and he should not have been allowed to resign without facing disciplinary action, the Commissioner said.
Hughes' criticism came as he announced the damning findings of the four month commission inquiry that found more than half of Murray's expense claims for travel and accommodation during his three years in the job were unjustified.
Hughes said Murray's conduct led to "serious and sustained breaches of the State Sector Code of Conduct".
"I don't know what Dr Murray thought, but he certainly broke the rules and that is totally unacceptable."
Of the 129 items of expenditure on travel and accommodation, 59 of them worth $101,161 did not meet the DHB's authorisation standards and 45 of them, valued at $120,608, were unjustified.
More than $74,000 was identified as personal spending by Murray, who has paid back $54,831 while almost $20,000 remains in dispute.
Simcock said the inquiry used him as a "scapegoat" and that Murray led a double life that made his actions easy to hide.
Murray's lawyers attacked the efforts of Ombler to seek a response from Murray over the findings saying he could not be interviewed because it would potentially prejudice a Serious Fraud Office preliminary inquiry.
But Hughes said Murray was given "ample opportunity" to co-operate with the inquiry.
"He chose not to be interviewed. I am satisfied that the inquiry was fair, robust and sound. The report speaks for itself."
The Serious Fraud Office confirmed it is now investigating the case.
Intention to destroy report
The initial investigation report by Waikato District Health Board into concerns over Dr Nigel Murray's spending was supposed to be destroyed, documents released in the State Services Commission inquiry show.
The draft report, heard by the board the day Murray resigned on October 5, was part of an "employment dispute and settlement process" according to Murray's lawyer Peter Cullen.
In a letter to a lawyer acting for the SSC dated January 19 this year, Cullen said the draft report was a confidential document and should not have been given to Ombler as part of his investigation.
"By way of context," Cullen wrote, "[redacted] draft report was to be destroyed as part of a settlement agreement signed by the mediator and the DHB which can be enforced by a compliance order in the courts."
The Herald revealed on October 18 the draft report raised questions about expenses he claimed associated with at least two Canadian women, neither of whom was his wife.
Yesterday State Services Commissioner Peter Hughes was highly critical of the board's decision on October 5 to accept Murray's resignation, closing the door on completing that investigation and any possible disciplinary action.
"This was not the right thing to do. This meant Dr Murray did not have to answer for his conduct. And that was wrong."
The Herald asked Simcock if he knew of the settlement agreement allowing for the document to be destroyed, but he did not respond.
He previously told the Herald the board agreed to Murray's resignation under advice from a top New Zealand employment lawyer.
Acting chairwoman Sally Webb said in hindsight she might have done it differently.
"When we allowed Dr Murray to resign we did it because we thought that was best for the organisation and it was the legal advice we got.
"But as I listened to the State Services Commissioner this morning I think the piece of the jigsaw puzzle that in hindsight we didn't put enough emphasis on was the public service."
Meanwhile, two board members - Dave Macpherson and Mary Anne Gill - were not part of the decision to accept Murray's resignation.
The pair stood down from the debate that decided Murray's fate because of "perceived prejudices" raised by Murray's lawyers.