Heavy rain warnings are in place across the central North Island as 120 people trapped overnight by floods and slips at a remote lodge near the Whanganui River await rescue.
Major landslips caused by bad weather cut off Ruapehu's Blue Duck Station in Owhango, about 20km south of Taumarunui.
Trapped guests at the lodge were delivered food supplies yesterday afternoon.
A decision has been made this morning to fly about 100 guests out by helicopter today, after more landslips overnight trapped machinery brought in to clear access roads and tracks.
More food and supplies will be flown in for the 20 people, including owners and staff at the lodge, who will remain behind.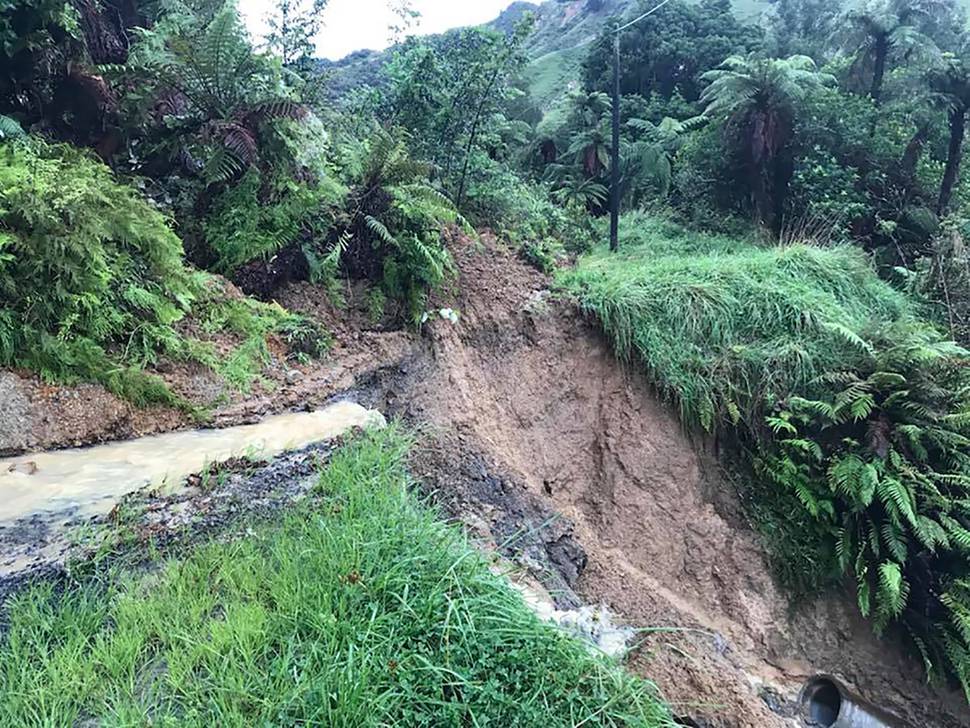 Ruapehu emergency management officer Nick Watson said slips on the road and a flooded river had cut access to the lodge.
Ruapehu Civil Defence had been in touch with the lodge owners and a helicopter was organised to drop off food.
A spokesman said everyone was warm, safe and happy and there were enough supplies to last the night and today.
Photos and video footage posted to the Blue Duck Station's official Facebook site shows the scale of the damage - with fences brought down and tracks closed off by debris.
"Too much damage to list and we can't even get around most of the stations. Just at the front here, roads out, fences out ... tracks, power, water," a man behind the camera says.
"We're going to need diggers, fences. I think we'll need a helicopter to fix some of this. Maybe some re-grassing and re-seeding a lot of these slip.
"It's going to be a bit of a major.''
Heavy rain warnings are in place for much of the central North Island and Civil Defence is monitoring the Whanganui and Manawatu rivers for flooding.
Gisborne and the Wairoa district can expect heavy rain - up to 30mm an hour at its peak today and 80mm to 100mm in total by 1pm.
Wairarapa, Tararua and Hawke's Bay have already experienced heavy rain overnight on Thursday.
MetService meteorologist Amy Rossiter said the bad weather in the east was caused by a low sitting north of East Cape.
There were lightning strikes offshore overnight and the rain was expected to increase through the morning as the low moved over land.
Parts of the Hawke's Bay experienced severe surface flooding yesterday.
Flooding in Eskdale, north of Napier, was described as "worse than Bola", by Eskdale Holiday Park owner Daniel Gale.
He spent yesterday morning evacuating about 20 people from the riverside site.
The 41.6mm of rain recorded for the whole day in Napier was equal to about two thirds of the March average for the city and contrasted with the less than 1mm recorded in Hastings.
South of Napier in Mangaorapa 88mm of rain was recorded between 6am and 6pm.
The rain appeared to have slowed this morning, Rossiter said.
Over the past six hours 21mm had been recorded on the Takapau Plains.
The Whanganui River levels have slowly dropped overnight and are predicted to continue to do so on Friday, Civil Defence says.
The river's flood barriers were activated on Thursday as a precautionary measure but Horizons Regional Council corporate and governance group manager Craig Grant said there was no concern for a breach.
"With the peak occurring overnight, we felt the barriers provided some assurance. We will continue to monitor the situation," he said.
The Manawatu River, which peaked at 4.3m at 2am today, is also being closely watched.
Horizons staff are on standby in case the Motua floodgates need opening later in the day.
Rossiter said Gisborne and Hawke's Bay would get the worst of the weather today.
"The rest of the North Island will be mostly fine with a few showers, but those should clear through the day.
"In the South Island there is a bit of a front moving up the East Coast, bringing a few showers, but the western areas should remain fine.
Nighttime temperatures will dip nationwise thanks to a cool front making its way up the country.
The weekend is shaping up to be fine for most of the country.
"Once that low moves away we have got a ridge building over the country bringing more settled weather.
"There might be still some showers over the weekend in Gisborne and Northland, and maybe in Fiordland by Sunday, but the ridge should bring light winds starting in the South Island tonight and spreading over the country."
However, that will be short-lived as Tropical Cyclone Hola looks increasingly likely to strike the North Island on Monday and Tuesday.
Today's weather
Long fine spells, but the odd shower from late morning. Southerlies. 26C high, 18C overnight.
Auckland Fine apart from some morning cloud and chance afternoon or evening shower. Southeasterly. 26C high, 14C overnight.
Hamilton Mainly fine but chance shower. Southeasterlies. 25C high, 10C overnight.
Tauranga Fine spells increasing but chance morning shower. Southeasterlies. 25C high, 14C overnight.
New Plymouth Fine but morning cloudy periods. Gusty southeasterly. 21C high, 12C overnight.
Napier Rain with possibly heavy falls, easing to occasional showers afternoon. Strong southerlies, easing evening. 19C high, 12C overnight.
Wellington​ Mostly cloudy. A few showers developing morning. Strong southerlies. 17C high, 12C overnight.
Nelson Fine with light winds. 22C high, 8C overnight.
Christchurch​ Cloudy with a few showers, then afternoon fine breaks. Southerlies dying out. 15C high, 8C overnight.
Dunedin​ Partly cloudy, with a few showers until evening then southerly turning northeast. 15C high, 9C overnight.