Three separate forecasting models for tropical Cyclone Hola predict the storm is likely to hit New Zealand's North Island by early next week.
Forecasting graphics released to the Herald tonight show the storm tracking towards the country.
The first two models, from the UK Met Office, show Hola could hit the Bay of Plenty region on Monday, which would make it the third cyclone this season to affect New Zealand.
The third model, from the European Centre for Medium-Range Weather Forecasts, predicts it could make landfall around 6pm on Monday.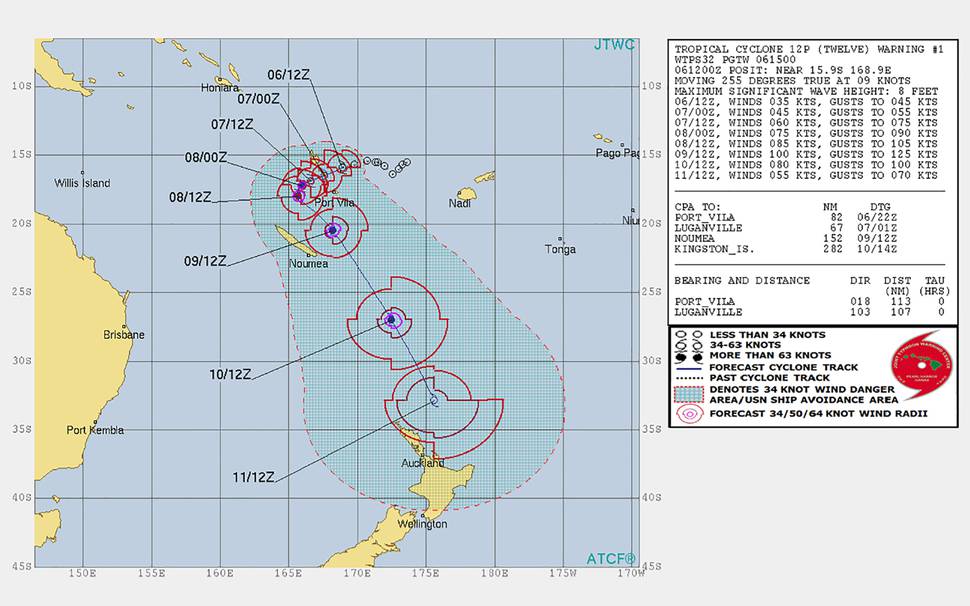 Climate scientist Dr Jim Salinger said the models are beginning to show a consistent pattern.
Hola made landfall in the northern islands of Vanuatu last night, bringing gale-force winds and collapsing some houses.
The roof of a classroom was blown off and some houses collapsed on Vanuatu's island of Ambrym as the cyclone arrived this afternoon, Radio New Zealand reported.
The cyclone is a category two and has brought gale-force winds of up to 95km/h.
"The seas will remain very rough, with heavy to phenomenal swells over
Malampa, Sanma, Penama and Shefa provinces.
"Heavy rainfalls, thunderstorm and flash flooding over low-lying areas and areas close to riverbanks including coastal flooding will continue to affect these provinces," the Vanuatu Meteorology and Geohazards Department said.
People in those same areas are being advised to listen to Radio Vanuatu and all other radio outlets to get the latest updates.
The cyclone is forecast to develop into a category three tropical cyclone by Thursday morning.
Early on Friday the cyclone is forecast to head southeast towards New Zealand waters.
MetService said it was too early to be certain about the track of this cyclone as it passes over New Zealand waters but some of the models were indicating that it could pass by the upper North Island late Sunday into Monday.
"Thursday or Friday we will have a better indication," said MetService meteorologist Sarah Haddon.