Ponsonby Road was lit up in every colour of the rainbow for the Pride Parade.
More than 3500 people took part in the annual parade – including Prime Minister Jacinda Ardern – while tens of thousands of people lined the street to watch the action.
Ardern launched the parade by cutting the last of several rainbow ribbons shortly before 7.30pm.
She became the first Prime Minister to walk in the event, marching alongside the Labour Party's red caravan.
Onlookers were treated to a series of colourful floats – some pumping out classic disco tracks.
Among those taking in the action was Aucklander Jan Hannah who described the event as "fun ... it's full of colour".
Mother and daughter Chris and Rachel Breeden said they had become regulars at the Auckland parade.
They used to live in a hyper conservative town in Pennsylvania where protesters picketed any gay friendly events.
But there was no such problems at Pride.
"I'm just so happy we can celebrate and there are no protesters here, nothing negative. It's amazing," Rachel said.
Poodles in pink tutus and pugs with rainbow scarves tied around their collars illicited a few cheers from the crowd, but it was the airforce's brass band rendition of The Saints Go Marching In that got the loudest applause.
As the sun started to set, Kiwi singer Ladyhawke started her performance on the back of an Air New Zealand truck.
A one-of-a-kind, rainbow-coloured police patrol car made its debut, flanked by Police Commissioner Mike Bush. Police dogs, horses and motorbikes also featured.
Bush posted on social media before the parade started: "Great to see the turnout for the 2018 pride parade, we are really appreciating the community support."
And, New Zealand Rugby also had its own float for the first time.
And it was a night to remember for Sinead O'Connell and Victoria Envy who wed in front of spectators on celebrant group the Glitter Squad's float.
The theme for this year's Pride Parade was peace, love and unity and the event came at a time of escalate global unrest and human rights breaches, organisers said before the event.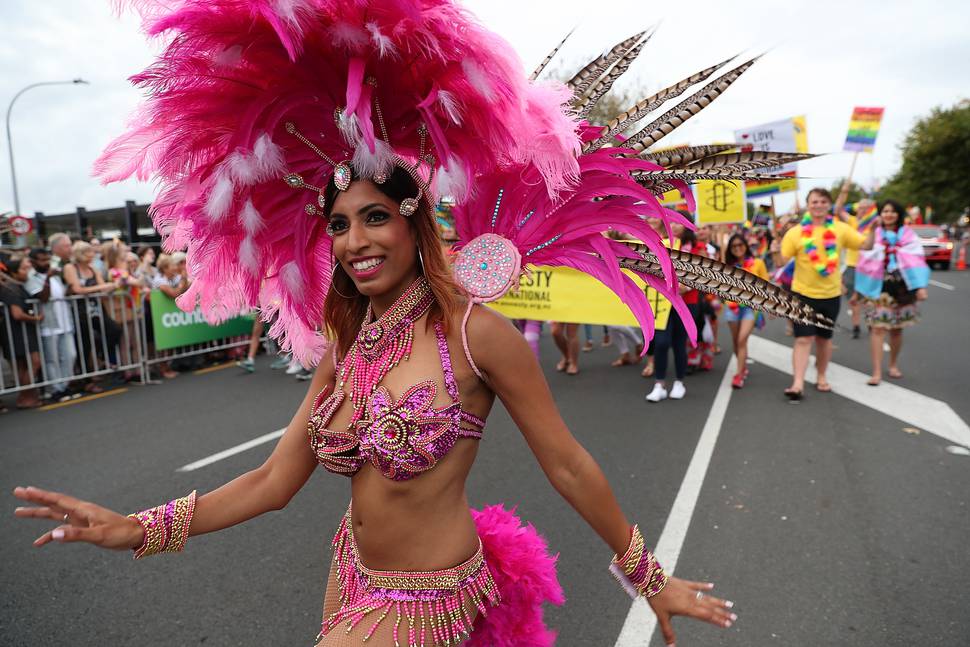 Parade producer Shaughan Woodcock also said it was "very exciting" to have Ardern taking part.
"The overall message is that we are being led by a progressive government, a government that stands for all groups not just some," Woodcock said.
"It also sends a very clear message outside of New Zealand that New Zealand is leading the way around basic human rights and human rights for our rainbow community, and that it is time for the other countries to step up."
Ardern earlier said she couldn't remember how many times she had walked in the parade before becoming Prime Minister but that it had been enough "to know I feel enormously proud that it's an annual event".