School's out for kids in the Far North as flooding closes more than a dozen schools.
More than 100mm of rain could fall in the region today - up to 40mm an hour.
MetService has issued a heavy rain warning for Northland and has predicted thunderstorms and downpours.
Read more: What does Cyclone Gita mean for NZ's weather - and will we cop a direct hit?
Civil Defence Northland has urged motorists to stay safe and drive carefully.
The Ministry of Education said 16 schools in Northland and one early childhood centre had closed.
MetService forecaster Cameron Coutts said up to 80mm had fallen over the past 24 hours in the Far North, most of that was between 9pm and 10am today. The heaviest deluge was 29mm, between 7am and 8am near the Mangamuka Ranges.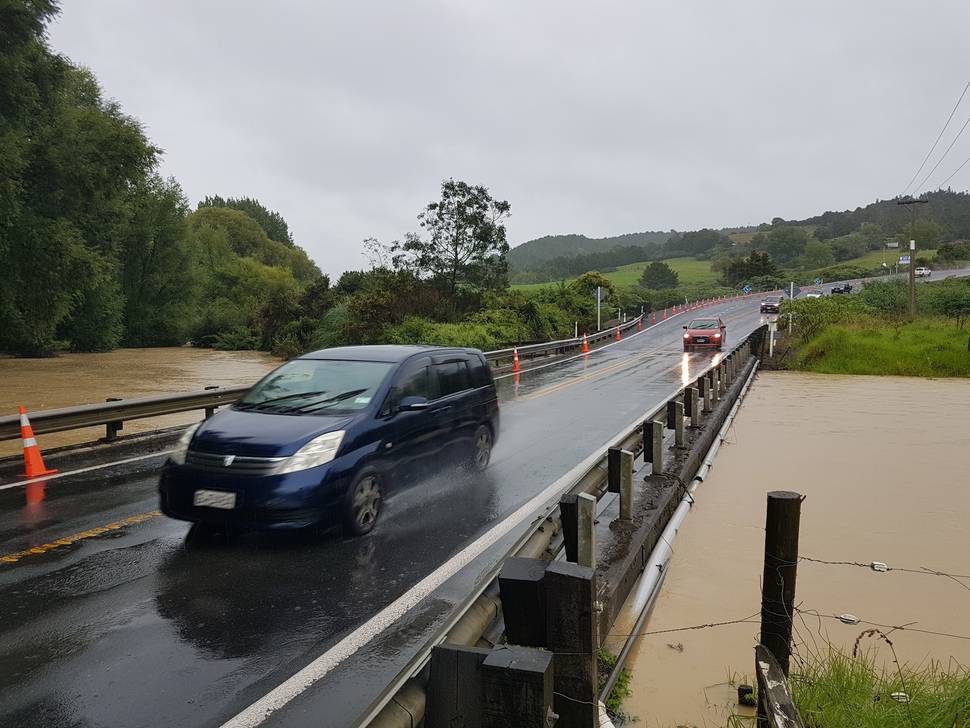 Another 50mm to 80mm was predicted by 6pm today, mostly on the western side of Northland, Coutts said. Rain should ease in the east throughout the day.
Flood waters have now closed SH1 near Rangiahua in the Far North. The flooded stretch of road is impassable and an alternative route along SH 10 has been recommended as a detour.
Meanwhile, the NZ Transport Agency advises motorists that State Highway 11 will remain closed for the rest of the day and probably tomorrow as well.
Workers are clearing a massive slip blocking State Highway 11 at Lemons Hill, between Kawakawa and Paihia, using a digger to break up several large trees so they can be moved off the highway.
A detour via SH10 will add an additional 10 mins to the journey between Paihia and Kawakawa.
An engineer is on the way to assess the stability of the slip face and decide if the highway can reopen today.
MetService meteorologist John Law said New Zealand had also been struck about 2000 times in the past 12 hours by lightning.
"It's in a line stretching from Northland, down towards Auckland, through Waikato and the Hawke's Bay. There's a nice long line."
Heavy rain is also affecting Opotiki, where schools are closed and roads are treacherous after the biggest flood in a decade.
Taking advantage of the metre-deep water on their Church Rd field, Opotiki Primary School kids in Opotiki stripped down to shorts and took a dip while others kayaked across "Lake Opotiki Primary".
Opotiki mayor John Forbes said about 20 per cent of the town was flooded and the damage to the roads could cost Opotiki District Council $1 million after the equivalent of the average rainfall for the month of February fell overnight.
Opotiki had 78mm of rain over the past 24 hours, MetService meteorologist Tom Bell said, about as much as it typically gets for the entire month of February.
But Forbes had heard up to 127mm was measured in the mountains. A gauge at the wharf measured 170mm over 48 hours.
A Herald reader in Sunnyvale, Auckland, watched the rain this morning.
"The once-placid stream at the bottom of my section is now a raging brown torrent. Gutters overflowing as torrential rain spilled from the sky. It's still raining but has begun to ease."
SH1 in Hamilton was closed this morning because of flooding.
The MetService has issued a severe weather watch for the Waikato and Bay of Plenty regions, where heavy rain is expected until 10pm.
Possible thundery downpours were forecast in Waikato, Waitomo, Taupo and eastern Taumarunui.
Flooded roads
​
• SH10, Kaeo, 4WD access only through the Totara North intersection
• SH1 just south of the BP station at Whakapara
• SH10 in the Bulls Gorge area, south of Kerikeri
• SH10 near the Pakaraka turnoff
• SH10 near Paewhenua Island, between Hihi and Mangonui
• Codlin Road, Maungakaramea
• Western Hills Drive, Whangarei – surface flooding in the northbound lanes
Closed schools
​
• Bay of Islands College
• Whangaroa College
• Opua School
• Mangonui School
• Kaeo School
• Kawakawa Primary
• Taipa Area School
• Karetu School
• Peria School
• Matauri Bay School
• Totara North School
• Te Kura o Hato Hohepa
• Maromaku School
• Mangamuka School
• Kaitaia College
• Whangaruru School
• Kaeo Playcentre