Prime Minister Jacinda Ardern has left Waitangi, winding up a visit she said has "exceeded my expectations" with her first Waitangi breakfast and a walkabout of the grounds.
Speaking after she and Labour ministers hosted a post-dawn service barbecue breakfast for the public, Ardern said she had wanted to do things differently to the past.
Former PM John Key had initiated the Prime Minister's Waitangi Day breakfast, delivering an annual address that set out his thoughts on nationhood.
It was invite-only at the Copthorne Hotel and attended by local dignitaries and iwi leaders.
Ardern's was a more casual breakfast for the public, which she said was partly driven by her desire for a bacon butty as well as her wish to show hospitality in return to those at Waitangi.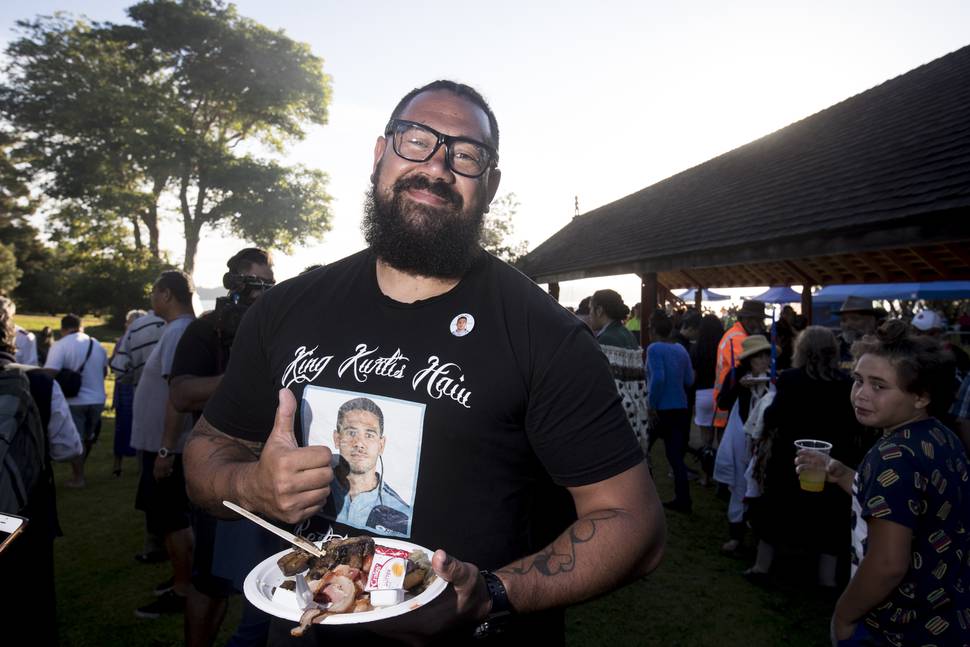 "It was about spending more time among the people who took the time out to come and be here on Waitangi Day."
She expected that to happen again, but promised to bring more food next time after the supplies ran out after just 20 minutes. Ardern said they had catered for about 400 and she believed more than double that number had come.
National MP Steven Joyce said this year's peaceful occasion had been good for Ngapuhi and the north.
"There's always room for people to offer their political opinions, there always should be."
Asked about Ngapuhi leader Sonny Tau's description of Ardern as "dynamite", Joyce said the Government had "talked a pretty big game" while in the north.
"As she herself noted, they're going to have to do a lot of work to meet the expectations they've been generating. Next year will be the first test."
Ardern spent five days in Northland this year and acknowledged there was a lot of expectation now for her to deliver.
"It's really that practical work programme that we want to move onto. There's a lot of expectation around that. Yes, we can talk about our general principles and values of what we want to achieve. But the rubber hits the road when we start talking about actual infrastructure projects and the like."
She credited Ngapuhi rather than herself for the warm atmosphere that pervaded on February 5 and 6, saying it had driven the commemorations.
"I know we make it challenging for them because politicians are often the targets."
There were no protests while she was at Waitangi despite upset among some about the decision to move the Government powhiri from Te Tii Marae to the Upper Marae.
Just after she left, Te Tii Marae elder Kingi Taurua led a small protest group to the upper National Marae while the mid-morning church service was going on.
He walked off with a police officer and told One News he felt the Government should have gone to Te Tii Marae to hear the concerns of Maori there.
He said he also wanted to send a message to the Government that it had to follow through with its promises.
Ardern's pregnancy was also a great topic of discussion at Waitangi. Labour MP Peeni Henare had also suggested Ardern bury her placenta up there according to Maori custom after her baby was born.
Ardern said she had had a brief discussion with partner Clarke Gayford about it and they felt humbled by the offer.
"If we do do that I think we'll keep it to quite a private thing."
Asked if she was feeling pressure from the gifts of baby names and other offers, she said such matters were personal issues and did not compare to the pressure of running a country.
Ardern's decision to host a public barbecue got the tick of approval from 15-year-old Te Hinenga Te Hemi who was on her first visit to Waitangi from Christchurch as a prize for a speech competition.
"It's really cool how it's open and includes everyone."
Te Hemi said she had met Ardern and Ardern had given her tips for public speaking, including sucking a mint just before a speech to moisten the mouth.
Leon Petelo Haiu from Turangi got in before the food ran out and his plate was piled high with mushrooms, eggs, sausages and bacon. He was impressed the apron-clad Ardern was serving at the barbecue.
"She's got a real serving heart, she's leading from the front with the tea towel and the tongs. This has never happened, so she's created history. It's an exciting thing and it's a beautiful thing."
It was Haiu's first trip to Waitangi on Waitangi Day and said there was a beautiful "ahua" (vibe) about it.