Two cars became trapped in floodwaters in Auckland as the North Island lies under a threat of severe thunderstorms today.
Fire and Emergency northern shift communications manager Scott Osmond said firefighters had now rescued people from two cars that got trapped in floodwaters on Rosedale Rd and Caribbean Drive.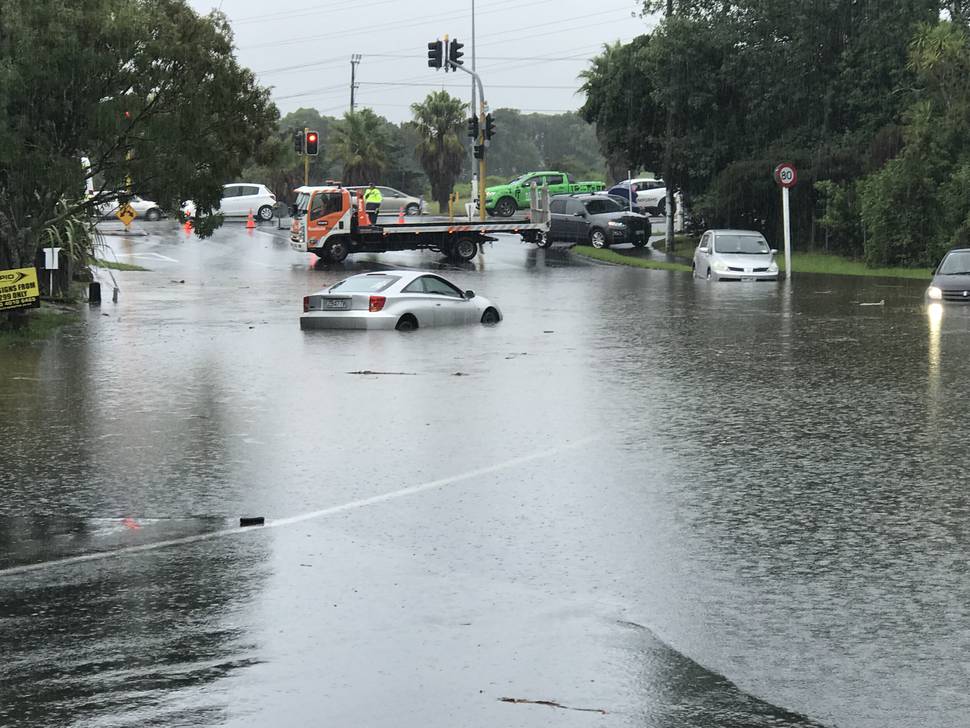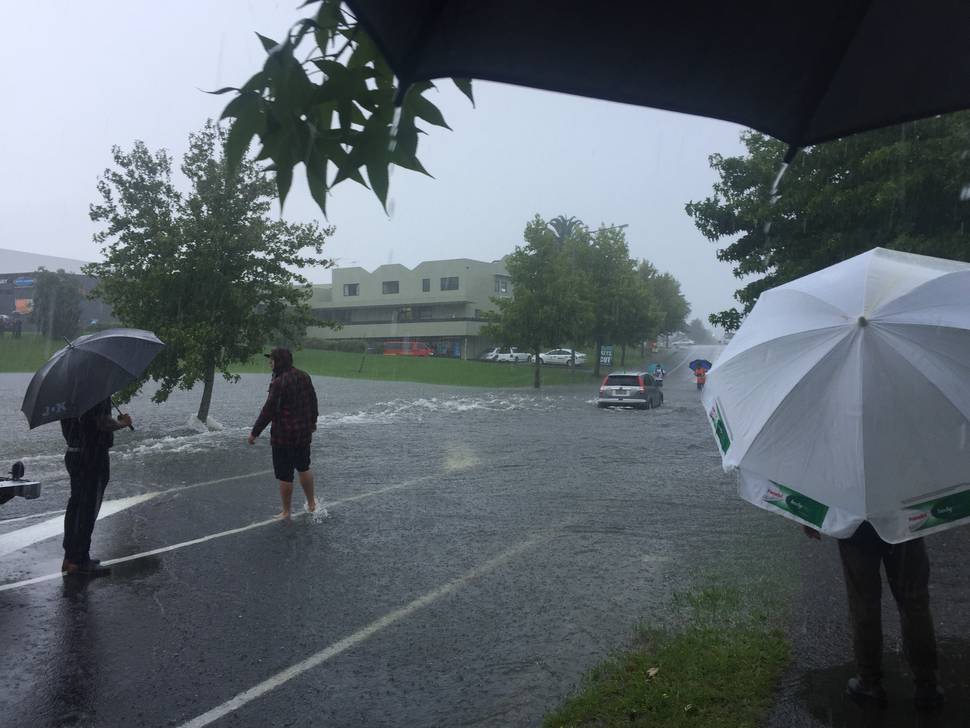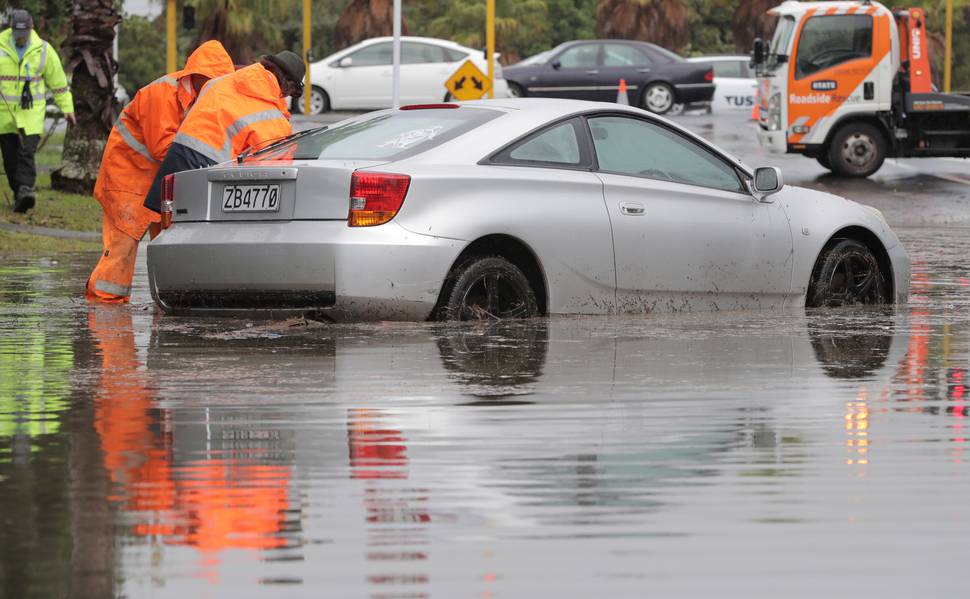 A cell over Auckland dumped heavy rain in the past hour, and the MetService is predicting thunder and lightning later for a big chunk of the island across the day.
It issued a top priority thunderstorm warning just after 9am for Auckland City, Rodney and Albany but says the cell has now died and has lifted the warning.
However, a widespread thunderstorm watch remains in place for much of the North Island.
Appar Singh was driving along North Shore's Caribbean Dr when he hit the floodwaters.
His car became submerged and stopped.
"I tried to turn it on but it wasn't turning on," he said.
Singh was worried about the rising water level and called Fire and Emergency NZ.
"My girlfriend was a bit scared but I tried to be brave," he said.
When Singh got out of the car the water was up to his waist.
The car was being towed when the Herald arrived.
"I don't know what will happen to it now," Singh said.
Police said some cars were up to the headlights in water when they arrived.
The water has all drained but the cars are stuck where they are and will likely be towed.
No one was injured.
North Shore resident Tamara Thompson said her trip from Hobsonville to Beachlands was interrupted by the flooding this morning.
She came across a huge pool of water on Upper Harbour Highway, then even deeper floodwaters on Carribean Drive.
"Carribean Drive was hugely flooded. No one could get past really - but some cars were still trying.
"There's a lot of traffic everywhere, queues backed up and people doing U-turns to avoid floodwater."
MetService said this morning's torrential downpour in Rosedale was the result of a slow-moving storm cell, and warned today's thunderstorms were likely to bring far higher rain in localised pockets than a fast-moving storm would.
Auckland Transport had to close a section of Caribbean Dr just before 10am between Barbados Dr and Upper Harbour Highway because of flooding.
The transport agency said the worst of the flooding had eased on the Upper Harbour Highway just after 10am and backlog was now cleared.
A large thunderstorm cell was detected near Auckland City and the North Shore at 9.22am, moving northwest.
The storms were expected to lie near Auckland up to North Harbour by 9.52am.
People are warned the severe thunderstorms were likely to deluge the region.
All regions from Northland to northern Manawatu across to the Tararua District are likely to be worst affected by torrential downpours and small hail.
The violent downpours could put areas under threat of flash flooding, slips and hazardous driving conditions.
Already flash flooding has hit Auckland's North Shore where people needed to be rescued from trapped in floodwaters. Serious flooding is also hitting eastern suburbs.
Osmond said firefighters had been called to help a motorist who was trapped in floodwaters on Carribean Dr in Unsworth Heights. Several houses had also been flooded after a sudden downpour on the North Shore in the past hour.
MetService says the combination of daytime heating, humidity and local wind convergence is expected to bring unstable conditions to much of the island today.
The country struggled for relief in the muggy weather overnight when temperatures remained uncomfortably high.
And although it's normal for nights to be warm in summer, MetService says average overnight temperatures are warmer than average.
Auckland has stayed warmer than 15C since January 1 as the average overnight temperature hitting 18.6C. Today's flash flooding and violent thunderstorm warning comes as the city experienced its highest dew point temperature of summer so far.
Niwa said the dew point, which is a measure of humidity, hit 22C, was because of the sub-tropical northerly air flow and warm seas. It's deemed uncomfortable when it goes higher than 18C.
Wellington too is fighting balmy conditions and average overnight lows of 16.1C, well above the usual 14.5C.
Even Christchurch has kept above 15C for the past six days, and an average minimum temperature about 2C above usual.