A little water on the track only added to the drama at the annual Totalspan Soap Box Derby on Monday.
About 90 carts hurtled down the winding track from Queen's Park to Drews Ave as thousands lined the street in what has become an Anniversary Day tradition.
This year's best cart award went to Andrew Taylor who had created giant bagpipes with wheels.
"I'm in the City of Wanganui Highland Pipe Band and it's our 100th anniversary this year," he said.
"I've been in the band for about three years."
Mr Taylor, a first-time contestant, said the cart took him a few weeks to put together.
"It was a couple of nights of welding, and these are just cardboard tubes and PVC and stuff."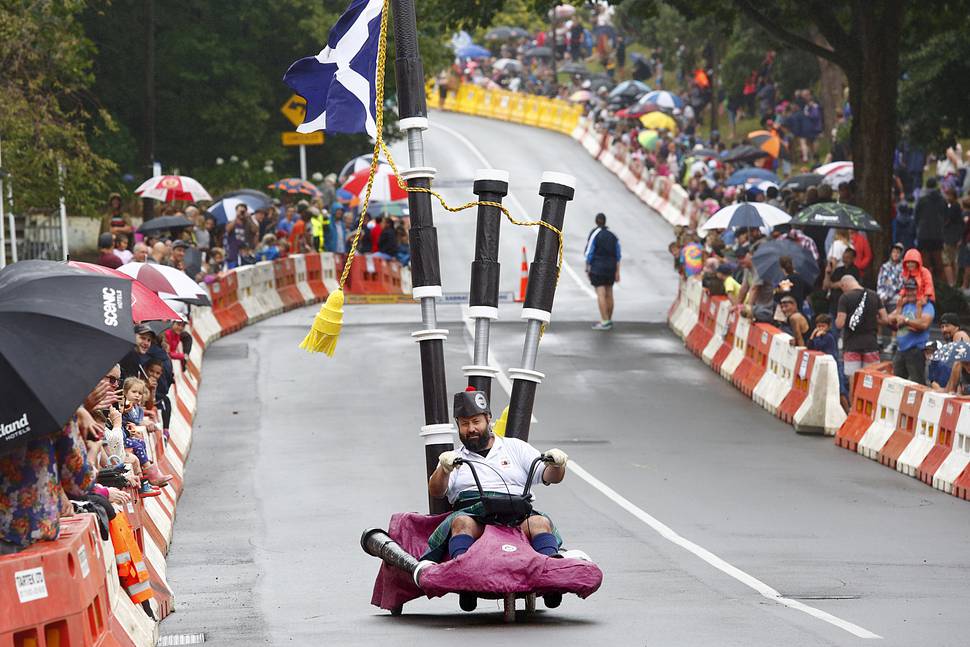 And it didn't just look good.
"It went pretty well. I was surprised. I just hit a tree up the top but otherwise it handled really well."
Derby organiser Mick Paul said he was impressed with the turnout given the consistent drizzle throughout the day.
"It was bloody brilliant actually," he said.
About 90 carts were entered in the derby which was similar to previous years.
"It was quite slippery, it was a bit of a hard case really. Some pretty good crashes. They went a bit hard at the start but they soon learnt."
Mr Paul was also impressed with the crowd who turn up in wet weather.
"And they didn't leave."