As far as fights go, it wasn't a fair one when a basketball hoop structure weighing hundreds of kilograms crashed down on a teenage boy attempting a slam dunk at an Auckland Council park.
The impact when the hoop snapped from its base on Thursday night left Hunter Goodsell, who weighs less than 75 kilograms, unconscious on the ground at Tui Park in the North Shore suburb of Beach Haven.
It was a frightening scene for the 17-year-old's older brother, Strauss Bessell, and their cousin, Hunter's dad Matt Goodsell told the Herald last night.
"He was unconscious for one minute then he went into a seizure, then he was convulsing, his eyes were rolling back in his head.
"His brother thought he was dead."
An ambulance was called, arriving about 7pm, but Hunter was able to return home from North Shore Hospital about 3am after a CT scan cleared him of bleeding on the brain.
The year 13 Rosmini College student is recovering at his Beach Haven home, nursing injuries that include concussion, a broken nose, abrasions to his hands which needed three stitches, and a swollen cheek.
Auckland Council community facilities operational management and maintenance head Agnes McCormack said they will be checking the structural integrity of all of the basketball hoops in council parks today.
They also planned to contact Hunter's parents, and also wanted to speak to anyone else at the park at time, as part of their investigation.
"Our thoughts are very much with the boy who was injured when the hoop fell and we wish him a speedy recovery."
The council was not immediately able to confirm when the hoop was erected and what was involved.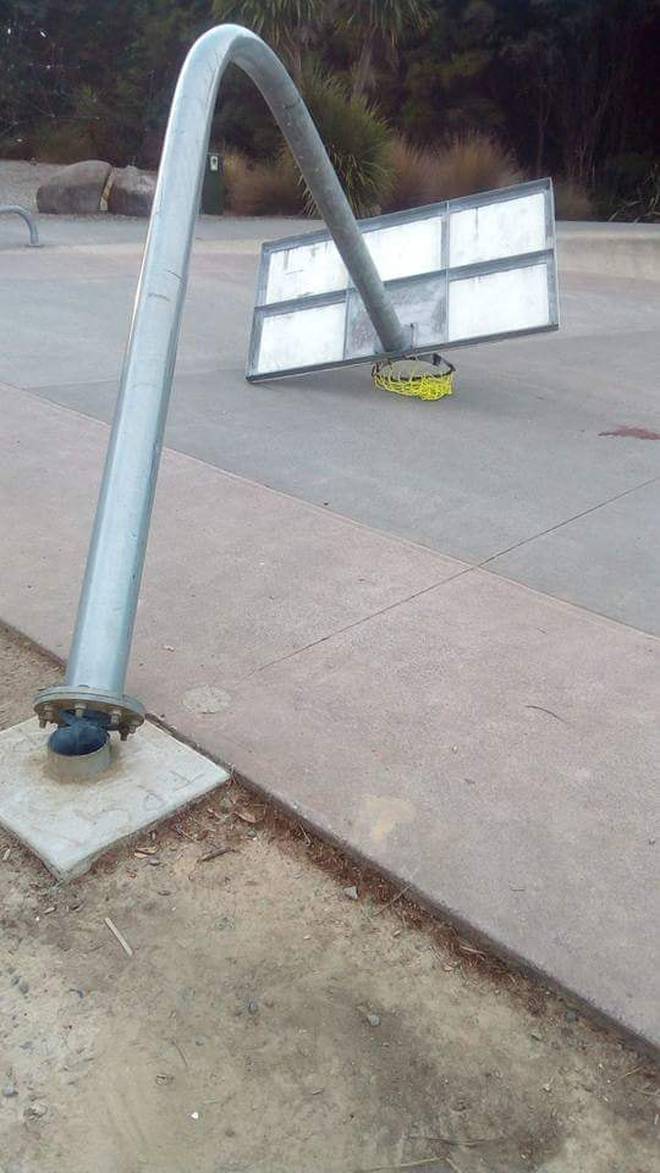 North Shore ward councillor Richard Hills was among dozens to comment online about the incident, after photos of the hoop, which appeared to have snapped at the base, were posted on the Beach Haven and Birkdale Community Facebook page.
"This is horrendous," Hills wrote, adding an investigation was needed.
The hoop was erected in the last year of the North Shore City Council, he wrote.
Goodsell said he was back at the park just after dawn and saw council workers taking the hoop away.
The building construction manager, who estimated the hoop weighed 300 kilograms, said it showed signs of existing cracks.
"It's clearly very under-designed."
He did not want a witch-hunt, but just to know the council would check other hoops. He had emailed the council on Friday morning, but had not had a reply.
Hunter's mother, Tina Mackay, had called the council yesterday and was told a parks ranger would call her.
That had not yet occurred, Goodsell said.