Like migratory birds, thousands of Kiwis flock to idyllic holiday destinations to enjoy the best of summer over the Christmas break.
They take camping to the next level, often setting up whole lounge rooms under gazebos with every home comfort - including the kitchen sink.
Opoutere Beach Coastal Camping on the Coromandel is one of these gems. Some families have been coming for 40 years to the campground fringed by quiet pine forest and a vast white-sand beach.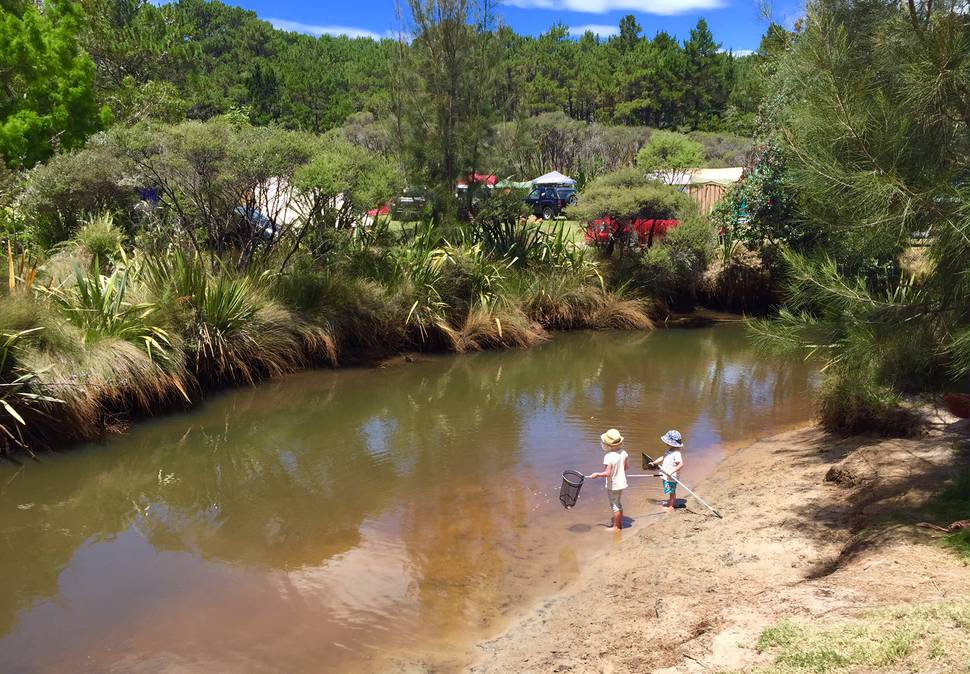 Auckland woman Heather Sime first came to the Opoutere campsite 25 years ago. After a 15-year gap she's restarted the tradition and been back each summer for the last four years with a mix of family and friends.
She loves how the beach doesn't have baches on it, so it feels like it's all theirs.
"Now we're back again. It actually hasn't changed. They've chopped a few trees but that's it. This is a real Kiwi place."
Her brood lugged three cars, three tents and two gazebos to their coveted spot. Rachel James is one of the brood and came this year with her 10-year-old daughter Ava Gardiner.
Having a campground where the kids can go off and be kids was invaluable, James said. They had a swing ball competition yesterday with a dozen kids and hit the beach for a swim every day.
Even though some of the kids live in the same city, they only see them at summer camp which made the relationships more special, James explained.
"It's a free-for-all, you just leave the toys out and people know where to bring them back to. It's so nice for the kids to all hang out together, they learn how to share.
"They just all tear around together. We're right next to each other - if they are not here they are there."
With downtime some of the enterprising kids come up with business ideas. Ava offered dishwashing services with her friend last year for $2. But this year she has "too much money" so has opted to play instead.
"It's really fun because you get to hang out and do what you want. We just run around riding our bikes," Ava said.
Erin Flegg is a Whangamata local and was escaping the summer crowds with 10 of her nieces and nephews in Opoutere.
The population of 3500 swells to 25,000 over the New Year period. Flegg doesn't mind as it's good for the local businesses but "you just know it's going to go crazy".
"The rest of the year you can leave a minute before an appointment. But at this time of year it's a bit more of a mission."
Northland man Mike, a self-described "recluse" who didn't want to publish his last name, first came to the campground over 40 years ago for the mussels. Then it was just a farm and cost 20c to get in.
Back then you couldn't buy bottled water so the family lugged water in 10-litre drums to their campsite.
His family had an amazing time and the campsite had been on his mind ever since.
"It's a journey back to my youth. I'm so glad I found it.
"In those days we were just free. We just took their [my children's] clothes off and they would run."
Even though you can no longer fill a sugar bag of mussels in 10 minutes Mike was thrilled to see people enjoying the spot as much as he had.
"If you look around everybody is smiling. It's what I like, everybody is having a good time."
Auckland man Nick Abercrombie has claimed exactly the same camping spot for the last five years to keep his dear neighbours.
Abercrombie, his wife and two kids decorate their campsite to make it feel like home. This year they included pink flamingos so Santa would know where to find their tent to deliver presents. They unwrapped their gifts under a tiny pink Christmas tree.
Riley Elliott-Lowe, 13, loves it for the isolation.
"I like not having reception. It's nice to not have the temptation and be cut off for a little while."
But when she gets back to civilisation her friends will update her on what she missed on Instagram.