This week, the Herald is speaking to Kiwis who have survived illnesses, accidents and crimes that almost killed them, as part of our I Should be Dead series.
Rugby used to be "everything" to Thames Valley prop Hayden Anderson - until a rare complication from an on-field injury almost cost him his life and left him questioning his priorities.
Minutes into a Heartland Championship match on September 16 the then 21-year-old prop collided with another player, breaking his left tibia and fibula.
After having surgery on his leg, Anderson developed Fat Embolism Syndrome - where fat leaks into the bloodstream after a major trauma and can cause serious problems for internal organs - and a lung infection.
He was put on life support and doctors told his father Barry Anderson he had an 8 per cent chance of surviving.
Astoundingly, Anderson overcame the odds.
Read more: Hayden Anderson says he's 'dodged a bullet' after nearly dying after on field collision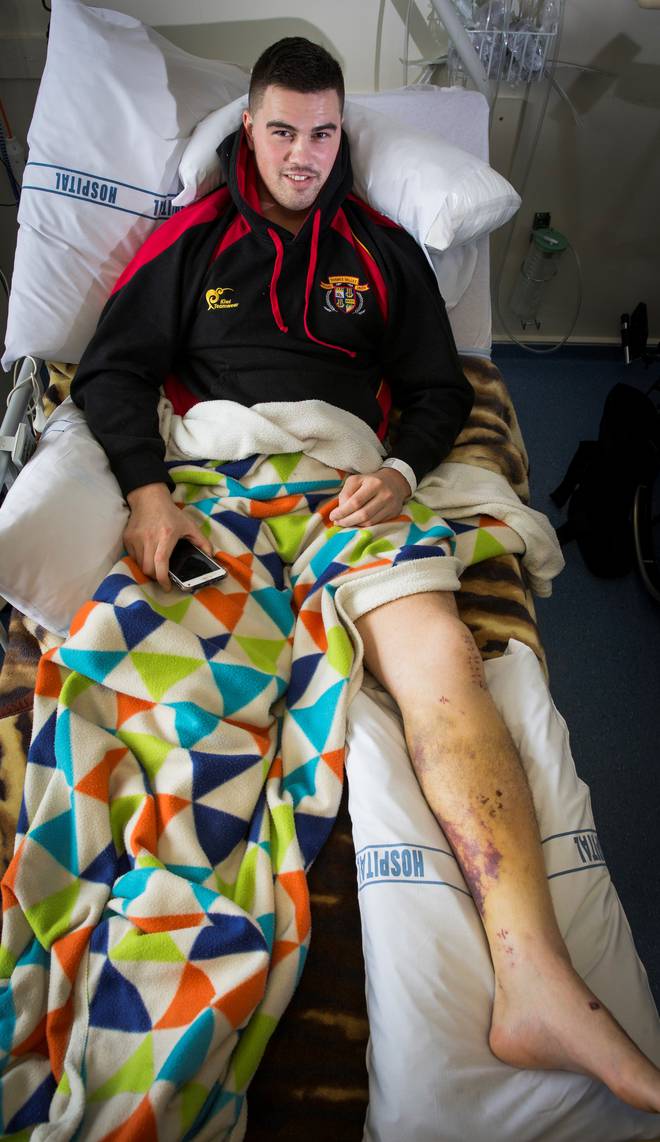 Since being discharged from hospital a month after his accident Anderson has continued his recovery at his Mount Maunganui home.
Despite having a "floppy" foot due to a damaged nerve, he can now walk short distances unaided and is back training in the gym.
Anderson also sees a physio therapist twice a week for his lungs.
He is yet to return to work as a vocational moulder for ovens because an occupational therapist told him the 300C temperatures he would be exposed to would be bad for his lungs.
"Because of how unpredictable my lungs are I do get pretty fatigued pretty quick," Anderson said.
"My fitness sessions or the physio, that takes it out of me. I usually go home and sleep after I've done fitness."
Doctors have warned the now 22-year-old it will be at least a year until he is well enough to play rugby again.
He left his family and a well-paid job in Perth in January last year to play at a regional level here dreaming of making the Super 15 or ITM Cup squad, but Anderson said since his injury he has been questioning it.
"Rugby's not as important to me as it was," he told the Herald.
"I love rugby ... [but after] an injury like that - you've just got to ask if it's actually worth it. Rugby's not at the top of my priority list anymore - if I want to travel I'm not going to say no. I'm not going to sacrifice so many things just for rugby."
Once he was out of a moonboot and had been cleared for bloodclots, Anderson's elder brother flew him to Melbourne to spend time with six of his eight siblings.
Anderson said his brush with death had served as a reminder to not worry about little things and to make the most of life.
"Even when I was in hospital I'd get pretty down when I couldn't get up and walk, there were other people in another room that were worse off. They were getting their leg amputated so I think one thing [he's learnt] would be there's always someone worse off, way worse off."