A 13-year-old Auckland girl has received "a life-saving Christmas gift" from a stranger - a new heart - after developing congestive heart failure.
Her heart transplant was one of a record number conducted in New Zealand this year, due to a large number of donors.
Until three months ago, Milli Jackson had seemed a normal, healthy teenager - but on September 1 her family discovered she was fighting for her life.
Milli had been feeling ill so mother Bridgette Jackson took her to the doctors. From there she was sent to Waitakere Hospital before being taken to Starship children's hospital by ambulance.
"I was in absolute disbelief," Jackson said. "Basically they said she could die within 12 hours.
"It was a mother's worst nightmare."
She said doctors told her an unknown virus may have caused Milli's heart to fail.
Starship's head of paediatric and congenital cardiac surgery Dr Kirsten Finucane said although it was very rare for a virus to cause heart failure, it did happen occasionally.
It appeared the North Shore schoolgirl had suffered for a year or two before she was diagnosed.
But because her symptoms were non-specific - like losing quite a bit of weight and being lethargic - Jackson and family doctors put them down to Milli being a teenager.
After she was hospitalised Milli had a pacemaker inserted to try to correct the problem and when that failed she went on the waiting list for a transplant.
A donor was found within a week and on November 11 she had surgery.
Due to strict privacy policies around organ donation, all Jackson and Milli knew about the person who gave her their heart was that they were an adult who lived out of Auckland.
Jackson said she was keen to meet the family of the donor if they wanted to meet her and Milli so that she could thank them for their gift.
"I really would love to wrap my arms around them and say thank you so much for saving my daughter's life."
Being in hospital for three months and seeing other children die had had a profound effect on both Milli and Jackson.
"It just makes you realise what really is important in life," Jackson said. It just makes you put life into perspective massively."
It also made her realise the critical need for more organ donors.
People currently have to opt in to donate organs, but Jackson believes the rules should be changed so people have the option to opt out instead.
"I think the other thing that needs to be changed is that even though everyone can say they'd like to donate their organs, family members once someone passes on can actually change that."
Seeing her daughter suffering so much had been extremely stressful.
But Jackson had tried to stay positive and the community had rallied around the family - bringing over meals and stocking up their freezer.
She was grateful for the community support and also wanted to thank the doctors and nurses at Starship who had been so kind to them.
A stranger who owns a hospitality company and has been following Milli's battle on social media had contacted Jackson to offer to put on a free Christmas lunch for the staff in Starship's Picu (Paediatric Intensive Care Unit) and heart ward.
"I just said to him in tears when he called me 'thank you so much' because what do you do for people who have saved your daughter's life? It's priceless," Jackson said.
She and the man were organising the event and comedian Urzila Carlson was giving away tickets.
A few weeks after her transplant, Milli was recovering well. She moved from Starship to Auckland's heart and lung rehabilitation centre Hearty Towers on Thursday and will be there for six weeks.
However, she will have to stay on anti-rejection medication for the rest of her life.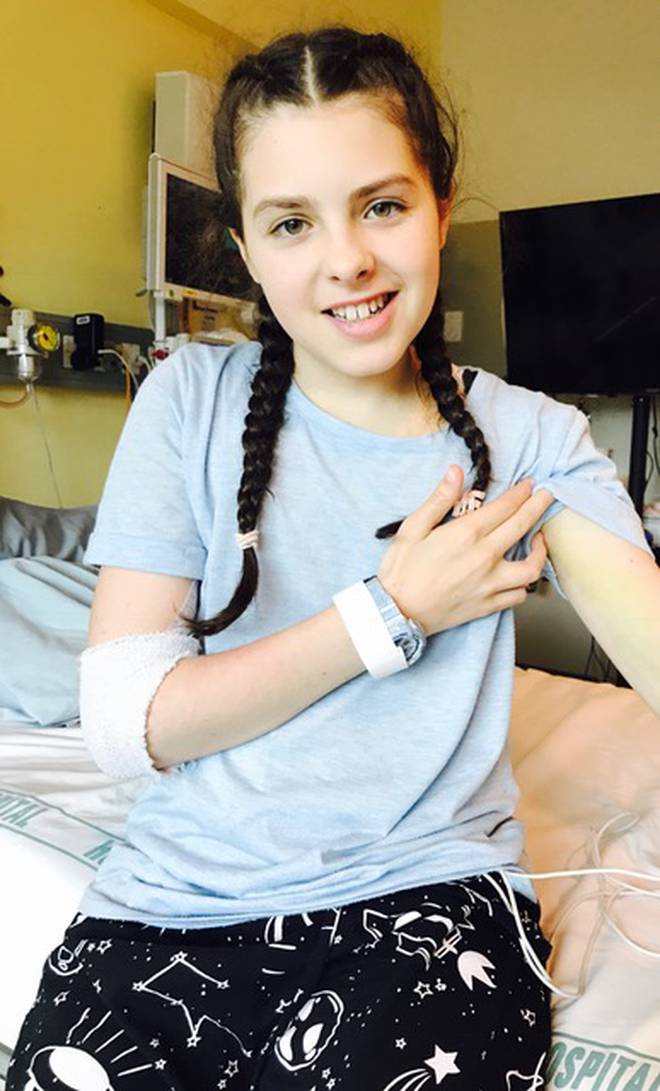 Starship's head of paediatric and congenital cardiac surgery Dr Kirsten Finucane said a record number of heart transplants - for adults as well as children - had been conducted in New Zealand this year.
"There's always people waiting for transplants. It's just that we've been offered more donor hearts which is fabulous."
She said doctors believed this was because more people were talking about organ donation and people were letting their family know their wishes "so that when the expected happened they were good to donate".
When patients could get a transplant quickly, the surgery was generally safer and they recovered faster, she said.
Without transplants people whose hearts had failed sometimes had to be put on special machines to support them or even died, Finucane said.
The mechanical support machines could also cause strokes or blood clots to the brain.
But after a transplant, most people including children, had an excellent quality of life.