Police tonight blocked off a road in downtown Auckland to disperse crowds of Tongan fans blocking streets following their team's semifinal Rugby League World Cup loss yesterday.
The Farmer's Santa's Parade this afternoon may have been on on Queen St this afternoon, but the subsequent scenes this evening were a different kind of parade.
After those festivities, from about 6pm, hundreds of Tongan fans dressed in red and white descended on Quay St, waving flags - a number which read "TRY!" -
and cheering.
Some were there in protest at a referee decision they say robbed them of a win, while others are just celebrating how far their team has come.
It appears the event was organised on Facebook, with a page stating: "We have decided to lodge a protest due to the most disgraceful biased refereeing we have ever seen. So TODAY at 6pm wear all red, bring your Tongan flags & lets create history one last time."
The celebration held up traffic as fans danced on the roads. Fans in their vehicle blasted Tongan songs from their stereos.
Fifth Harmony singer Dinah Jane Hansen, who sang the Tonga national anthem yesterday, arrived in a car - sending fans into a frenzy.
Police monitored the situation and at times moved fans off the street as they block vehicles, but the majority of vehicles were part of the impromptu parade.
From about 8.30pm, police blocked off Quay St at both ends to stop traffic coming in and out.
By about 9pm, the crowd was starting to disperse. Some headed up Queen Street.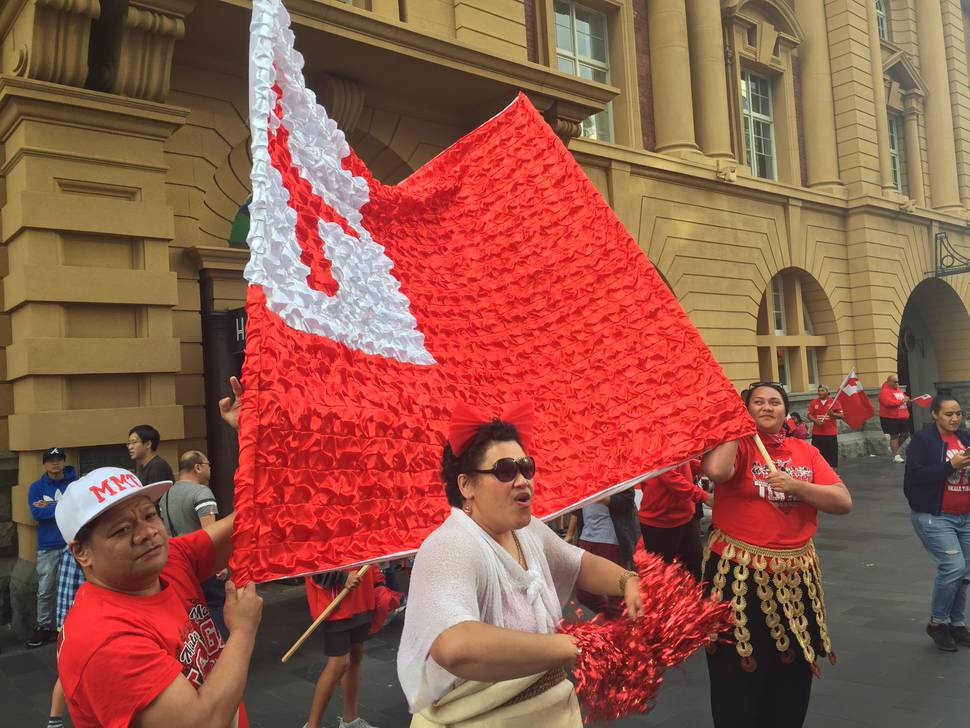 A police spokeswoman said tonight they were monitoring the situation but there had been "no major incidents".
Mate Ma'a Tonga was down 18-20 to England in last night's game with one minute to go before Tonga's Andrew Fifita scored what appeared to be a match-winning try.
However, referee Matt Cecchin ruled it a no-try thanks to an earlier knock-on. Tonga wanted the incident referred to the video ref as they believed the ball had been stripped from Fifita by an England player.
Mate Ma'a Tonga fan Juliet Ngauamo, 25, said today was about celebrating the team's passion and dedication to the community throughout the competition.
Although they could not change the result, they were still hugely proud of their boys, she said.
The celebrations were visible from the Grand Mercure hotel, where it was understood members of Mate Ma'a Tonga were staying.
Fans had hoped the boys could see what was happening outside and they come out at some point.
George Otai dressed up as Tellytubby Po in support of his team in red.
"It was the only thing they had at the costume store," he laughed.
The 15-year-old, who was here with his mother, said they were also here in protest of what they felt was a match-winning try belonging to Andrew Fifita.
Kase Tangitau, from Mangere, said a referee decision in the dying seconds of yesterday's game robbed Tonga of the chance to go to the final.
"It should be Tonga and Australia at the finals this weekend.
"They should have taken it up to the TMO but they didn't. That's why so many of us are here today, to show our support for what's fair."