Two-year-old Lincoln Woodmass can't run or jump and could one day lose his ability to walk, but he's determined not to let a rare, incurable disease get the better of him.
Mum Tania Woodmass said she and husband Regan realised something was not right with their baby boy just before Christmas last year when a friend they had not seen for some time asked what was wrong with his legs.
The couple had assumed it was just part of learning to walk but took him to a doctor who said it was just flat feet and sent him off for physiotherapy.
When that didn't do anything they got a second opinion. They were referred to a specialist at Waikato Hospital and videos of Lincoln walking were sent to Starship.
Worst case scenario was Spinal Muscular Atrophy, but it was unlikely that was the cause, they were told.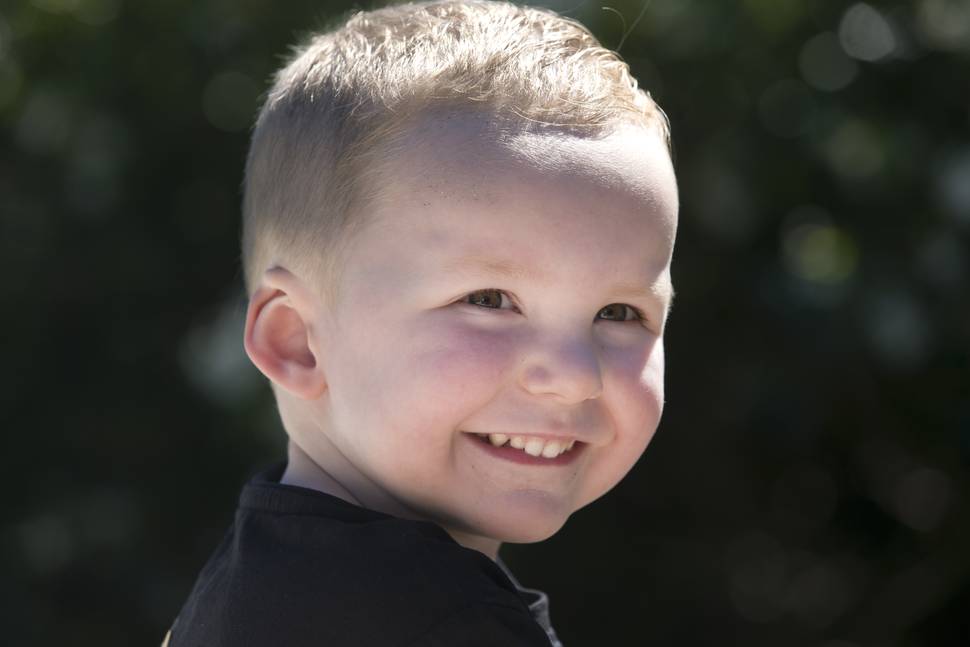 However, on April 12 that was exactly what their bubbly toddler was diagnosed with.
"We're still going through the grief period," Woodmass said of his diagnosis of Spinal Muscular Atrophy type 3. "They have told us he will eventually be robbed of his ability to walk. That's a huge thing.
"He's so limited in what he can do and he's such a determined little man. He falls and you try to pick him up and he goes, 'No. I'll do it, I'll do it'."
The rare disorder is a genetic disease affecting the part of the nervous system that controls voluntary muscle movement and affects between 1 in 6000 and 1 in 10,000 babies.
In New Zealand there are about 75 known cases. Of those, 32 were in people under 18 and the rest in people over 18, according to the Muscular Dystrophy Association of New Zealand.
The disease was often fatal for children with type one - they have trouble breathing and swallowing. Children with type 2 were generally unable to walk and those, like Lincoln, with type three could initially walk but have increasingly limited mobility as they grow and often end up in a wheelchair.
The disease means Lincoln struggles to walk without falling over and can't run around with his friends.
"You only have to touch him and he falls over," Woodmass said.
"Our whole family has just been flipped upside down. You see him fall and your heart breaks every time. He falls straight back on to his head. His knees just collapse and he falls straight back.
"He gets really tired really fast. Even as determined as he is it takes him three times as long to do everything."
Woodmass said they bought a helmet for him to minimise the impact of his falls but trying to get him to wear it was another thing. He had realised other kids didn't wear them so was reluctant to do so himself, she said.
"It's so heart-breaking that he's got a disease that we can't do anything about. We just feel like our hands are tied."
There are no treatments currently available in New Zealand but the family were considering going overseas if that would give Lincoln the best chance at a normal life and were already raising money to pay for expensive, unfunded drugs.
Dr Collette Bromhead, chief executive for the NZ Organisation for Rare Disorders, said in December the US Food and Drug Administration approved a drug called Spinraza, made by Biogen, for the treatment of Spinal Muscular Atrophy.
Spinraza was designed to treat the underlying defect in Spinal Muscular Atrophy, which meant it could be effective at slowing, stopping or perhaps reversing the symptoms.
The drug was currently undergoing registration with Medsafe in New Zealand.
Treatment with the drug would cost US$750,000 for the first year and US$375,000 for each subsequent year but the family were hopeful Lincoln might be eligible for a trial which was due to start in Australia.
Click here to support the family.
About Spinal Muscular Atrophy
• It is a genetic disease affecting the part of the nervous system that controls voluntary muscle movement.
• The earlier the age of onset, the greater the impact on motor function. Children who display symptoms at birth or in infancy typically have the lowest level of functioning (type 1).
• Onset in children (types 2 and 3), teens or adults (type 4) generally correlates with increasingly higher levels of motor function.
• The primary symptom of chromosome 5-related Spinal Muscular Atrophy is weakness of the voluntary muscles.
• The muscles most affected are those closest to the center of the body, such as those of the shoulders, hips, thighs and upper back.