A new Tauranga children's playground that was torched and destroyed cost $55,000 to build.
Firefighters were called to Faulkner's Park, Judea, about 6.30pm yesterday to find the newly built playground well ablaze.
Tauranga City Council parks and recreation manager Mark Smith said the playground had only been built three-and-a-half months ago and cost $55,000.
"We've been out to the park this morning to assess whether it meets the insurance threshold, and we'll be in touch with our insurance company today.
With any luck we'll be able to replace it at little to no cost," Mr Smith said.
Because you don't know what's going to happen next. When this happens, it's like, oh my God, what's going on?
Glenda Chapman, who lives nearby, was first aware of the blaze when the fire engines pulled up. She could see the smoke from her house.
"The whole thing went up in flames. We're not very happy that a person set fire to it because it's like having an arsonist in Judea."
She said the playground had only been there a few months.
"They did it for the community, and then all of a sudden it's set fire to."
Ms Chapman said the kids on her street had a lot of fun on the playground.
"There are a lot of kids around here and they like playing on the playground. It's better than being on PlayStation, doing video games on nice days. They could be out here. Now that it's burnt, what they can do?"
She said it also made her feel a bit nervous.
"Because you don't know what's going to happen next. When this happens, it's like, oh my God, what's going on?"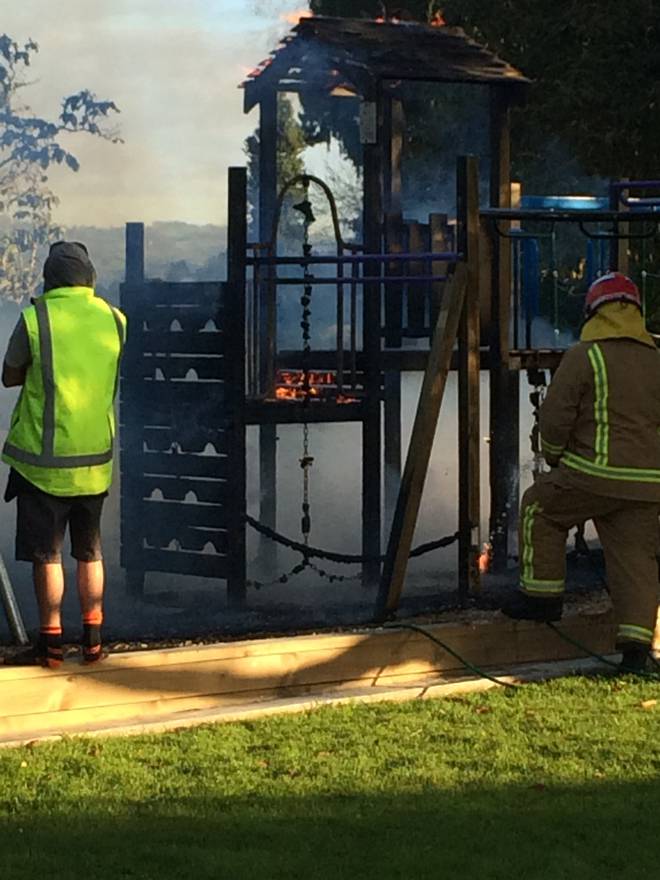 Ms Chapman had noticed more young people hanging around in the park in the evenings and at night since the playground was built. So has another neighbour, whose house backs onto the park.
The woman, who did not want to be named, said there was now more "riff-raff" around.
"You get quite nervous when you hear them. It's attracted the wrong crowd."
She said she has heard fights and both young people and adults hanging around at the playground at night.
As for the playground fire, she said: "It's really sad because it's good for the kids".
This morning, the smell of smoke was still in the air and the wood chips on the base were still wet from the firefighting efforts. Patches of foam could also be seen on the ground.
The blackened remains of the playground were cordoned off and, to the side, the black plastic protectors on the chain swing set were partially melted - signalling the level of heat coming off the blaze.
Acting Tauranga station officer Nigel Liddicoat said the cause of the fire was being treated as suspicious.
"Fires don't start in playgrounds for no reason, but ... no one saw anything, no one saw anyone," he said.
"I think the playground's construction would have added to its volatility - the wood chips on the base and the plastic on the slide, once they got going it was probably always destined to burn reasonably well."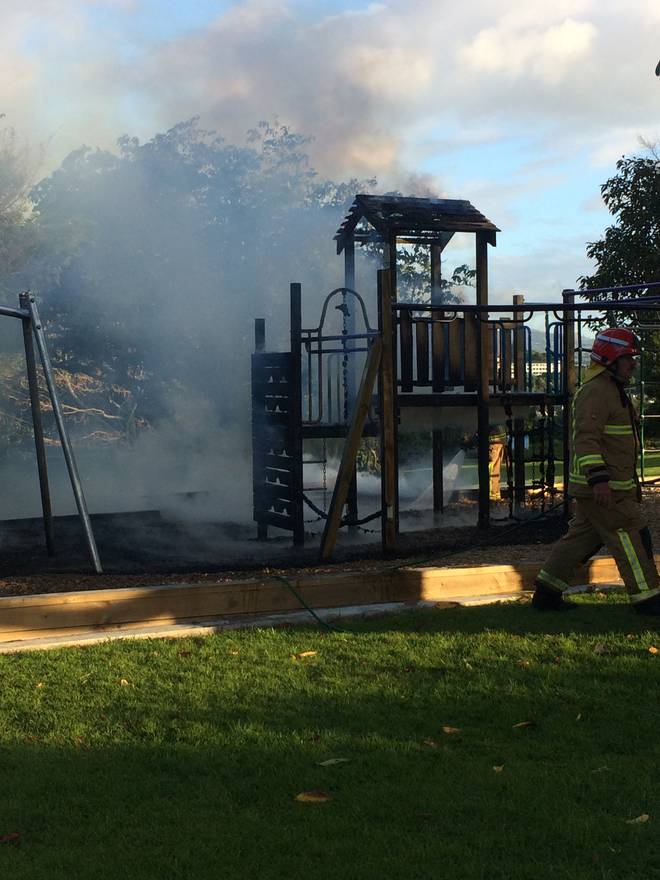 Mr Liddicoat said the residents who gathered to watch the fire be extinguished were saddened. One man could be seen trying to extinguish the fire with a garden hose but it was too big, Mr Liddicoat said.
"It's just a tragedy; I don't think this was very old. A lot of kids got a lot of enjoyment from that playground, but unfortunately, due to one or two people, it will certainly have to be demolished and rebuilt."