Warning: This story contains discussion of suicide that some readers may find upsetting.
A mother who lost her 15-year-old daughter to suicide, burst into tears as she pleaded with politicians for an urgent inquiry into our mental health system.
Hana Reedy and her husband Apimeleki Nasedra held a photo of their daughter Ariana as they presented a 30,000 signature petition to Parliament.
The petition calls for an urgent inquiry into New Zealand's mental health system.
Reedy said she was still struggling to cope after losing her daughter two months ago.
Despite trying to get help, their family slipped through the cracks.
"We went through mental health at the DHB, but we got no help from them," Reedy said.
"The first time she tried to do something to herself we got sent to the hospital, and were sent to the children's ward, because there was nowhere else for my 14-year-old daughter in Hawke's Bay."
Two days later Ariana was sent home, but only three days after that, she tried to hurt herself again.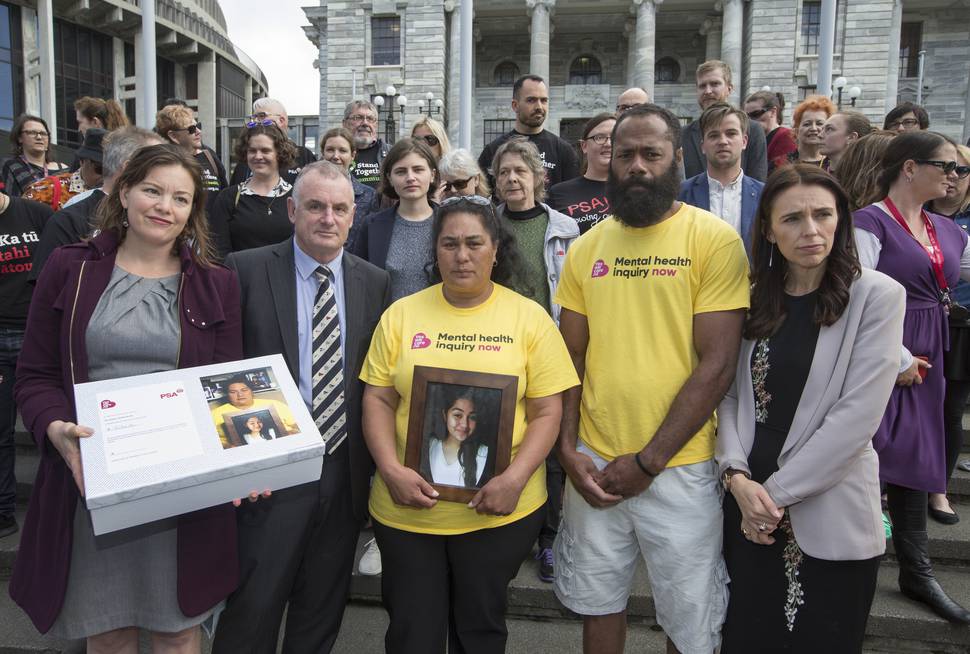 "She was assessed and they said it was just behavioural, even though I'd told them there was bipolar and schizophrenia in my family," Reedy said.
"Then they said it was my fault, and I needed to step up and do my thing as a parent."
After pushing for more help Reedy was promised a specialist spot for her daughter in Wellington. But by the next morning, the spot had been filled by someone else.
She started to cry as she said there needed to be drastic change.
"We need to sort this. We've got a bad problem with our young people.
"Something needs to be done, not pushed under the rug.
"There was nothing for my daughter, because she was underage."
Reedy and Nasedra were greeted by Labour leader Jacinda Ardern and Green Party leader James Shaw, who accepted the petition.
Ardern hugged the parents before talking privately with them.
Shaw then signed the petition, before telling the parents "this is in safe hands now".
PSA National Secretary Erin Polaczuk said mental health workers wanted to do more to care for New Zealanders, but they were struggling because of underfunding in the system.
"They're suffering from years and years of underfunding, while the work is getting harder and harder.
"The people who work in mental health are amazing, and really care about the work they do.
"But they can't do the best work when they're working double shifts all the time, or when funding is falling short."
Where to get help:
• Lifeline: 0800 543 354 (available 24/7)
• Suicide Crisis Helpline: 0508 828 865 (0508 TAUTOKO) (available 24/7)
• Youthline: 0800 376 633
• Kidsline: 0800 543 754 (available 24/7)
• Whatsup: 0800 942 8787 (1pm to 11pm)
• Depression helpline: 0800 111 757 (available 24/7)
• Rainbow Youth: (09) 376 4155
• Samaritans 0800 726 666
• If it is an emergency and you feel like you or someone else is at risk, call 111.