The employers of a truck driver killed when his vehicle crashed with a train near Kawerau are on their way to the crash site.
The crash, which took place at a railway level crossing along Lambert Rd, happened just before 11.35am today.
The driver of the truck died at the scene, about 800m from the intersection of Lambert Rd and SH34, which is between Kawerau and Te Teko in the eastern Bay of Plenty.
A Waste Management spokeswoman confirmed the the truck involved was a Waste Management truck and "our driver has died at the scene".
"Our management team are currently on their way to the site of the incident and will be
working with police and emergency services in attendance," she said.
"At this time, we are focused on providing support to our driver's family and our local team.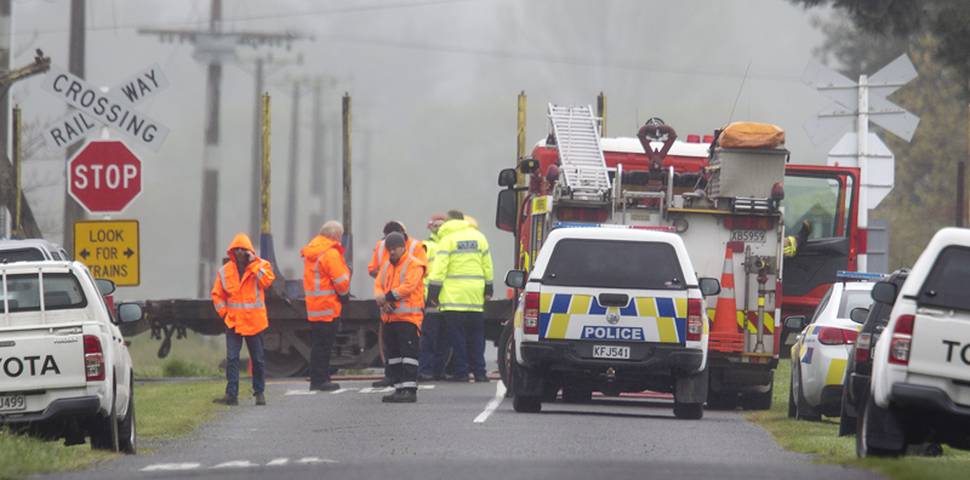 "We will be working through a full investigation to confirm events surrounding this tragic
incident."
Cordons were in place at the intersection of Lambert Rd and SH34, with at least two police cars and a fire engine at the scene this afternoon.
Family members had arrived at the scene about 1pm.
A Rotorua Daily Post photographer at the scene said visibility at the crash site was poor due to rain and fog.
The Serious Crash Unit is investigating.
Whakatane District Council chief executive Marty Grenfell has expressed his condolences to the family and colleagues of the driver.
Collection of refuse and recycling within the Whakatane District was contracted out by council to Waste Management New Zealand Limited, which owned and operated a fleet of trucks with the council's logo.
The Whakatane District Council will offer its full co-operation with any Worksafe investigations.