A milk tanker driver is critically injured after crashing off a Taranaki road.
A police spokeswoman said emergency services were called around 8.30am to the crash on Skinner Rd in Stratford where the driver was trapped in the vehicle.
Police Sergeant Andrew Russ said the fully laden Fonterra tanker was heading south at the time of the crash.
"The driver has got to far left for whatever reason and lost control," he said.
"The tanker has crossed the centre line and flipped and rolled the entire unit."
The tanks on both truck and trailer had ruptured, with an estimated 20,000 plus litres milk spilled.
Russ said the driver was in a critical condition, and it had taken the best part of an hour for Fire Services to cut him free.
A helicopter had been called to airlift the driver to Waikato Hospital.
At a nearby house, Kate Beckett, 10, and Hollie Beckett, 9 waiting for their mum Sharon to taken them to school when they hear a loud rumble, a pause, and than a very loud bang.
"We ran outside and saw tanker and started crying," Kate says. "It was frightening."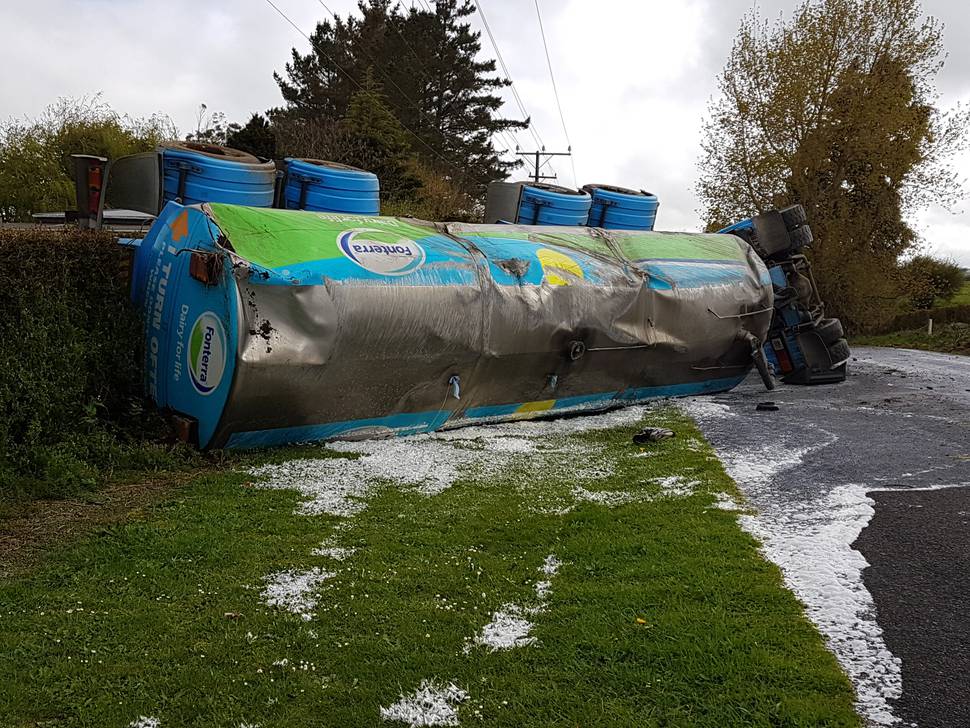 Their father Michael called 111 ran out to see what we could do to help.
The Serious Crash Unit were at the scene and the road was closed between Bird Rd and East Rd.