Photographer John Crawford regularly walks the streets, armed with just his iPhone capturing small glimpses into the lives of those who call the concrete pavements home.
The 67-year-old is more than a casual observer, capturing each moment with the press of a button before moving on.
Crawford often sits and shares a meal, or a drink, and takes the time to listen to the stories of those who are homeless.
It is not till he has earnt their trust that Crawford pulls out his iPhone to take a photo. He says it is far less imposing than the traditional SLR cameras.
"It's always handy and it's not as threatening to people."
The results of this project - 25 portraits of those living on the streets taken over the last three years - are being displayed for the first time at the Gow Langsford Gallery.
The "On the Street" exhibition - a fundraising event for the Auckland City Mission in mid-October is one of his biggest to date.
Crawford, a professional photographer whose commercial work has taken him around the world, is probably best known for his personal artistic project called Aerial Nudes.
The photos show a naked woman, his then-wife, body splayed in outdoor settings; a commercial car-yard, on a black sand beach, on a train track and in a pig sty. The images were taken more than 20 years ago but won a legion of new fans when shared on social media last year.
His latest project on homelessness is another personal one, driven by his desire to bridge the gap between the public and those on the street who often go ignored.
"I have never put so much into my own, but this is such a good cause, it's been a big commitment, a personal crusade."
His crusade is to give the Auckland City Mission money to continue its work supporting the homeless and to raise awareness of what life is like on the streets.
"To raise people's awareness about that which is right in front of everyone's noses, but very few people do little about."
Crawford is often around Auckland's central business district and has noticed how few people connect with the homeless.
"People generally look the other way. They pretend they are on their phone, or cross the road. Very few stop and talk."
So one day Crawford decided to stop, talk and listen.
"Everyone has a story to tell, but not many are prepared to sit and listen."
He says taking the time to listen has opened the gate to him asking the question that could be easily refused.
"I'd love to take a photo...do you mind?"
Ninety-nine per cent of the time Crawford says people agree, but he never pushes if they don't.
"You are intruding on people's lives when you say I'd love to get your photo. It's almost invasive."
One of the first people he ever photographed was Luke.
"I would often stop and chat to him [on Customs St] and he would always smile, turned out he was from Taranaki and I'm a Taranaki boy."
They bonded over this common ground and so began Crawford's series of portraits of homelessness.
Behind each portrait is a story; Taylor 22 and her boyfriend Lee, 36, who sit on opposite sides of Queen St collecting small change and food during the day, before finding a spot in a park to lay at night.
There's Victoria, 56, a Northland woman of mixed Maori and Scottish heritage with an "infectious giggle and toothless smile" who loves to watch movies at the internet cafe.
And then there is Wiremu, 37, who after 15 years on the streets is getting nostalgic for home.
To capture the portrait Crawford takes many of those that hang around Auckland's CBD to a little lane, off Shortland St.
It is this same patterned concrete backdrop of the lane's walls that appears in many of the portraits in the gallery exhibition.
Crawford then finds something, that gets his subject talking - perhaps a tattoo they are proud of and through that they build trust.
"The relationship grows to an extent where they just talk and talk."
Crawford says the photos, together with the stories, are "pretty confronting".
"I'm affected by how sad some of these stories are, you can see the sadness in their eyes."
Cookie, 51
Cookie has done a number of stints inside, including nine years in Paremoremo for aggravated robbery. His moko was done by a fellow inmate.
He said he is too old for trouble now. Cookie sleeps anywhere that's out of the cold rain.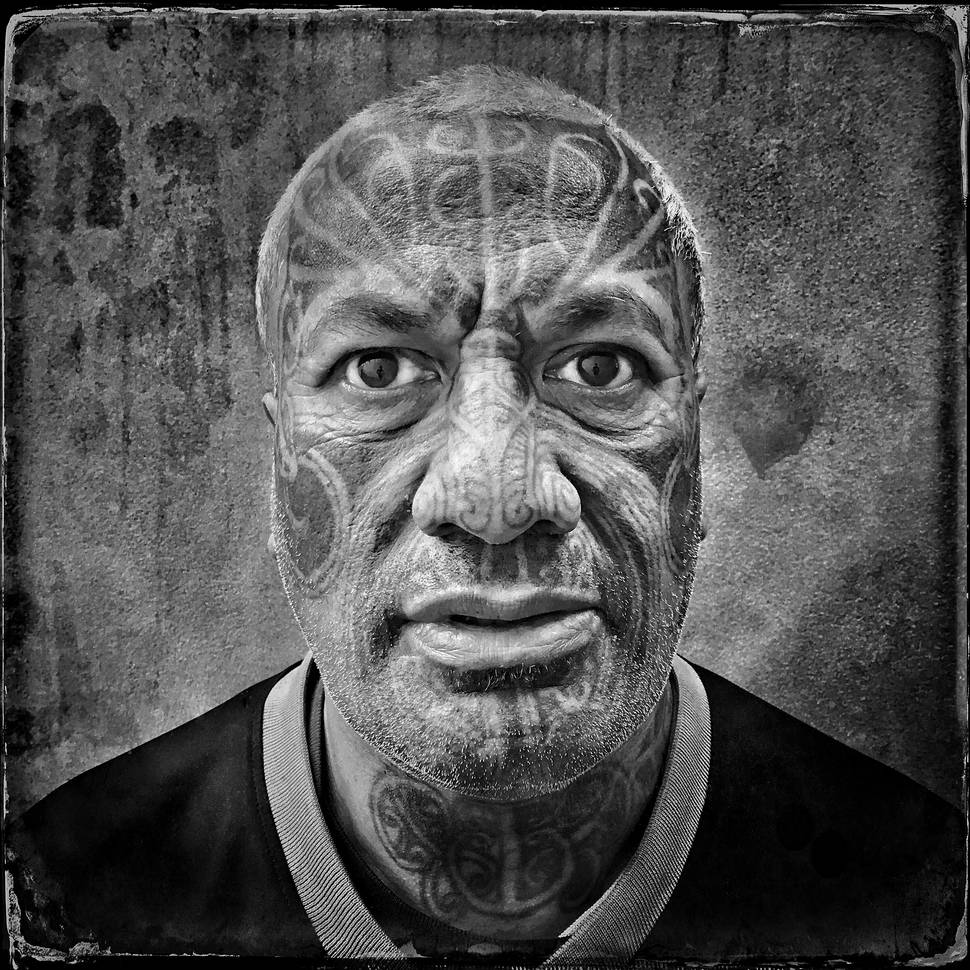 Taylor, 22 and Lee, 36
Taylor and Lee have been together for almost five years and boast of being the longest surviving couple on the city streets. They sit on either side of Queen St collecting small change and food.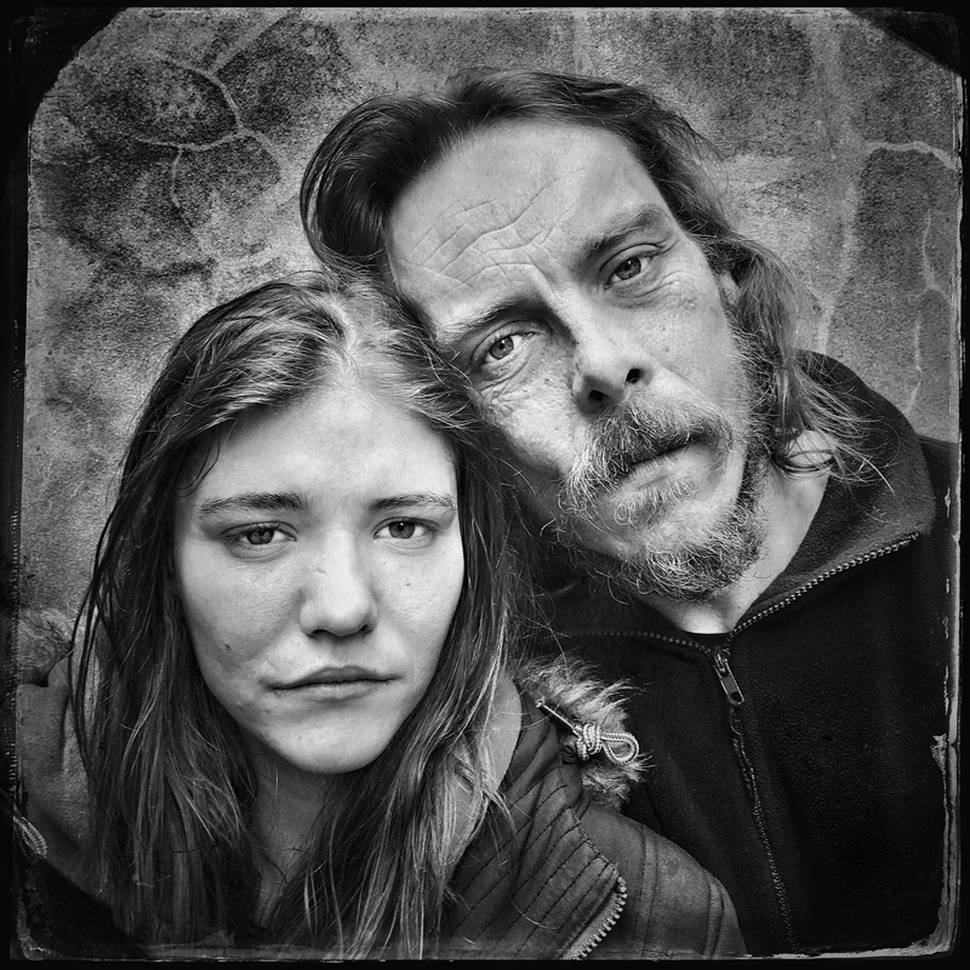 Victoria, 56
Victoria comes from the North of the country, her father was a well-respected Maori gentlemen and her mother Scottish.
She is happy on the streets as long as she is left alone. Sometimes she goes to the internet cafe and watches movies for hours.
Wiremu, 37
Wiremu sits on the pavement in Queen St most days, standing out with his big frame and orange blanket. After 15 years on the streets he thinks it is time to go back home.
"Too tough bro, I wanna go back home now, that's the plan."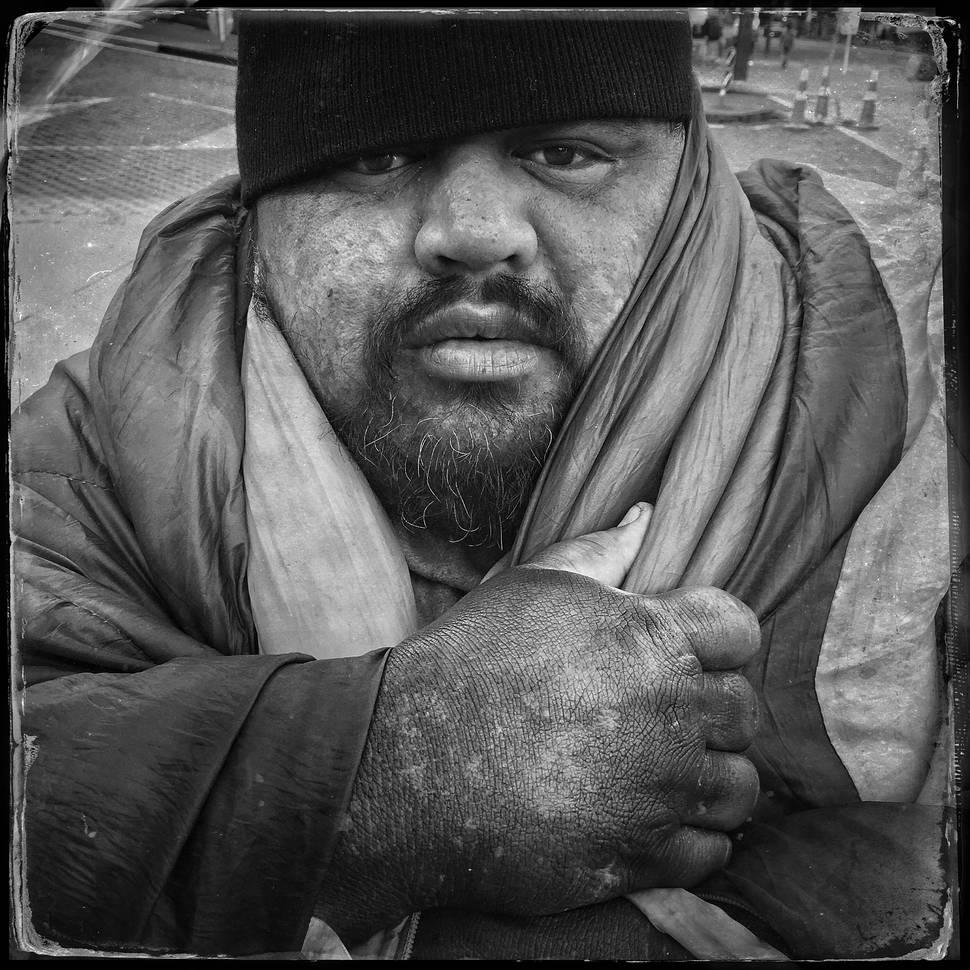 On the Street
October 13 - October 15
Free admission with all donations gifted to the Auckland City Mission.
Gow Langsford Gallery
Artist: John Crawford
To help John Crawford fundraise for the Auckland City Mission go here
Each person in this exhibition has given the photographer permission for their photo to be used and for any associated media coverage