There are 1065 people living in Ahipara and sometimes Frank Malley is one of them.
He comes and goes with the tide, or the waves at least.
So there he is, all his 52 hard-lived years of life, with a longboard under his arm and a hunger in his eye.
Malley has a hint of wild man, good-humoured though. His hair's wild and windswept from the salt and the spray and he can't wait to get back into it.
He starts at the beach but doesn't head straight into the surf. No, those who surf the waves of Ahipara are smarter than that.
Instead, the tide leaves a route along the cliff face. Black rock gives surfers a way beyond the break without ever getting wet.
And that's where Malley gets in and then he's up and he's on his board and on his wave and then it's over and he's back where he started and so he starts again.
"Surfing is a bit of a curse. When it's in your blood, it's hard to put aside for fear of missing out." And then he pauses and thinks and bit, then corrects.
"It's not fear of missing out." No? "It's a hatred of missing out."
He's lived at Ahipara before although is currently in Kaitaia. But the beach and its waves make him captive to the township nestled at the southern end of 90 Mile Beach.
"When I came up here 15 years ago I thought this place was on the verge of blowing up and turning into a surf town.
Then came the global downturn and nothing happened. Malley: "I've been here 15 years and Ahipara hasn't really changed at all."
Nope, things just kept ticking along. The population of Ahipara has slid slowly downwards while unemployment stayed slightly above the Northland average (which is double the national average).
"There are people doing it tough up here. Morally, financially, spiritually. It's a tough time for everyone but when hasn't it been?"
The road to Ahipara splits in two as it nears the coast. The way locals describe it, follow it around to the right, and you wind up in the poorer end of Ahipara. Take the left turn, and around the corner there are flasher and newer houses stretched up the hill high above the bay.
There's been people move into those houses. Money from Auckland buying up the houses on the hill, while those at the other end of town who point and talk about how they were built inconveniently far from the sea.
Nice to look at but those people never get their toes in the sand, do they? And they go back to the city often enough, don't they?
Malley says there's no feeling of wealth in Ahipara. "There's hope and there's optimism."
The surfer speaks: "If you've been treading water for a while then you think you're going under, then treading water seems pretty good."
"Ahipara needs a boost. It needs to grow." Then he smiles. "But I'm glad it hasn't as well. It keeps the surf uncrowded."
There's a glut of effective politicians who could make it happen. Winston Peters is Northland MP while Kaitaia hometown boy Kelvin Davis holds Te Tai Tokerau. His predecessor in the seat, Hone Harawira (who has helped develop rugby league locally while out of Parliament), is also a contender.
Davis, though, is especially highly regarded locally. A former school principal, he has one brother who's a sergeant in police and another who serves as a judge.
"Kelvin, he's an amazing man," says Malley. "Good rugby player in the day.
"It's easy to look at some politicians and think it's just a big act." But Davis, he says, he knew from before politics. It makes him real.
Malley writes sports for the Northland Age newspaper. In 15 years, he says, there are fewer rugby teams fielded. The local competition is not what it was.
He wonders, where are those people? Those connected and motivated locals who would build a club, train during the week and play weekends - "where have all the people gone?"
"Is there no more work for them here? Weren't we a farming nation?"
Patau Tepania, 52, says it's all about jobs. "We've got the resources but we don't have the financial backing to get at those resources," he says.
Around here, Tepania means those resources offshore. He's worked gillnetting as a commercial fisherman for decades and believes - deeply - there is opportunity at sea.
The way to unlock that opportunity is for Government to better support for business and industry in provincial New Zealand, he says.
Supporting fisherman, too. "We're a small outfit," he says. There's four local commercial fishermen where there used to be 10.
Those who remain face complying with new rules for recording catch from Wellington.
There's cameras and GPS trackers to be installed and an electronic recording system.
It's going to cost around $4000 a year after $8000 is paid to install it.
"I wonder how on earth I'm going to survive."
That's his focus, although there's plenty else to occupy his thinking.
"What brings people here is the community, the beach. It's not money that brings people here."
People with money have come, though. He says there's been more people moving from down South (almost everything is at this point in New Zealand) and it's almost as if there is a community of strangers alongside locals.
It changes patterns in a community, and that sometimes brings conflict. Newcomers wanting to shut part of the beach off to vehicle traffic when it's always been open - that kind of thing.
There was a town meeting. "I said, 'the day's going to come when you'll try and stop us riding our horses up and down the road'."
Auckland's housing boom, sending shock waves across the nation.
Tenapia worries about drugs. Methamphetamine has been a scourge in the community. This is the coastline where 500kg of the drug was found.
"We've always been known as Cannabis County but since P has come it has taken over the North."
It twists families upon themselves, destructive P forcing addicts to prey on or otherwise neglect those who are closest.
In looking for solutions locally, he says Davis will get his vote as he has done since first standing.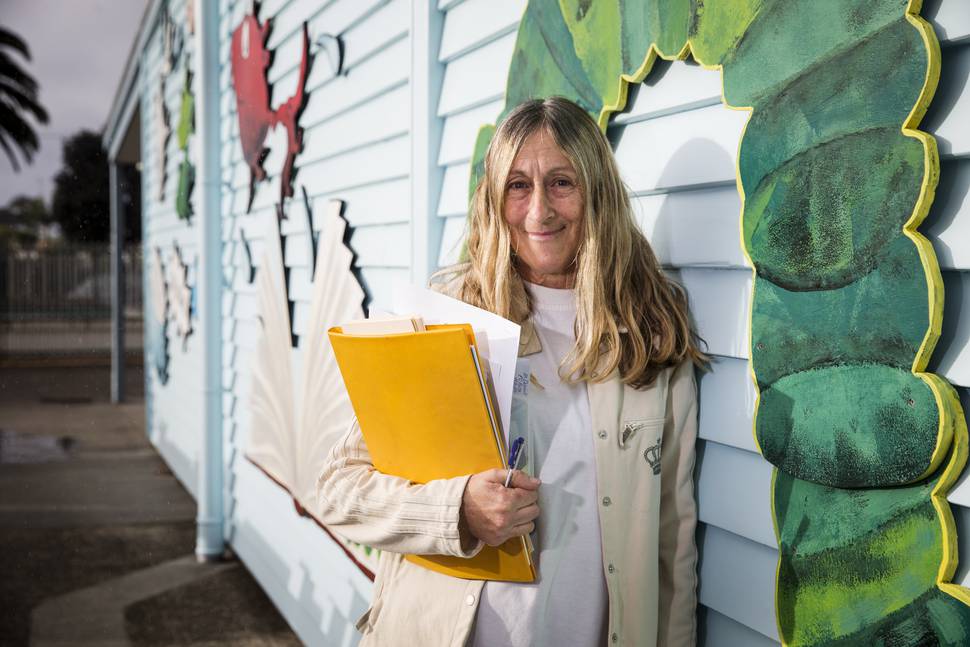 Margie Donald, 51, is a hurricane of words. Whammo! "I tell you what, MPs do not know what it's like to live on no money."
Bang! "I would challenge anyone to live for six months on what you get on the benefit."
Do it with no savings, no help and a beat-up old car, she says.
Pow! "And then do it with children."
She moved to Ahipara with her daughter in 2001. Donald was widowed at 36, raising her daughter alone. "I'm really glad I live in a country with social security."
When we met, she was teaching at Ahipara Primary, in the heart of an "amazing" community.
Her girl has grown and left home. She's in London now, but Donald knows still how people look through you when told you're a single mum. And she knows how the benefit made it possible to raise her daughter properly, rather than sacrificing time for money.
"Little children don't need a lot but what you really need to spend on your children is time."
How do you get that across to people who won't - or can't - understand?
Broadly speaking, she says: "The people who tend to vote National are farmers or well-educated business people or those who are doing well.
"They say 'you've got no get-up-and-go' but where do you learn that? You learn it from family."
What do you do if all your family has ever understood is poverty, generation after generation?
The gap between those who have and those others has widened since National came to power, she says.
We meet the day after Jacinda Ardern has taken over as Labour Party leader from Andrew Little.
For Donald, it's made the prospect of what comes next brighter.
"I believe she is a generous person, that she is not just saying stuff. She will do her best to carry out what she says.
"It's integrity. If I see people doing things and it doesn't match what they say, I would never vote for them.
"I believe Jacinda Ardern has big vision. I believe she is a person of integrity.
"Yay you Jacinda. I always said you'd be Prime Minister but it looks like it's going to happen sooner than later."