Friends and family have farewelled a father and his baby son who died in a crash after their car collided with a bus in Mt Eden.
Christopher Tobin, 51, and his baby son Jack, 15 months, will be buried together, sharing a coffin which had been decorated with colourful messages.
A joint funeral service was held for the pair this afternoon at Manukau Memorial Gardens in south Auckland.
Tobin's daughter Elle, 2, also injured in the crash, was able to attend the service in a tiny wheelchair.
She has been recovering in Starship Hospital since the crash last Tuesday.
Tobin's other daughter Vivienne, 5, spoke at the service saying, "I love my dad so much, he always makes me laugh."
His partner Olivia Kronfield - mother of his three youngest children - also spoke briefly, as did his eldest son, saying: "He always told us he was going to live till 500 - I think everyone just believed him."
About 200 mourners packed the church, many of them dressed in yellow - Tobin's favourite colour.
Friends wore black T-shirts with yellow writing reading: "Rock n' roll forever. Rest in peace Chris."
The celebrant said Tobin was an "outrageous, hardcore man who loved his family and loved his friends.
Songs played included the Beatles' Let it Be and Come Together and Elvis' All Shook Up.
Jack was described as a "cheeky, loving, adorable boy. Placid and chilled".
A friend said "at least Jack is with his dad".
Another said: "He was loving, creative and he loved art. He was sociable enjoying the company of others but mostly he loved his beautiful woman and his beautiful children of whom he was protective and adoring."

And another friend said: "Everyone talks about his big grin - he even taught his dog to smile. Chris touched everyone in different ways."

Balloons were to be released at the end of the ceremony and mourners were invited to put daisies on the casket. One of Tobin's nicknames was Daisy.
Tobin died at the scene when his car collided with a double-decker bus in Mt Eden.
He had taken the day off work to celebrate Kronfield's 31st birthday. He cooked her breakfast in the morning and they spent the afternoon together at home with their children.
Around 3pm, Tobin was asked to drop Kronfield's dad back to work at a construction site in the city.
Elle, Jack and the family's huntaway dog, Fox, piled in to the back seat of the white Nissan Cube
Somehow on the way home Tobin lost control of the car - it crossed the median strip on Mt Eden Rd and crashed head-first into an oncoming double-decker bus.
There were half a dozen passengers on the bus - two suffered moderate injuries and were taken to Auckland hospital.
Police are calling for witnesses to come forward, in particular the driver of the Blue BMW that was behind Tobin before the crash.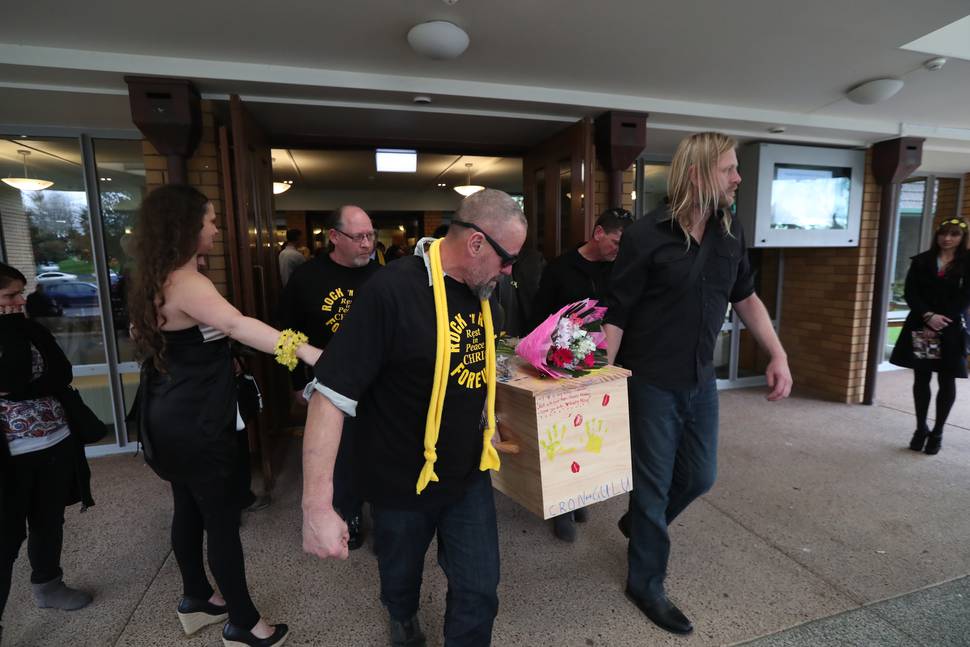 A Givealittle page has been set up to raise money for the Tobin family. It's now raised nearly $46,000.
Life support for Jack was turned off last Friday. Jack's older sister, Elle, has been released from hospital after suffering multiple skull fractures.
Tobin had three children with Kronfield and two sons from a previous relationship.
The couple met eight years ago and lived together in a self-contained unit under Kronfield's mum's house in Mt Eden.