WARNING: This article, or links to it, contains information about suicide. Scroll to the bottom for helplines

Reiha McLelland was on the verge of becoming a teenager when teacher Sam Back entered her life.
For one year - an exciting, explosive, extraordinary year - Back courted Reiha's attention.
With thousands of text messages and thousands of emailed words, the 41-year-old competed for her time, demanded her attention and consumed her life.
And then she died.
She was 13.
Late on July 31, 2014, her dad Bruce McLelland walked the hallway of the family's rural East Coast house to check on Reiha before going to bed himself.
There was no pressing need. Reiha seemed to be getting back on a stable path after months of anguish over being unable to continue seeing Back.
Bruce opened the door to his 13-year-old daughter's room and the world collapsed.
"I had flashbacks to that night for quite a while," he says, crying as he thinks back on his daughter's suicide. "For a long time it was hard to get any meaning out of life. A lot of things didn't make any sense."
Now Bruce and his wife Hinemoa, believe they've started to make sense of what happened. They believe things went seriously wrong when Back came into Reiha's life.
'If only she had a different teacher'

Last December, the McLellands sat through the final week of the inquest into their daughter's death.
With off-and-on hearings, the inquest limped from the start of spring to the cusp of Christmas. It brought many inside the Gisborne courtroom to tears.
Coroner Carla na Nagara had shed her own tears from the judge's seat before calling an end to evidence.
Her finding is meant to provide answers to the questions raised by Reiha's death. How could a brilliant girl from a solid home who seemed so engaged with life then take the steps to end her own?
The question of Back's role in Reiha's death was a constant throughout the hearings.
"I believe it's as simple as if she had a different teacher ... she would still be here today," says Bruce McLelland. "I think that's basically it."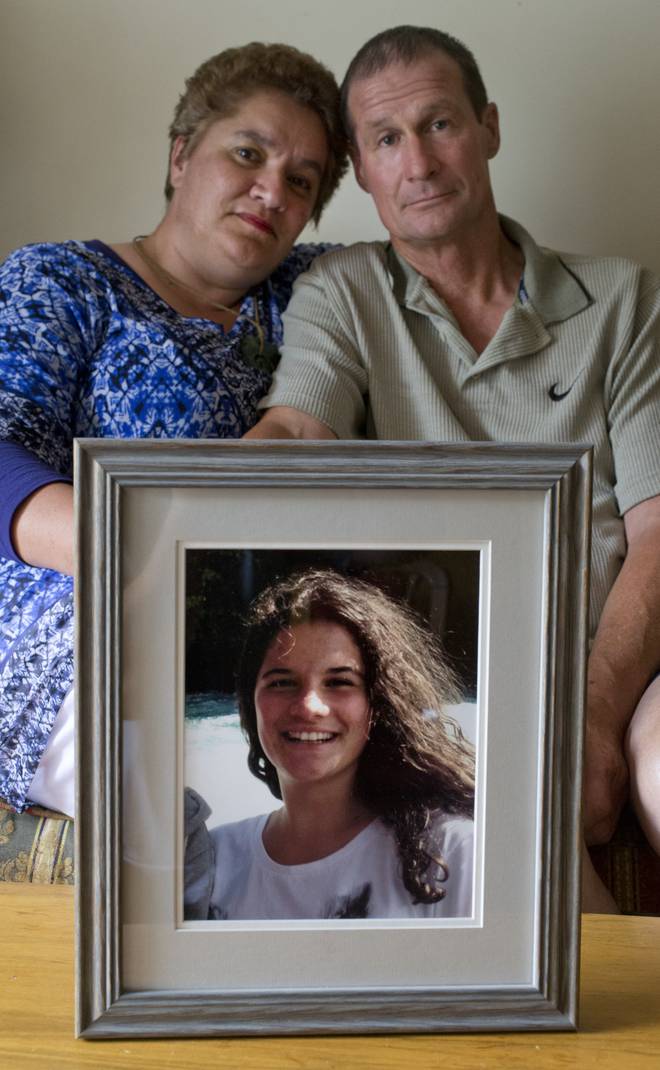 Back has since been struck from the Register of Teachers. His partner Angie Mepham, also a teacher, was complicit in Back's misjudgment yet escaped with a caution.
But the path to Reiha's final days involved others.
There were the mental health professionals who saw her; the police called to investigate her relationship with Back; the senior detective who was managing the officer who carried out the investigation while chairing Back's school's board of trustees. There was also Gisborne Intermediate, which didn't fire Back after it learned of the relationship.
"We're learning a lot of stuff backwards," says Hinemoa.
Each new bit of information was a clue in the mystery of their daughter's death.
"No family can go through this, have a child lose their life, and there not be lessons," says Hinemoa, a district nurse. "Reiha was far too important, too beautiful a girl with so much ahead of her ... there has got to be some lessons learnt from this, as painful as it has been.
"I don't want in the future another parent coming to us and saying, 'why didn't you do anything?'.
"We have to be able to look that parent in the eyes and say; 'we did everything we could - everything in our power to help'."
Read more:
Reiha's parents: 'Let our daughter's suicide save others'
Inquest into Reiha McLelland's death exposes flaw in law

How Reiha met Sam Back

Reiha was born in Invercargill and raised a Southland girl until age 7 when the McLelland family moved to the East Coast. A large part of the shift was the desire to have the children grow up immersed in their Ngati Porou heritage.
They moved to a 1600-hectare sheep and beef farm 40 minutes' drive from the city but distance was never a barrier to the children embracing the world.
One by one, the children left for university until it was only Reiha waiting for the 7.10am school bus to Gisborne.
While her world was small, she embraced all she could within it. She learned music and played guitar, took to athletics and was competitive in team sports - basketball, cricket, hockey, netball, sevens. Academically she was strong with a creativity beyond her years.
Reiha met Back at Gisborne Intermediate. He was Canadian, with a casual attitude and a relaxed manner towards the children he taught.
Back came from Ontario, that part of Canada which is so far south it doglegs into the United States.
He would tell the inquest that his home life was difficult as a child, with a violent, alcoholic father. He stayed local, studying at McMaster University and gaining a BA while playing amateur baseball for the Glanbrook Grizzlies. He later studied radio communications at Mohawk College and worked in the regional government's public library system.
Aged 30, he moved to New Zealand and enrolled at the Christchurch College of Education before taking up a role at Gisborne Intermediate. He was an active teacher, involved in camps, sports and other extracurricular activities. He had a youthful vigour that made him popular among staff and students.
Such exuberance meant Back was known to Reiha and the McLellands when he became her teacher in her second year of intermediate.
There was no indication then, or through the year, of the closeness which developed in the September school holidays.
As school break approached, Reiha asked for extra time to finish a narrative writing assignment. Back agreed, and the pair began emailing to discuss the work.
At that stage, she was 12 and Back was 39.
Hinemoa still struggles to understand.
"This happens on TV. It doesn't happen in your own family. This doesn't happen to people like us. You know your children. This can't be happening to us."
'Do we serve death or does death serve us?'
The exchanges quickly became informal - she called him "Sammy Boy" and "Big Boy" while he called her "Darling" and "Reihahaha". The advice from Back strayed from coursework to poetry, to the familiar and personal.
"Do we serve death or does death serve us?" Back wrote to Reiha, who had told him of having suicidal thoughts.
The exchanges were also undercut with apparent deceit. They started discussing the writing project but it was the private poetry on which they lingered. And when they discussed Back calling her parents to arrange for the girl to be dropped at school, it was this personal link they conspired to keep secret.
"They don't actually know about my poetry - honestly, I would kinda prefer them not to," she wrote, planning the conversation Back would have with her parents.
He replied: "I can keep poetry out of it. What do you want me to tell them though?"
Such exchanges, revealed in documentary evidence submitted to the inquest, left the McLellands suspicious of other statements Back later made.
When asked about the first of up to 10 nights Reiha stayed at his house - October 23, 2013 - he spoke of how the girl arrived in such a mess he and Mepham were compelled to let her in.
"It was pouring. Reiha was soaked to the bone," he explained. MetService data shows almost no rain fell on Gisborne that day. There was 0.6mm at noon, 0.2mm at 11pm, either side of a shower at 8pm that was so small it didn't even register 0.1mm.
As Back and Reiha conspired to spend time together, the McLellands remained oblivious.
They would look back, a year down the track, and try to pick out clues which would have shown how Reiha's world was turning upside down.
Was it Reiha's determination to eat organic food? Should more have been read into her being picked up by police wandering on a local beach?
What if they had known of a report by Back to the Gisborne Intermediate social worker about Reiha self-harming? The report, after the September school holidays, seems to be the only time Back raised the girl's disclosures, yet her family was never told.
Reiha was approaching high school, summer and becoming a teenager on a path of poetry and praise from an older man.
"Who knows what will be next," Back wrote to Reiha, "but if you're around I'm sure it will be amazing".
She bared her soul to Back. On November 17, 2013, she wrote: "99 per cent of me wants to die, 1 per cent of me is utterly terrified of the things I will miss when I'm gone."
As they drew closer, she sought to end the secrecy. "Can I visit Saturday," she asked, "and should I tell my parents where I'm going?".
Back replied: "...if you want to talk to your folks about it, feel free, but it might be a bit soon".
On another occasion, she told Back she was "going to talk to my cousin today about our unique friendship" and "how I think I could bring it up with my parents".
But Back responds: "You remember what we talked about and there is no hurry. I know it appears urgent sometimes but we have time."
Hinemoa and Bruce point to those exchanges as evidence of Reiha's underlying honesty.
"We've done a good job raising the kids with those kind of values," says Hinemoa.
Bruce: "He persuaded her to hold off, to think about it."
How close were they?
Reiha sent Back a poem at 8.05pm on Christmas Eve:
"His eyes, his aroma, his shadows;
"They were there, he was there;
"I could feel his eyes, his aroma, his shadows,
"They were getting in me. I was weak.
"His voice. Giving me ideas, changing my mind well I tried not to lose it!
"His eyes, his aroma, his shadows were looking for a battle, they found one;
"Against stronger eyes, stronger aroma & stronger shadows
"He was defeated and has been before.
"But next time, he'll be stronger, he'll build himself up, just to be knocked down again."
They sat outside and watched the stars. Back talked to her about Venus, named after the Roman goddess of desire, love and sex, which sat bright in the evening sky. They sent messages about Venus. He helped draw it on her arm.
Back later told the inquest he went into the "summer holidays (hoping) Reiha would no longer be involved in my life".
Yet, he called her "darling" and "ma fille". And when Reiha didn't acknowledge him, he prompted her. When she went to Southland for a family wedding, she hadn't sent Back a text by noon. "Where is my 'good morning big boy'?" he wrote.
"Good lunchtime big boy," she texted back.
At the wedding, Reiha danced in her father's arms. She smiled and danced and smiled.
'I feel like running away ... to you'

Bruce and Hinemoa had no idea about the relationship until March 2014, five months before Reiha died.
Reiha had left the region for boarding school. In her first month there, she confided in staff that she was self-harming.
The school contacted the McLellands, concerned it was unable to meet Reiha's needs, and negotiated an exit.
"I feel like running away," she texted Back as she headed home.
Back: "That will not help in any way."
Reiha: "I mean to you."
She came home, that long drive from Gisborne into the country (texting Back on the way: "I just passed you!") and back into her family's embrace.
Reiha ate dinner, watched television, sprayed herself with insect repellent and said goodnight.
When Hinemoa later walked down the hall to kiss her daughter goodnight, she found Reiha's room empty.
"Home was Reiha's safe place," she said. "Home was the one place you should feel safe so it didn't make sense why she had gone."
The McLelland home is out in the boonies. There's no cellphone service. The first reception area is 5km from the house. The next is 12km away, at the main road.
At 10.01pm, Reiha texted Back: "I've reached service." Back responded an hour later: "I'm calling you back and am freaking out right now." An hour later, he texted: "On my way."
By then, the McLellands had searched the gardens around the house. Sometimes the kids would drag blankets out to the trampoline and sleep there - but there was no sign of Reiha.
The police had been called, and when Constable Andrew Trafford arrived from Tolaga Bay he did so with Back, Mepham and Reiha.
There's only one road into the McLelland home and that's where Trafford found Back and Mepham parked in a dip that shielded headlights approaching the farmhouse. The McLellands believe Back and Mepham were trying to convince Reiha to return home at the point Trafford arrived.
The McLellands were baffled by the teachers' presence, more so that Reiha would seek solace in Mepham's arms. As far as they knew, the woman was a stranger to their girl. Back's presence, also, made little sense.
Were there any warning signs at school last year, Hinemoa asked Back, unaware the teacher was texting his daughter dozens of times a day at that stage. Back offered nothing: "I'm listening to what you're saying and don't want to read too much into it."
When Mepham came inside, she was asked if she knew the girl. No, she replied, although she had seen her across the playground at Gisborne Intermediate.
Reiha was taken to Gisborne Hospital to be checked out by the adolescent mental health team. After a week she was transferred to the Regional Rangatahi Adolescent Inpatient Service in Porirua.
Hinemoa had travelled with Reiha, and after settling her daughter received a distressing call from Gisborne. One of the hospital staff had seen Back lying on Reiha's bed, holding her hand, and formally logged their concern.
"There's something not sitting right," Hinemoa recalls thinking. "That's when I asked the nursing staff if they could bring me Reiha's phone."
She found Back's mobile number - supplied that night of March 25 - and found Reiha had saved it under badly translated French meaning "my best true friend".
And then she found text messages between Back and Reiha arranging a sleepover.
"I was thinking maybe fri or sat night," Reiha texted to Back.
He replied: "The deal is, as always is, as long as your bases are covered; mi casa; su casa."
Reiha: "Don't worry. Don't I always have everything sorted?"
Hinemoa was stunned. "I only went back four to six weeks but I was very scared."
Hinemoa stopped searching the phone: "I couldn't go back any further and I thought, 'this has to go to the police'."
Then it all came tumbling out ...

That was April 3, four months before Reiha died.
In the time that followed, Reiha returned to Gisborne where she received mental health treatment at the local hospital, including from a psychiatrist employed at the hospital on a part-time basis.
After Reiha's death there was an internal audit into Tairawhiti District Health Board's practices and systems for adolescent mental health. There were numerous failings.
The people who treated Reiha have offered apologies for poor decision-making during treatment. The critical decision, around which the health board now has an explicit policy, was withholding from Reiha's parents an express statement by the teen that she intended taking her life.
They withheld the information because Reiha had made it in confidence - poor judgment, they now acknowledge, but driven by a belief it was an aberration because she had sounded optimistic.
There was also a police investigation, carried out by a constable training to be a detective.
The constable was normally supervised by Detective Sergeant Theo Ackroyd. He was the police officer in charge of the child protection team and also chairman of the Gisborne Intermediate board of trustees.
He declared a conflict of interest and had nothing to do with the investigation, yet his name appears on key paperwork in the inquiry - including the decision to halt the inquiry and lay no charges against Back.
An internal police inquiry into Ackroyd's actions ended with his resignation from police at the end of April 2017.
The McLellands have complained to the Independent Police Conduct Authority, with the hope it will examine Ackroyd's role and what they believe to be failings in basic police process.
That includes the decision to make no recording of the investigating officer's interview with Back after almost two months of investigation.
At that point, the investigating officer had reviewed almost 4000 text messages sent over three months and thousands of words of email conversation.
Testimony at the inquest claimed the detective asked Back: "You're f****** her, aren't you?" Back denied it, and has always denied any physical aspect to his relationship with Reiha.
It nags at the McLellands, because they cannot shake the belief - based on testimony from Reiha's psychiatrist that Back was "grooming" their daughter - that it would have gone that way, if it hadn't already.
Evidence from an expert psychiatrist who testified for Back did little to ease their concerns. Back's expert said the material would be seen as grooming had it been written by someone who had a history of sexually predatory behaviour.
So, there was concern around how seriously the relationship was investigated.
Back and Mepham have confirmed no one sought access to Back's computers, email accounts or social media accounts.
There are also questions for the school. It was fully briefed by police in May but only started its investigation into Back in June, after a complaint by the McLellands.
Even though it was given some of the text messages Back had exchanged with a former pupil, the disciplinary committee - led by Ackroyd - did not fire Back.
Former principal Donald Niven, who was not a member of the committee, later told the inquest Back's behaviour was "completely out of line" and he "would not have been surprised if the board had dismissed him".
Instead, the disciplinary committee, gave Back a warning for serious misconduct.
The McLellands' complaint triggered an automatic referral to the Education Council's Disciplinary Tribunal.
Ackroyd sought to have Back's name legally suppressed by the council. In a letter written less than a year after Reiha died, he explained that Back was able to keep teaching because the issue involved "only one student".
Ackroyd suggested no other students were at risk. He also said the school's view was that there was no link between Back and Reiha's death.
Even so, another argument for suppression of Back's name - and Gisborne Intermediate's identity - was the possibility a link might emerge. He said naming Back "may prejudice the ability of the Crown to prosecute any future criminal charges that may be laid against Mr Back" or anyone else.
He put his police email address at the end of the letter, inviting the tribunal to contact him if it had any questions.
The Education Council heard the case against Back and Mepham in February 2016. During the hearings, Ackroyd and Back met for lunch at least once during the noon adjournment.
The council's tribunal was much tougher than Gisborne Intermediate's. It struck him from the Register of Teachers and gave Mepham a caution.
The tribunal described Back's evidence as "a curious mix of self-regard, lack of self-awareness and exculpatory material".
Bruce McLelland says he listened and thought: "Every question he was asked, he had a spin on it."
Back told Reiha's parents at the hearing: "I apologise wholeheartedly for any pain and frustration my actions may have caused you. I tried my best with Reiha. I treated her with respect, and had the highest of hopes for her."
While the McLellands are convinced Back - metaphorically - pushed their daughter off the cliff, they can't understand how every other safety net failed as she fell.
Reiha's struggle with the 'burden of secrets'

Reiha's world changed on April 4, 2014.

That day she wrote in her diary of her frustration she could not contact Back and Mepham. The content of the diary is subject to a non-publication order from the coroner but her frustration was strongly expressed.

Her mobile phone had gone when she was admitted to the adolescent inpatient service at Porirua - house rules for the privacy of other patients. It would be put in storage until fetched by Hinemoa who searched it to find furtive messaging between her daughter and Back.
Frustration turned to devastation when Reiha learned the temporary ban on contacting the teachers had become permanent. Again, the words are subject to a non-publication order but it clear she was adrift, bereft.
Her psychiatrist would later tell the inquest the separation was akin to a "divorce".
Reiha's life changed massively simply through the reduction in contact. The police investigation revealed almost 4000 text messages between Back and Reiha between the end of December, 2013 and the beginning of April.
An analysis of the text data done for the McLelland family shows they texted dozens of times a day, sometimes sending more than 50 messages between early morning and late evening.
In some cases it was one-sided. Reiha didn't text Back for two weeks in March when she was at boarding school. He texted her constantly, once telling Reiha she was making his feelings "sore" by not responding.
By the time the ban on contact had been established, Reiha had support in the form of family and mental health care. Yet no one had the information they needed to give Reiha the help she needed.
The extent of the communication was known only to police. The medical experts, Reiha's parents, guidance counsellors at her new school - all had little to go on to understand how intense it had become.
Her psychiatrist later spoke of Back "grooming" Reiha, through a relationship that was "increasingly intimate" in which "boundaries ... were gradually eroded by ... keeping it secret".
And while he had assumed the relationship was sexual, he was unaware of the depth of the email and text conversations so was unable to grasp the extent of what the teen was dealing with.
He believed, though, that Reiha was not unwell.
"I saw her struggle with the burden of secrets which I did not see as a mental illness."
The psychiatrist would write how "Reiha struggled with conflicting emotions and allegiances. She was racked by guilt at times regarding her part in the relationship, fearful of seeking help, and of being open and honest with mental health professionals."
The refusal to disclose, if discussed with police, might have shown how optimistic the investigating constable was when she arranged an interview with Reiha for mid-May.
It became an anticipated and pivotal event for Reiha, with her expressing a determination to take her life in a diary entry on May 1, 2014 - after she had spoken up for Back and Mepham in the police interview.
As it happened, Reiha refused to speak to police. Cameras were never turned on, the trained interviewer couldn't pry anything from the girl.
At home, though, Reiha had started to open up. Hinemoa believes the fact the secret was out was a great relief to Reiha, who felt "a sense of less burden" because she no longer needed to hide the existence of relationship.
"She could talk to us about it," says Hinemoa. "I could see how sad she was."
She recalls saying to Reiha: "I know you're missing him."
And the look her daughter gave her? "She was glad I knew it was hard but she couldn't say anything."
She talked to Reiha about boundaries and the rules which governed teachers. Reiha already knew because - she said - Back had warned he could lose his job over their friendship.
She remembers Reiha saying: "Mum, that just goes to show you how much he must love me if he's willing to lose his job because of his love for me."
Hinemoa: "At that point I remember thinking; 'You absolute mongrel bastard. You've completely manipulated her'."
How hard it must have been, Hinemoa says. "We all remember our first love - normally you have someone you can share the pain with ... she had no one she could share this with for fear of him losing his job."
At that stage, the McLellands had hope. Reiha's diary, on June 16, 2014, reflects a positive upswing in her mood.
On June 20, the McLellands were told the police inquiry was over and no charges would be laid.
Three days later, Hinemoa filed a formal complaint with Gisborne Intermediate.
The complaint led to a board of trustees disciplinary hearing on July 15. Back was told in writing on July 28 he had been found to have committed serious misconduct and was on a final warning.
Over the next three days, there were three calls to Reiha's phone from an unlisted number. The McLellands believe it was Back attempting to reach Reiha. Back denies he placed any calls, or made any attempt to contact Reiha.
Reiha attempted to take her life the evening of July 31 and died the following day.
There was no attempt by police to check phone records after Reiha's death. The identity of the caller remains unknown.
The inquest of Reiha McLelland

And that's how we got to a Gisborne courtroom in 2016 where everyone had lawyers.
The McLellands were led through their testimony by their lawyer, Moira Macnab. She's a fierce advocate who was unrelenting in her cross-examination.
The coroner's office had a lawyer. There was a lawyer for the psychiatrist, who testified that he believed Back's actions were grooming; and there was one for the psychologist.
The hospital was represented by Paul White, an Auckland-based lawyer with a speciality in medical cases.
The police were represented by Steve Manning, who usually prosecutes cases for the Crown.
There was Gisborne Intermediate, represented by local barrister and energy company trustee Vicki Thorpe.
Back and Mepham also had a lawyer, the charming and suave Adam Simperingham who wore a cheerful smile that became fixed, at times, when he rose to question Reiha's crying parents about whether any failures as parents helped kill their daughter.
The questions were generally informed with information Back claimed to have learned about McLelland family life from Reiha. At times, the coroner intervened in the questioning - as she also did when Macnab pushed boundaries.
Then Back testified, talking of Reiha turning up soaking wet in Gisborne's driest month and how he hoped the summer holiday would end his contact with her even as he gushed at her by text message.
After she stayed at his home on December 30, 2013, he wrote: "I'm so glad you got to come and stay. It has made my holidays so wonderful. You're the greatest friend anybody could ask for and I feel so privileged to have you in my life."
When asked about the effusive text, Back responded: "Yeah that's very kind of me to say isn't it?"
He told the court he had no training in how to deal with a student like Reiha. His teacher training in Christchurch had no lessons on how to run a "safe" classroom or the professional role of a teacher.
Yet, the Herald obtained the course outline during Back's time there which shows he could not have qualified without taking exactly those classes.
Back repeatedly claimed he urged Reiha to seek help. One lawyer, exasperated, said: "I just find it surprising that in the 632 pages of written communications where you speak very freely with Reiha on all sorts of matters, you omit that one key thing - and that's the one thing that you say you only ever said in words."
Macnab tried to cut to the heart of it, asking what he was doing swapping emails, poetry and text messages with a 13-year-old.
Back told Macnab she wasn't thinking of his feelings. "I don't think you're really trying to consider the situation that I was in and what I felt, because for me, those emotional pleas, the things that she talked about that were troubling her, they cut me deep too."
She asked him why he sent Reiha a song with specific descriptions of a method of suicide, asking: "Who is the adult here? Don't you think that it's really your role to be thoughtful about these things?"
Back: "I suppose that's possible."
'We thought we were making progress'

They were nearly there, they think. Reiha had turned the corner, separated from the teachers and - as can be seen in her diary - was happier.
Hinemoa: "While she was looking ahead we still knew she was in a sad place. We weren't on track yet but we were getting there."
Bruce: "It was just going to take time. We thought we were making progress."
There was no time after the evening of July 31, 2014, the night Reiha died. Since then, life has been about surviving while peeling back their daughter's secrets.
The pain is such that they wonder how others endure. Hinemoa says: "You start to wonder, if it was a car crash or a sickness, would that make the pain any different?"
In the end, the coroner ruled that the relationship with Back did not cause Reiha's death but was the "most startling of the factual matrix preceding her death" and a "primary stressor to Reiha in the last three months of her life".
Reiha had been suffering "low mood and emotional disregulation" through 2013, she found, and when Back became aware of this should have encouraged her to speak with her family or seek professional help.
By trying to act as a mentor and counsellor, he "isolated her from her family" and gave her a way to focus on her pain and distress.
Back could have ended contact, na Nagara found.
Instead, he worked to encourage further "entanglement" and to have Reiha keep their developing relationship secret from her family.
And when the relationship was revealed, the failure of Back and Mepham to reveal what they knew of Reiha's struggles damaged efforts to help her.
Sam Back is currently 43. He and Mepham are still a couple. They have left Gisborne. Most recently they visited Canada, where Back's father is said to be ill, and Nelson, where Mepham has family.
The Herald made repeated requests to interview them for this piece. Eventually, Mepham emailed responses from the couple.
"We believe we mattered to Reiha," she wrote. "She came to us for support, and she was appreciative of the support we provided. We also believe that the loss of that support was difficult for Reiha.
"However, the role we have been placed in with regards to the events that led up to Reiha's death is inaccurate. There is no truth to allegations that we tried to isolate Reiha from her family or develop any kind of relationship past one of compassion and support."
Asked how they viewed the relationship with Reiha, Back said: "My relationship with Reiha was one of support. She reached out for support and I treated her as I would treat anyone; with respect, kindness and compassion."
Mepham added: "I agree; we allowed Reiha the space to be herself."
Neither would rule out teaching or working with children again. Mepham wrote: "Our future is open."
If she had lived, Reiha would be 16 today.
• The names of Reiha's psychologist and psychiatrist are suppressed, as is the method by which she took her life.
If you need help:
If you are worried about your or someone else's mental health, the best place to get help is your GP or local mental health provider. However, if you or someone else is in danger or endangering others, call police immediately on 111.
Or if you need to talk to someone else:
• Lifeline: 0800 543 354 (available 24/7)
• Suicide Crisis Helpline: 0508 828 865 (0508 TAUTOKO) (available 24/7)
• Youthline: 0800 376 633
• Kidsline: 0800 543 754 (available 24/7)
• Whatsup: 0800 942 8787 (Mon-Fri 1pm to 10pm. Sat-Sun 3pm-10pm)
• Depression helpline: 0800 111 757 (available 24/7)
• Rainbow Youth: (09) 376 4155
• Samaritans 0800 726 666