Security footage has been released after an attack in which two men smashed up a liquor store with wooden sticks and assaulted a staff member.
Detective Constable Zane McKechnie said just before 8:50pm on April 6 two men carrying lengths of wood entered the Tauranga Liquorland store at 395 Cameron Rd.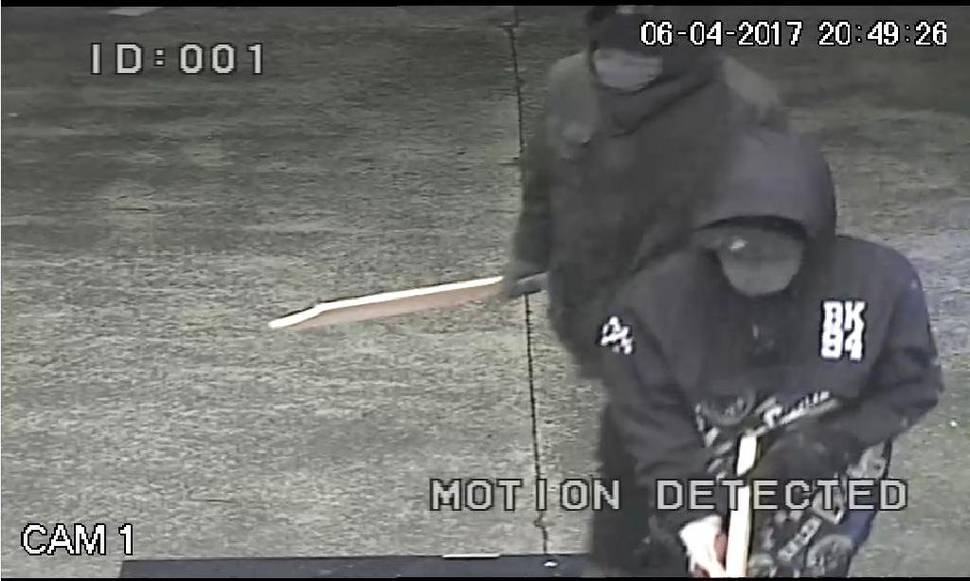 A female staff member locked herself in the office, while one of the two men smashed items on the counter and the other smashed one of the cooler doors.
Both offenders fled the store after they were confronted by a male staff member, Mr McKechnie said.
One of the men came back a short time later and confronted a male staff member, trying to "goad the staff member into a fight".
"The staff member tried to maintain a safe distance and repeatedly asked the male to leave the store," Mr McKechnie said.
The offender then hit the staff member on the leg with the length of wood, painfully bruising the victim's leg.
"It was all the staff member could do to remain on his feet. He feared that if he had gone down the male with the length of wood would have finished him off, " Mr McKechnie said.
After the assault, the attacker also left the store, and both men walked off still carrying their pieces of wood.
Nothing was taken, but police were hoping the release of CCTV footage would help to locate the two men before they strike again, he said.
"Both were wearing dark clothing, gloves and bandannas over their faces. One had a very distinctive black jacket with white lettering and patterns on it, " Mr McKechnie said.
Meanwhile police were yet to make an arrest in the case of ram raid robbery of the Thirsty Liquor store on Chapel St about 12am on Friday.
Three men used a vehicle to smash into the store an hour after one of the trio had removed a concrete bollard outside the front entrance.
The offenders fled with a large quantity of alcohol, some cigarettes and the till.
The police wanted to hear from anyone who may have seen a silver Mazda Familia or similar vehicle in the area or a vehicle with damage to its rear and sides.
If anyone has any information on either of these cases, they should phone Tauranga police station on 577 4300.