A violent mugging of a woman in front of her two small children in the heart of Rotorua last night has left the mother terrified to leave her home.
Jane Newman was standing at pedestrian traffic lights outside the ASB bank that borders Rotorua Central mall on Amohau St in the heart of Rotorua about 6.15pm on Tuesday with her two children, aged 9 and 4, when a man grabbed her from behind, threw her on the concrete and ripped an envelope full of cash from her bag.
The brazen attack has left her and her children so terrified, they don't want to leave home.
"I just want to stay here [home] and don't want to go out," a visibly shaken Mrs Newman told the Rotorua Daily Post this morning.
"If it's happened once, it will happen again."
Mrs Newman (whose Chinese name is Quin Hua) has been left with cuts, grazes and bruises all over her legs and left arm.
When the attacker threw her on the ground, she banged the back of her head on the concrete and she has a bruise on her right wrist from where he grabbed her trying to get her bag.
Mrs Newman had just finished her shopping when she called in at the ASB bank's money machine with her children to withdraw some cash.
They were to attend a party with Chinese friends at a restaurant across the road from the bank and it is their custom to bring either cash or a gift.
Mrs Newman said when she felt the man grab her she yelled at him: "You can't do this".
He didn't say anything, instead grabbing the envelope containing $300 and ran off towards the BNZ bank in Rotorua Central.
She described the man as 180cm tall, solid build and dark skin. She said he was wearing either black or dark blue clothing.
The attack has left her children petrified.
"Before that I heard Rotorua wasn't safe, so I didn't really go around the lakefront or Fenton St areas but in this area between two banks and on the busiest street, I can't believe that."
She said her eldest child, John, cried a lot last night while her daughter, Olivia, didn't stop hugging her.
"I am okay but my children are not okay. Olivia was crying in the night last night and that's why I am so sad."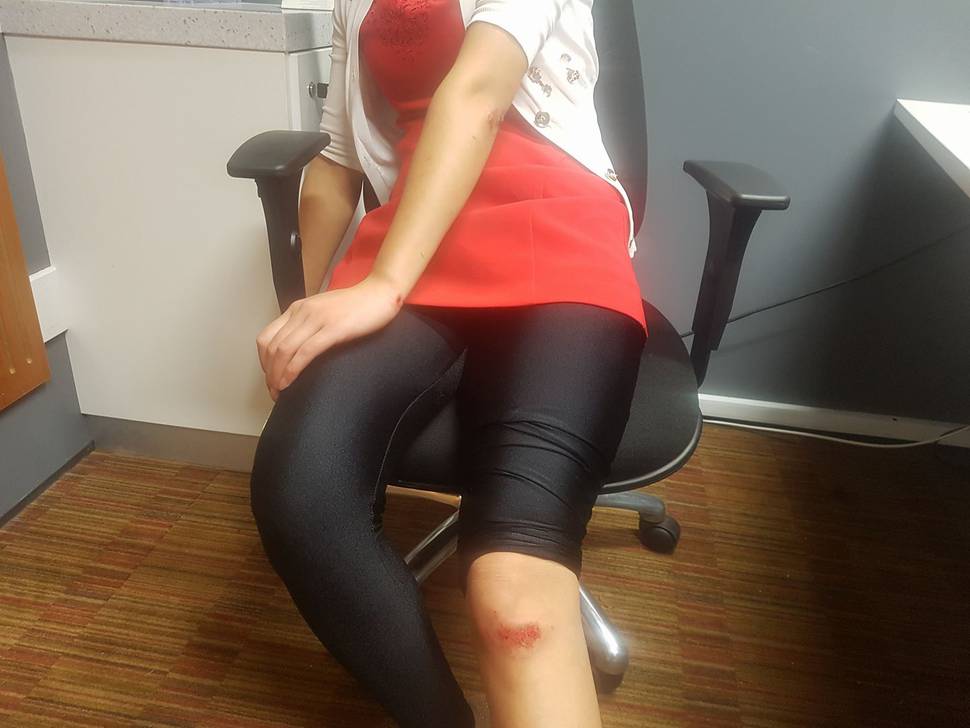 Her husband, Fraser Newman, said he feared such an attacker could strike again.
"If he has done this, attacking a woman from behind in front of her children in a street full of people, it could happen to anyone, it could happen again."
Mr Newman was driving home from Whakatane when he got a call from his wife from the police station.
As soon as he got the details, he posted a message about the attack on Facebook, asking everyone to share it.
The attack has created outrage on social media with hundreds of people commenting that they hoped the man is found.
"When police said no witnesses had come forward yet, I decided I had to take matters into my own hands because the more proactive you are the more likelihood you will get action."
Mr Newman said there were so many people around the Central Mall area at that time and someone must have seen something.
He has a message for the man who has done this.
"Hand yourself in, you're going to get caught."
Senior Sergeant Geoff Barnett of the Rotorua police said they were reviewing CCTV footage from the mall and the central city.
He said they had some positive leads but anyone with information was urged to contact police on (07) 349 9400.
Watchdog Security managing director Brett Wilson, who operates security for Central Mall, said he was contacted by police last night and was working with them today going through security camera footage.