John Key has delivered his final speech to Parliament - declaring himself a pragmatist whose principles were shaped by his mother Ruth, and paying special tribute to his family.
"This place is like no other. It is all consuming, life changing, mostly powerful, occasionally trivial but never boring," Key told a packed chamber that included his wife Bronagh and children Max and Stephie, long-time staffers and former Prime Minister Jim Bolger.
Key's speech was often humorous but also covered serious subjects - the loss of New Zealand military personnel overseas, and being told of people in body bags soon after the Christchurch earthquakes.
Key also directly addressed the families of the Pike River miners, saying his Government had been fully committed to re-entering the mine but that had proven impossible.
In the days after the initial explosion the mine had been judged safe to re-enter. Key took a phone call and expected to be told that it had been.
"Instead I learned that a massive explosion had occurred. Had those rescuers been in the mine they too would have perished."
He said he was proud of his Government's achievements, which he said included economic reforms, the support of the film industry - "without which the Hobbit would have been filmed in London" - lifting benefits, cycleways, and the completion of Treaty settlements.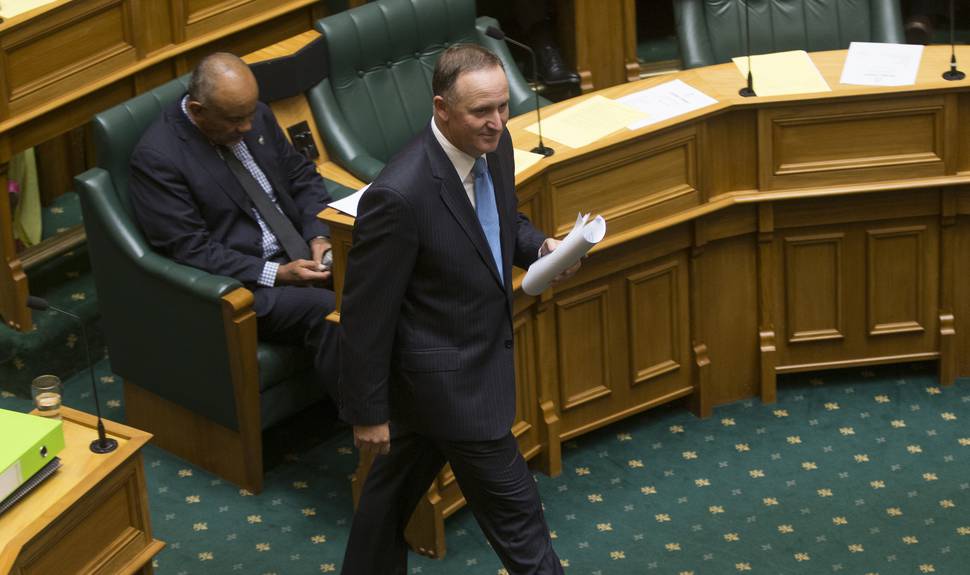 Disappointments in politics were "inevitable", Key said, and he still held the view that a new flag for the country would have been a significant step in the country's history.
"I regret that TPP did not get over the line ... trade has helped millions of people get out of poverty ... I hope that one day the Kermadecs will be an ocean sanctuary."
Key said Parliament could be a tough place that took MPs away from their families. However, he recalled one trip to China when Max and Stephie were able to accompany him for some sightseeing.
When they got to Tiananmen Square Max asked where everyone was.
"I realised the entire Tiananmen Square had been emptied in the middle of the day so my kids would get to see it ... you sure get some cool photos when you are Prime Minister."
Key said he came to Parliament on a different path to most other MPs - from Wall Street and not via previous involvement with the party.
His political views were shaped by mother Ruth - "a no-nonsense woman who refused to take no for an answer" - who single-handedly raised him and his sisters.
He recalled coming home as a teenager to say he was leaving school to become a horse trainer. His mum told him 'No', and that was that.
"I don't think she would have lasted very long in a coalition government."
When a backbencher, Key remembered talking to the more experienced MP Roger Sowry, who advised him to spend time watching politicians who were good in the debating chamber.
"Not necessarily ones you agree with ... but those that can move the place with the power of their argument ... so I watched Michael Cullen, Richard Prebble, Winston Peters, Rodney Hide, Bill English, Simon Power and Gerry Brownlee.
"Roger also gave me another lesson in the peculiarities of the place when he added in the very next breath, 'And by the way John, just because I talked to you doesn't mean I like you'."
Key said he was by nature a pragmatist and not an ideologue. Some people had said that showed a lack of clear principles, Key said, but that wasn't true. He got his from his upbringing and not a "politics 101 textbook".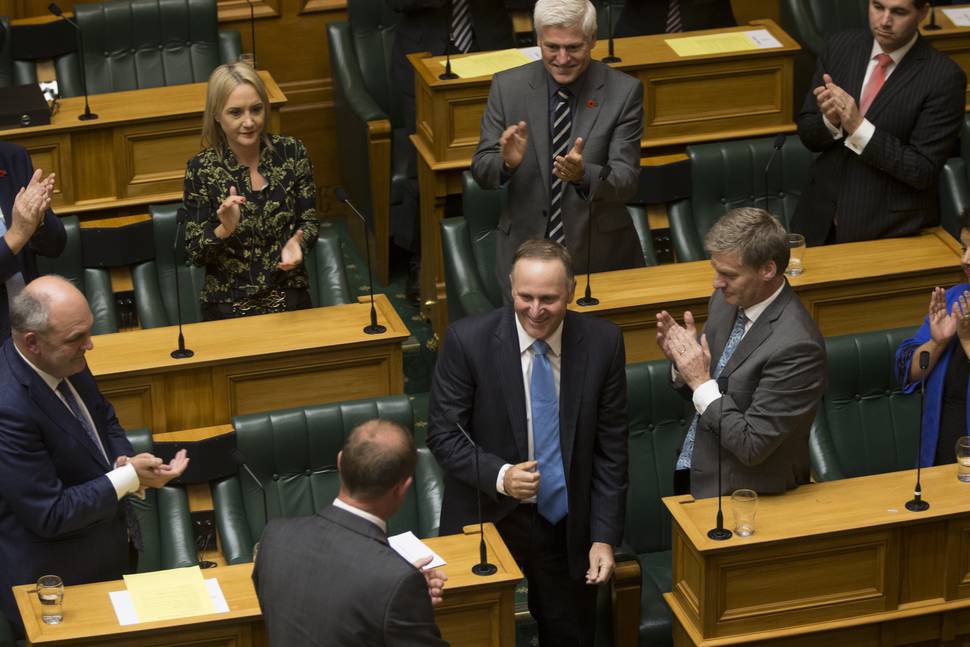 His basic belief was that most New Zealanders shared the same aspirations - wanting the best for their children and family.
Key ended his speech by paying special tribute to his family. He looked at Max and Stephie when acknowledging the "harsh spotlight" his career could put on them, and told Bronagh she had been his main support.
"When you said yes to marrying me 32 years ago I'm guessing you didn't think our family home would sometimes be surrounded by protesters and we would have armed police in the living room."
He had few regrets in life, but one was that his mother had not lived to "see how it all turned out".
"It has been a privilege, an honour and a blast. Goodbye and good luck," Key told the chamber who rose to their feet in applause. MPs from all political parties lined up to shake his hand.