The woman at the centre of an alleged plot against her policeman husband says she was set up, that it was entrapment. Jared Savage reports.
It sounds like a plot straight out of Shortland Street.
Following the bitter end of her marriage, a North Shore mother meets a solo dad at a single parent support group.
She confides her troubles in him; talk somehow turns to the possibility of an assault on her police officer husband to teach him a lesson.
Here's the twist. The so-called "hitman" tells the police, who on learning of the apparent plot, covertly listen to their telephone conversations.
The wife - a health professional from a respected family - is charged with attempting to procure the commission of an offence: assault with intent to injure.
The salacious details of the criminal case made front-page headlines, the woman lost custody of their daughter.
But a few months later, the charge was quietly withdrawn by police.
"My life has been completely turned upside down," says the wife. "I was set up, in my opinion, this was entrapment."
Her name is Asha Dahya.
Educated and articulate, she's a pharmacist who grew up in the North Shore, where her parents established a long-standing fruit and vege business.
So far, so normal. Not the sort of person who would know where to find a "hitman", let alone hire one to hurt her husband.
His name is Bharat Dahya. He's an experienced detective in the Auckland CIB, who earned his stripes working for the Metropolitan Police in London, where he first met Asha.
They married in 2008 and moved to New Zealand, and a daughter was born two years later.
But by December 2014, the marriage was over and Asha and their daughter moved out of the family home.
"I was at a very low point in my life," says Asha, who described herself as vulnerable and mourning the loss of her marriage.
With a custody and matrimonial property battle on her hands, Asha felt she needed help and attended a support group for separated parents.
At the barbecue lunch for about 35 people on the North Shore in January 2015, she met Daniel Ryder; a staunch anti-CYF activist and campaigner for the rights of fathers.
They struck up a conversation about her marital troubles and agreed to meet again, as Ryder offered to help her.
"He seemed particularly interested when I told him my ex was a police officer," says Asha.
The pair met at Ryder's home two days later and their discussion took a curious turn.
Ryder allegedly asked Asha what she wanted.
"She replied: 'I want to hurt him, or take him out'," according to Ryder's statement to police.
"I thought to myself, 'here we go again' ... I played her along and told her I knew those sort of people," Ryder told police.
"I then asked, 'How do you want it done?' ... she changed her position from wanting him killed to wanting him severely beaten, or kneecapped, and for him to be aware that she had arranged it."
Ryder said he needed a photo of Bharat Dahya, in order to correctly identify him, which Asha promised to deliver.
Two weeks after this alleged conversation took place, Ryder told the police and triggered an undercover investigation, codenamed Operation Haze, which ultimately led to Asha's arrest.
It was the second time Ryder was the star witness in a "hitman" plot.
The first was when his relative Alan Barlow approached him in 2013 to have his parents killed.
Ryder introduced him to an undercover cop posing as a "hitman", who could have them "taken out" for $10,000 each.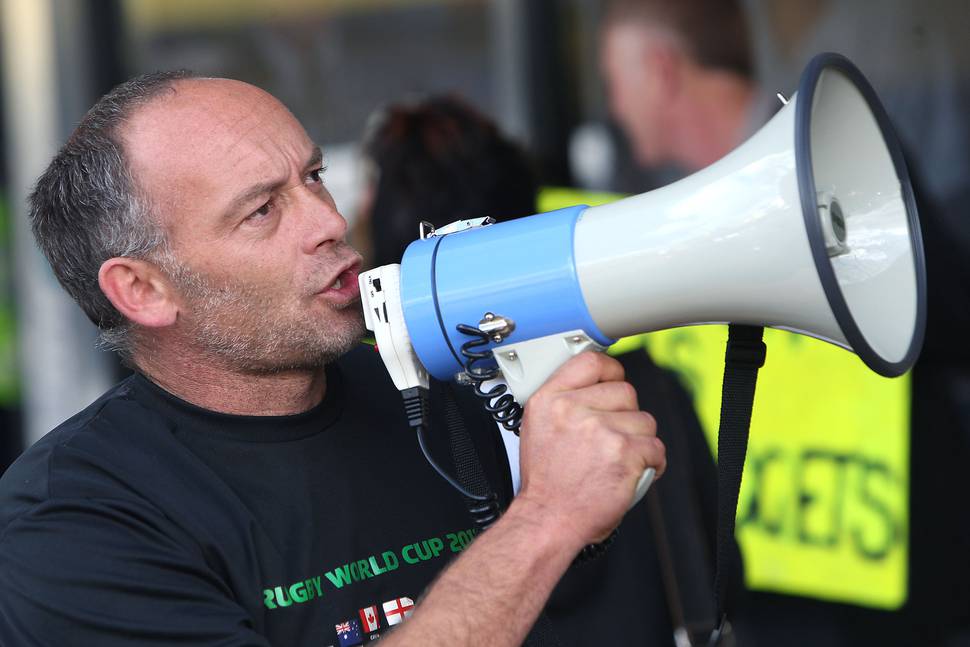 Barlow was convicted at trial and sentenced to 11 months of home detention.
In his statement to police, Ryder said the case generated media coverage around the world and earned him the nickname "Hitman".
He told the same detective he worked with on the Barlow case about his conversation with Asha.
In a job sheet, the Tauranga-based detective recorded Ryder's thoughts that Asha was "initially just a frustrated female, however she was very persistent and insistent Ryder carry out a serious assault on her ex-partner".
However, telephone records show it was Ryder who initiated most of the conversations with Asha Dahya after their first and only meeting.
And to the allegation she asked Ryder about the possibility of a "hit" on her husband, Asha says the opposite is true.
"[Ryder] felt Bharat should be taught 'a lesson'. He said he knew people who could cause Bharat harm and that Bharat needed a fright and he was the person to do this," Asha says.
"I did not, at that time, know how best to remove myself from the situation but felt I would simply let him down gently."
Ryder laughed at the suggestion of entrapment. He told the Weekend Herald he stood by everything he told the police.
"This wasn't a set-up, believe me."
But the police couldn't ignore an alleged threat and the matter was escalated to a criminal inquiry by the Organised Crime Unit of the Waitemata Police District.
With Ryder's consent, detectives were able to record his phone conversations and text messages with Asha Dahya.
On the first monitored phone call on February 11, Ryder rings Asha and she says, "yeah, okay, I've actually got a photo for you".
They agree to meet at a park, but the phone records show Asha keeps cancelling - in some cases lying about her mother being sick in hospital - and Ryder keeps calling.
In their final phone conversation on February 24 - which wasn't recorded due to a technical glitch - Asha tells Ryder several times she wants the plan "put on hold", according to a police job sheet.

According to Asha, she asked Ryder to not contact her again.
She told the Weekend Herald she made "foolish comments" in the monitored conversations, including the photograph remark, which she described as banter.
"I felt I had to say something at that stage ... I wanted to cease my contact with [Ryder] but I wanted to do it in a way that would not make him angry or upset ... I felt it was best to play along with him for the time being and then gradually cease contact," says Asha.
"I was extremely vulnerable so soon after my separation from Bharat ... I was really worried about the future.
"I'm not trying to excuse my behaviour, but explain how I ended up in this mess."
Two days after her last conversation with Daniel Ryder - despite saying she didn't want her estranged husband harmed - Asha's world came crashing down.
"Hit put on cop, wife charged" was the front-page headline after her arrest and, worse, she lost custody of her daughter.
With her personal life in tatters, a conviction could have also spelled professional ruin for the experienced pharmacist.
But just three months later, the police quietly withdrew the charge at the North Shore District Court because of a lack of evidence.
Most people would be glad the stress of a criminal case was over, especially as her identity was permanently suppressed [a court order which she later successfully revoked].
But Asha was angry.
"This has ruined my life and I never should have been charged," she says.
Her complaint to the Independent Police Conduct Authority was dismissed, as it could find no negligence or misconduct, as was her application to a District Court judge for the police to pay her legal bill.
In the judgment to decline awarding costs, Judge Pippa Sinclair said it was unsurprising the police took the matter seriously and she did not detect any bad faith on their behalf. While not admitting culpability, Judge Sinclair said Asha Dahya did acknowledge some "ill-advised actions".
"The allegation was not without merit - it did have some substance," said the judge.
Case closed, it would seem.
Except Asha Dahya received some support from an unlikely source.
Bharat Dahya had resumed a relationship with an ex-girlfriend while Asha was being monitored by police.
When alerted by the supposed "hitman" threat, Bharat Dahya told Operation Haze investigators he was "in fear of my own personal safety" and that of his elderly father, who lived with him, and his daughter with Asha.
But according to claims made by his girlfriend, a barrister in London who asked to remain anonymous, Bharat was not concerned.
"He assured me Asha was not a risk to anyone, especially [their daughter]," the woman wrote in an email to Asha's lawyer Ian Tucker.
The email carried specific details of the police investigation, including how one of the monitored phone conversations with Ryder was not recorded and Asha had cancelled the meeting.
This correspondence and an affidavit from the woman was forwarded by Asha to the division of police which handles staff complaints.
Inspector Ben Offner replied to say: "We agreed that whilst there were some concerning aspects to this, it was not one where we the police, as employers, could or should be involved. There were no breaches of the code of conduct."
Bharat Dahya did not return messages from the Weekend Herald. However, in a signed statement opposing his wife's application to have name suppression lifted, Bharat said he was a 24-year veteran of law enforcement who had "maintained my integrity throughout and have an unblemished record to date".
He was "shocked and alarmed" when police told him of the alleged threat.
"It caused me considerable stress, anxiety and the difficulty it presented in resolving our separation."
Bharat said he knew Asha believed she had been "set up", but that he had no influence on the investigation.
"Occasionally I still feel disturbed by the matter and the bad taste it has left for our daughter's future."
It's left a bad taste in Asha's mouth too. Although the bizarre events of the past two years seem a soap opera, it has been all too real for her. The trauma of the criminal case has slowly subsided and she is back working as a pharmacist. Most importantly, she's regained joint custody of their daughter.
"But it is going to take me a long time to recover."