Local Maori politicians were disappointed by the pounamu creation which came under fire nationwide on social media yesterday.
The Kiwi Az Bro Facebook page has posted images of a large pounamu engraved with the Mongrel Mob logo for someone in the Hawke's Bay chapter of the gang.
The jade and hard stone work has generated a fierce debate.
Hastings councillor Henare O'Keefe said a pounamu was seen as mana and taonga and he personally felt that taonga had been trampled on.
"Everyone will have different opinions but for me a pounamu is sacred for Maori and is all about man kind living for love, unity and family. If you look at the Mongrel Mob kaupapa there's a conflict right there."
Though Mr O'Keefe said at the end of the day it was up to the bearer of the taonga what they decided to do with it.
"Whoever wears it will bear what comes their way whether it is good or bad. It has opened up a debate and rightly so."
Ikaroa-Rāwhiti MP Meka Whaitiri agreed with Mr O'Keefe and said people don't normally carve on a pounamu unless it was like a tiki.
"It is sacred to the people and we wear it with pride as it is a reflection of our ancestors and is a live part of our identity. The logo is not my cup of tea and it just makes me wonder where do we stop."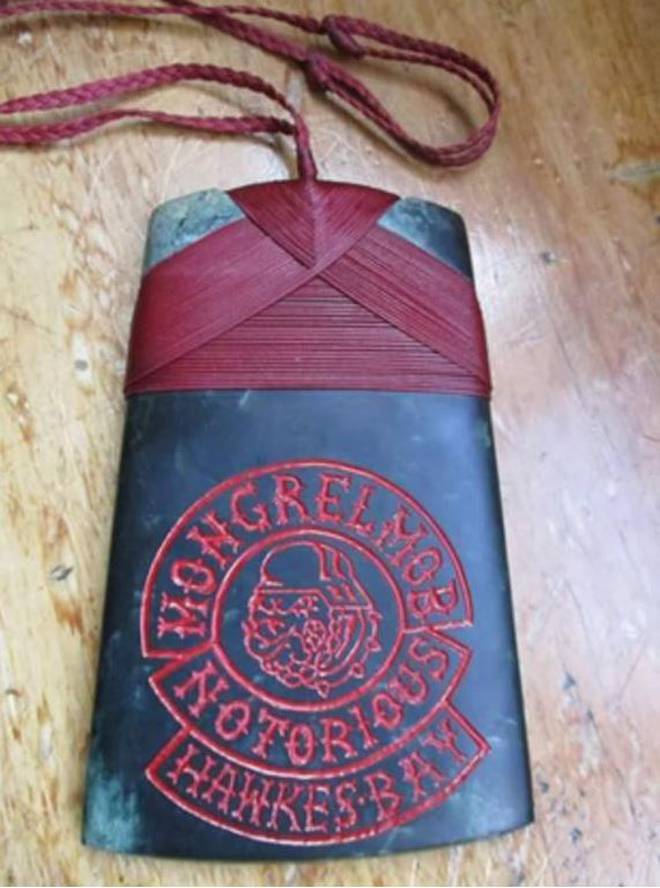 Like Mr O'Keefe, although she didn't like it, she said whoever was in possession of the pounamu and decided to do it was entitled to freedom of expression.
"We can't stop them doing it but I can think of better symbols like the tiki."
Online Facebook users also voiced their opinions and one page member, John Whatarau, believed the pounamu was no longer tapu.
"I don't think it's tapu, I think it's hideous and makes a beautiful taonga look ugly. My Mrs said there's whakapapa or genealogy in every stone so this guy has degraded the whakapapa of this stone."
Shirley King voiced her concern that the pounamu was disrespectful to ancestors, writing "Whoever this was made for, your tupuna will be turning in their graves. I've never come across something so sacred to be used in such a disrespectful way. You should be ashamed of yourselves for even thinking of putting your gang shit on our taonga..."
Another Facebook user, Tess Claris, wrote: "For me this is yuck because it's attaching a gang to your maoritanga. These gangs are not positive and I guarantee you that your tupuna who passed it to you would not be proud that you linked their proud ancestry to this foulness. However clever the carver is to get the detail, what it represents is yuck and ugly."
Along the comments claiming the insignia on the pounamu was disrespectful, others were of the opinion that the pounamu was a taonga to be proud of.
"Honestly I think this is beautiful. Whoever's put the time into creating this is an artist," Tatiana Grace wrote "But at the end of the day you have rights to carve whatever you want into your own Taonga"
"If I did this with my moko's name would it be disrespectful?" Tara Barber asked. "If not why not? It's the same kaupapa isn't it? Someone put something they love on their pounamu and carry it with pride which is the same principle if I did one with my mokos name."
The debate continues on the post, which has been shared more than 580 times.