Thousands have turned out for the Round the Bays fun run in Auckland today.
The 45th running of the event took place along the city's waterfront, beginning at Quay St in Auckland's CBD, continuing along the Waitemata harbour and then finishing at St Heliers Bay.
The 8.4km course usually attracts upwards of 30,000 runners and walkers, and its huge popularity was evidenced today as scores of people hit the pavement.
Runners take part as individuals or as members of teams, and some keen punters even get dressed up.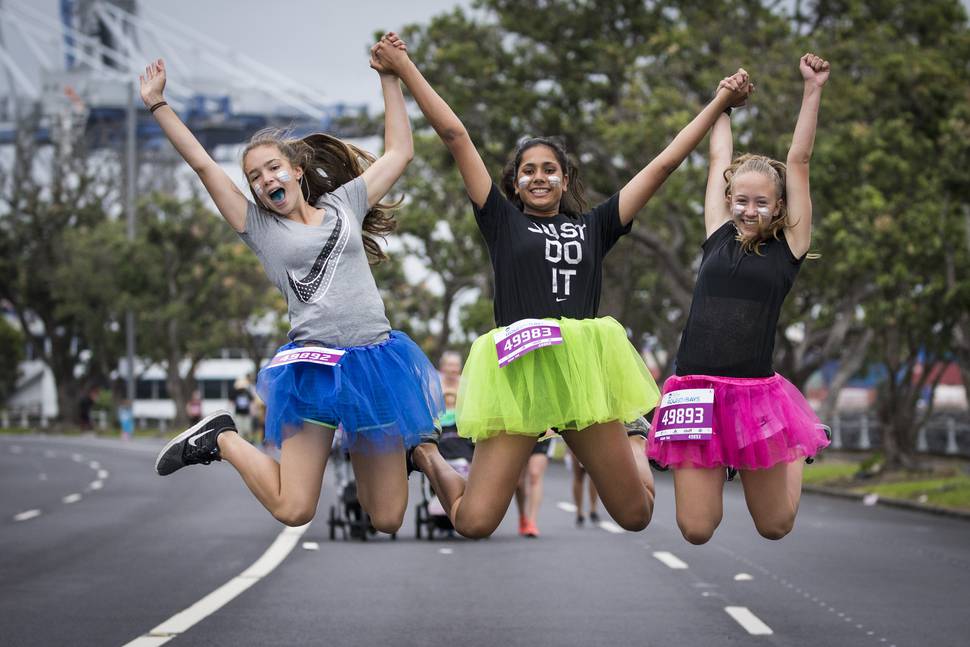 Botany Downs Secondary College students Isabella Dobson, Mehak Kaur and Jarnah Turner, all 14, wore brightly-coloured tutus as they made their way along the route.
Entrants of all ages are able to take part, with parents of very young children pushing prams along the course.
For 4-year-old Kirsten Grey, part of the run was made a little bit easier thanks to her dad Luther.
She managed to nab a ride on her dad's shoulders, a position that would've been the envy of many runners who were battling to make it to the finish line.
Johnathan Jackson finished the race with the quickest time, clocking in at 26 minutes and five seconds, ahead of Nick Rennie in 26.28 and Greg Darbyshire's 26.49.
Juliette Foley was the fastest woman across the course, finishing in 31 minutes and 33 seconds, ahead of Isabella Richardson in 31.39 and Danielle Ingram-Trevis in 32.14.