Basil Lloydd hauled himself into the driver's seat of his burning campervan and drove it out of harm's way of other campers while his legs were on fire.
The 65-year-old reluctant hero is recovering in hospital with 40 per cent burns to his body.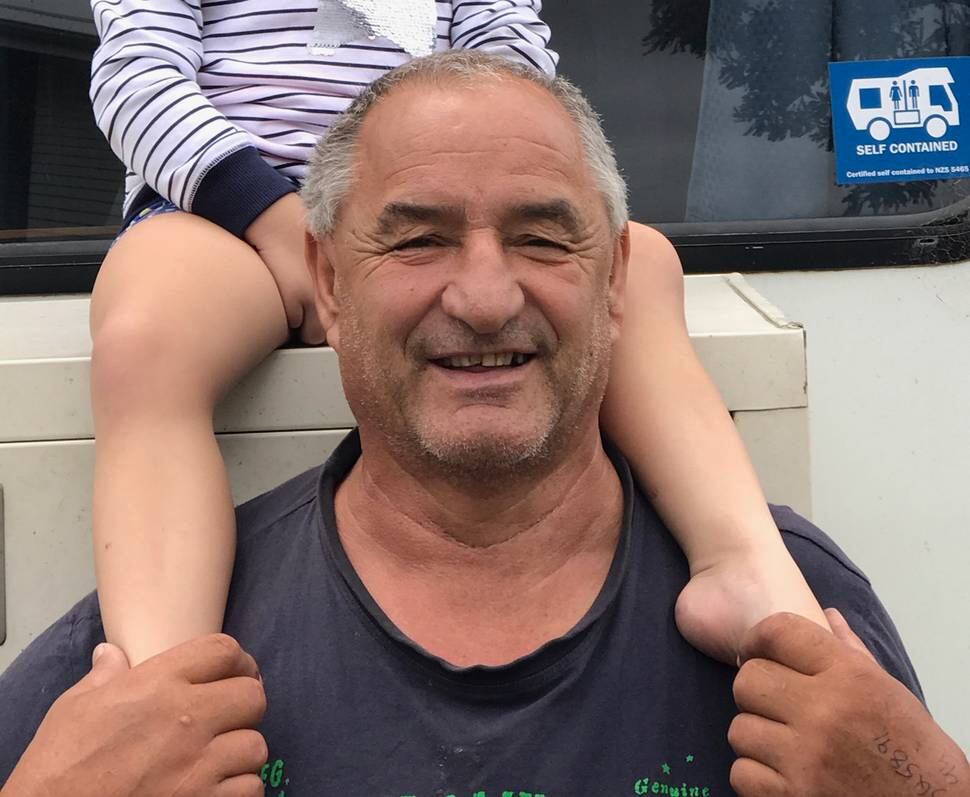 Lloydd was at the National Equestrian Centre in Taupo in the campervan he lives in last weekend.
The great-grandfather had recently had a bigger freezer fitted on Saturday but didn't tie off the gas lines properly.
Speaking from his bed at Waikato Hospital, Lloydd told the Herald he was the only one to blame.
"In my stupidity when I reconnected the gas hose I never sealed it off. I had the bottle turned off, but I never sealed it off or took the bottle out of the motorhome."
He turned the gas on to cook and gas started flowing into the campervan, but he did not notice as his daughter said he had lost his sense of smell six years ago when part of his skull was removed after suffering a subdural haematoma.
He had already cooked one side of his steak and went to flip it when he heard a loud bang.
"All of a sudden there was an almighty explosion. I can't remember what I saw. All I felt was myself being thrown back against the wall towards the shower actually. And I just realised straight away 'oh crikey something has gone wrong here because of the big explosion. Because of the fire'."
The mattress in the vehicle caught fire and he managed to pull it out so it wouldn't catch fire.
He and a couple of other people nearby grabbed a couple of fire extinguishers and unsuccessfully tried to put the fire out.
Lloyd said all he could think about was that he needed to move the flaming vehicle away to an open space. So with his arms and legs still on fire, he managed to jump into the campervan which had flames coming out the back and drive it about 100m.
So I hopped in my motorhome and started it up and drove down with all the flames shooting out of it ... The back-end was still on fire and I knew where I was driving it to was short cut grass and the grass couldn't catch fire."
Once he parked it up, he saw a garden hose and hosed his own burning legs down as he dragged the hose about 15m back to the van.
Another person grabbed the hose off him and helped put the fire out on the campervan and once it was out turned it on Lloyd.
"I could feel it. It was quite warm."
Fire and St John arrived and he was bundled into a cold shower of a nearby cottage for 30 minutes.
Lloydd said he was still in pain. "I try to make out that I'm not, but yes."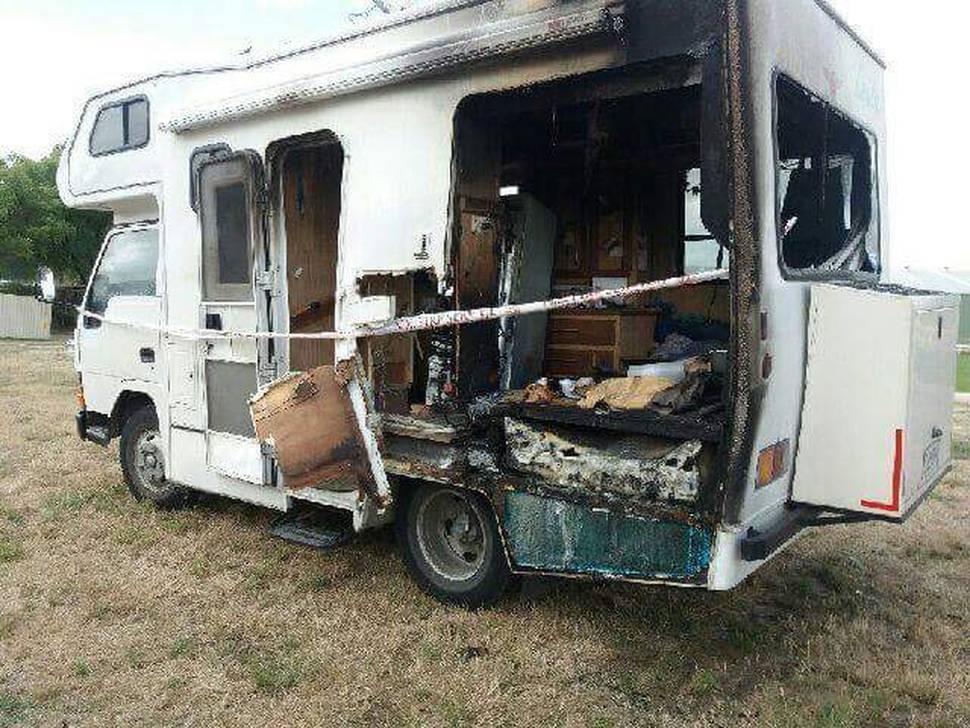 His daughter Michelle Lloyd said her father was selfless.
"He didn't even know that he was burnt, it was just him acting quickly and it felt like a natural reaction for him. He just wanted to get it out, away from the area.
"He doesn't know what he was thinking, it was all just heat of the moment," Michelle Lloydd said.
She said her father had a knack of overcoming obstacles after surviving brain surgery after suffering a subdural haematoma about six years ago.
"He's badly burnt but no one is surprised that he is able to walk away from this ... just those old-school men who don't think about themselves first. It's just the type of person that he is.
"Growing up he was always an invincible man and after that subdural haematoma, he shouldn't have been around after that, and with this event here ... he just has this will to survive and carry on despite all the bad things that have happened to him. But no, we're not surprised that this has happened to him."
Lloydd suffered 40 per cent of burns to his body and was having grafting surgery on Wednesday. He would remain in hospital for at least five days after the surgery and then planned to stay with friends in Whanganui for a few weeks.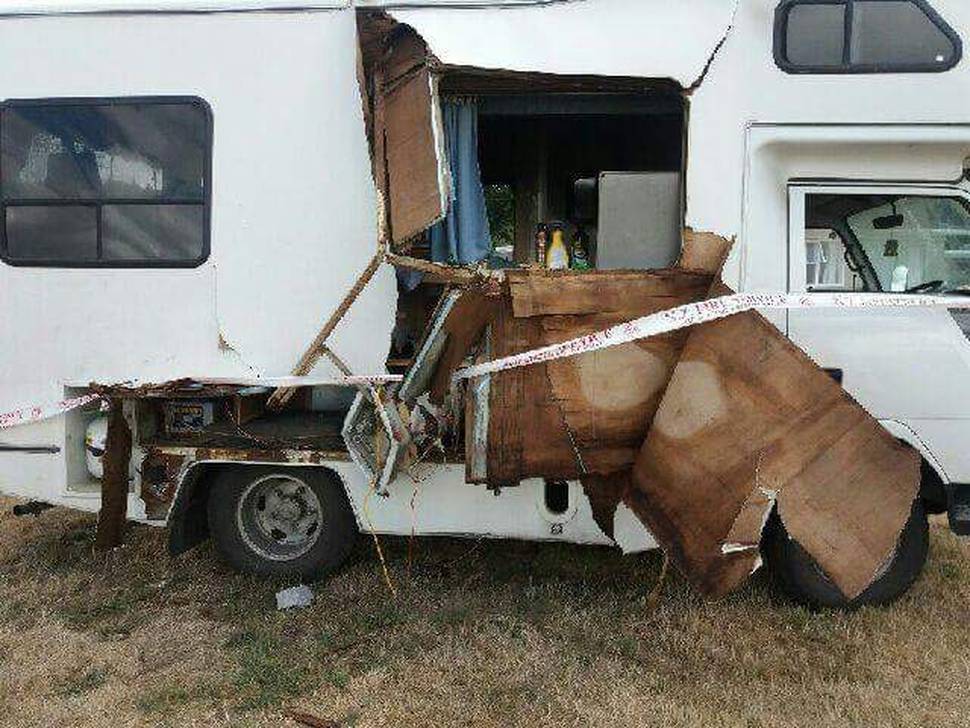 The campervan had created a new lease of life for her father, who had become bitter and cynical with the world after the death of his beloved wife, Annie, in 2008, his daughter said.
He sold the family home in Taupo in August last year and bought the campervan, carrying out a life-long wish that he and his wife had had of touring around the countryside.
"Him and mum had always talked about buying a campervan and just travelling around NZ in retirement. He turned 65 last year so he thought it was time to start getting out there and enjoying his life, and just uprooted himself from Taupo and bought the caravan.
Lloydd didn't have full insurance cover for the campervan and had given some of his friends a some money towards deposits for their homes when he sold the house, so said money was a bit tight.
But he was determined to get a new motorhome and said this time it would be fitted with a gas detector fitted to the vehicle's battery.
His family have set-up a Givealittle page and any donations to help get him back on the road again.
Already he has been overwhelmed by the support and offers including a someone in Foxton who had offered to look at seeing whether his old motorhome could be restored.
He said it didn't have to be flash as his last van was a 1995 model.
"In the time I've had it, it's been quite exciting ... I've met a lot of interesting people."
When asked whether his four kids were supportive, he laughed and said: "They have no say in the matter. I'm doing it."