The Port Hills fire is now under control, Fire Incident Controller Richard McNamara says.
The deadly 2075 hectare blaze destroyed 11 homes and caused thousands to evacuate their homes after they began as two separate wildfires six days ago. War hero helicopter pilot Steve Askin also died when his Squirrel crashed while battling the fires.
In an update on the Christchurch City Council website at 9.30pm, McNamara said the fire was under control, but the danger was not over.
There was still a high risk of flare-ups and forecast weather conditions may present challenges, he said.
"We've got the fire under control, but we've yet to get a full stranglehold on it. There's still a lot of heat in the fire, and a 30-kilometre perimeter to manage."
More heavy machinery work was planned on containment lines around the fire perimeter and more retardant drops were needed.
"That will give us a secure fence between the fire and residential property. We need to finish it off now. Having control lines in place is vital."
The weather was on firefighters side today, with a nor-easterly and cool temperatures.
But both the steep slopes and the week's forecast would present challenges, he said.
A cool few days will be replaced with highs of 25C, 27C and 28C from Tuesday to Thursday.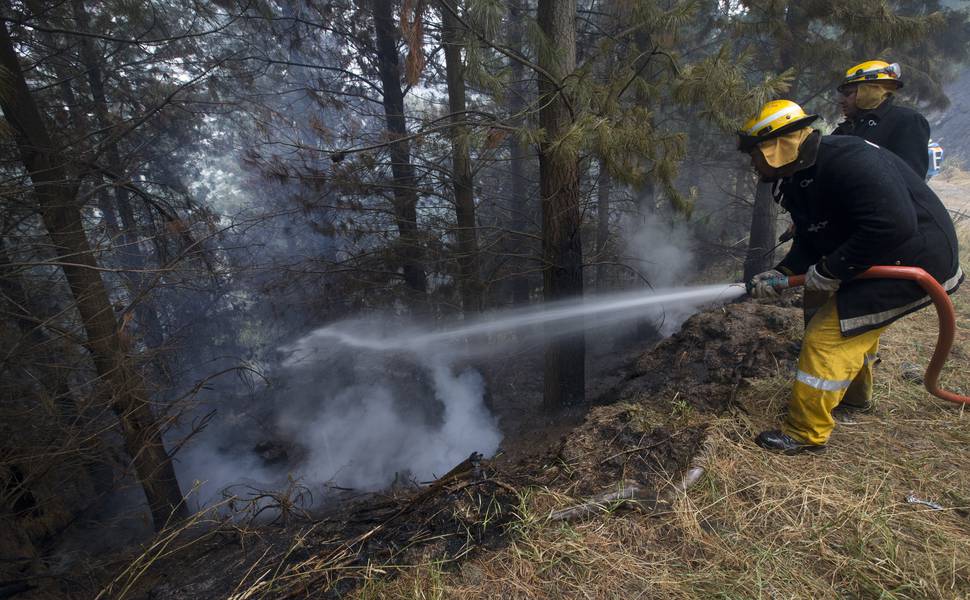 "We've got some very steep slopes, and fire intensity doubles for every 10 degrees of slope - we're looking at 30 degree slopes, which means the fires are six times the intensity they would be on the flat."
The fire would be monitored for at least another week, with 100 t0 150 firefighters working this week.
Ten to 12 aircraft, as well as diggers, bulldozers and tankers, would also be on the job.
"We could get flare ups in areas like Dyers Pass, where there are forestry areas nearby that could fuel a fire. We're paying particular attention to that area."
Cloud cover prevented fixed-wing aircraft working this morning and after mid-afternoon.
National Rural Fire Authority manager Tim Mitchell said thermal imaging was showing hotspots of 300C to 400
Information from the cameras was used to bolster containment lines, he said.
Fire Regional manager Steve Turek said protecting houses was a priority and they had plenty of resources, including crews from as far south as Invercargill and as far north as Palmerston North able to respond.
"The guys are very weary, but they've got a great spirit - they're feeling like we're over the hump. But we all know we cannot be complacent, especially with the weather we've got predicted."
Lead pilot and New Zealand Agricultural Aviation Association chairman Alan Beck praised those in the air, who were battling severe downdrafts.
"This is one of the most dangerous fires I've worked on in my 45 years of flying."
Pilots hoped to get to Askin's funeral tomorrow, Beck said.

"We'll try to get to it, but we know his family will understand if we're needed on the job."
Rural Fire Liaison Officer Darrin Woods said the risk of vegetation igniting would be reassessed tomorrow morning.
"At this stage, it's unlikely that further restricted access will be allowed beyond the cordons on Kennedys Bush Road, Hoon Hay Valley Road, and Worsleys Road on Monday."
"This is due to the identification of areas of significant residual heat on uncontained fire edges in these locations."