A Māori-themed online gambling game has been withdrawn by its Czech creators after protests that it breached Māori intellectual property.
The game, released in December and called simply Maori, was described by Czech-based developers Endorphina as "celebrating the traditional inhabitants of the [sic] New Zealand".
"This interesting ethnic group inspired the creative team and the result is visually mastered slot that features full 3D modelled characters in HD that allows great immersion into the game and the culture of the people," the company announced in Casino News Today on December 29.
But this week it withdrew the game and apologised to public health agency Hāpai Te Hauora, which complained about it last month.
Hāpai has now offered to "support the company to develop cultural awareness policies".
"It's a great result for little old New Zealand," said Hāpai chief executive Lance Norman.
"Vodafone wouldn't allow their logo to be on a gambling game, neither would Apple, neither would Coca-Cola. Intellectual branding at a different level makes no difference."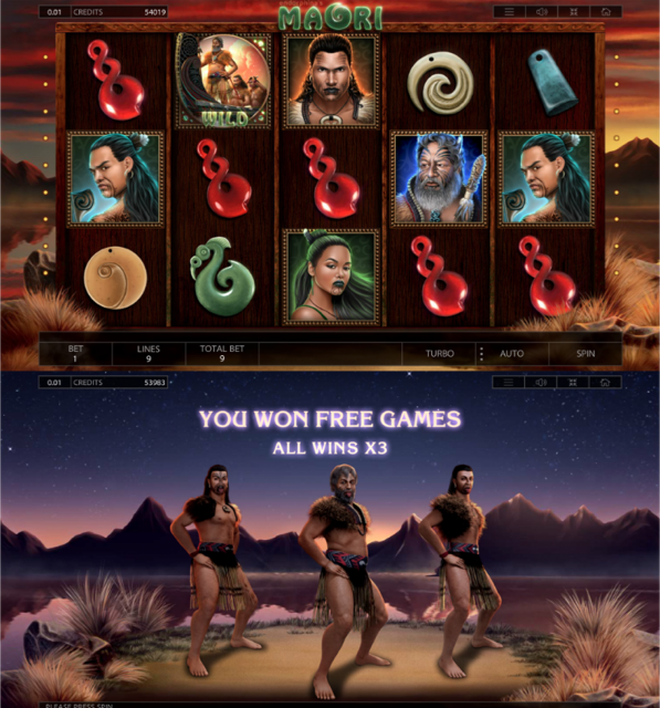 The game was free to download, but part-way into it players were asked to pay real money to play at the next level.
"You start getting addicted to it, then they say you have to pay to keep playing," Norman said.
"They were using pounamu symbols which are the intellectual property of Ngāi Tahu. They were using Māori warriors. And when you won, if you got three or four in a row, it would actually come up into a Māori haka which is the intellectual property of Ngāti Toa."
Hāpai's lawyers Simpson Grierson wrote to Endorphina asking them to remove the game because of the intellectual property breaches.
Endorphina director Erlene May Rodriguez provided specific apologies to Ngāti Toa Rangatira for use of the Ka Mate haka, and to Ngāi Tahu for use of the pounamu.
"It wasn't our intention to insult or be offensive to you or any of Maoris or to New Zealanders," Rodriguez wrote. "Also it wasn't our intention to gain some additional benefits from use of Maori cultural icons."