Shelley Crooks has broken her silence on her miracle, six-week survival in the rugged West Coast bush - revealing she kept herself alive by eating bugs and plants for almost a month.
In the only interview Crooks said she would do on her horrendous ordeal, the 36-year-old mother-of-four has detailed a jaw-dropping account of grit and resourcefulness in her bid to stay alive.
Injured and unable to walk after a tramping trip gone horribly wrong, Crooks was without food, shelter, medical supplies, phone or radio communication and lost in dense bush for six weeks. Her situation was as desperate as it gets and getting bleaker by the hour.
But through sheer determination, she battled on until a stroke of luck saw another tramper cross her path - a figure a disoriented Crooks mistook for an angel.
With only tinned beans among a meagre batch of supplies - intended for only four days - Crooks managed to ration what little food she had over two weeks.
The key to her survival was figuring out how to avoid starving for another four weeks. Remarkably, she managed it by eating the forest floor.
"My pack had three tins of baked beans with sausages, three packets of dried noodles, a small tin of condensed milk and 10 sachets of soup. It lasted about two weeks. I then had to survive off bugs and plants," Crooks told the Weekend Herald.
"I was immobilised for weeks after I'd run out of food and done damage to my legs.
"In that four-week period, I lived on just plants and bugs."
Crooks said her situation was caused by a change in weather and not letting friends know she'd changed her plans. She said it saw her endure "the biggest mistake of my life."
Apologetic and thankful to everyone who took part in a major search and rescue mission, Crooks said the experience has been "a lesson I will never forget" as she explained how she ended up missing.
"I decided to complete the Punakaiki track before Christmas hoping to get to Mount Bovis. I was allowing two days in and two days out," she said.
"I was dropped off by close friends and made an arrangement with them to contact them once I had completed the trek. I had also discussed completing it and possibly heading back north.
"Once dropped off, I walked two-and-a-half hours in and set up my camp for the night. I was approached by a conservation worker who informed me that the weather forecast was for heavy rain and river flooding.
"I decided to leave my tent set-up and walked back out to the Punakaiki Camping Ground where I booked in for the night. I woke up early morning to a clearer day. I left the camping ground and walked back to the Punakaiki trek.
"I went for a few days and realised I was going in a circle. It was then I had to endure the biggest mistake of my life. My mistake was I should have let my friends know that I had come out and was going back in.
"I apologise to everyone for the problems I have caused for all concerned. This will be a lesson I will never forget."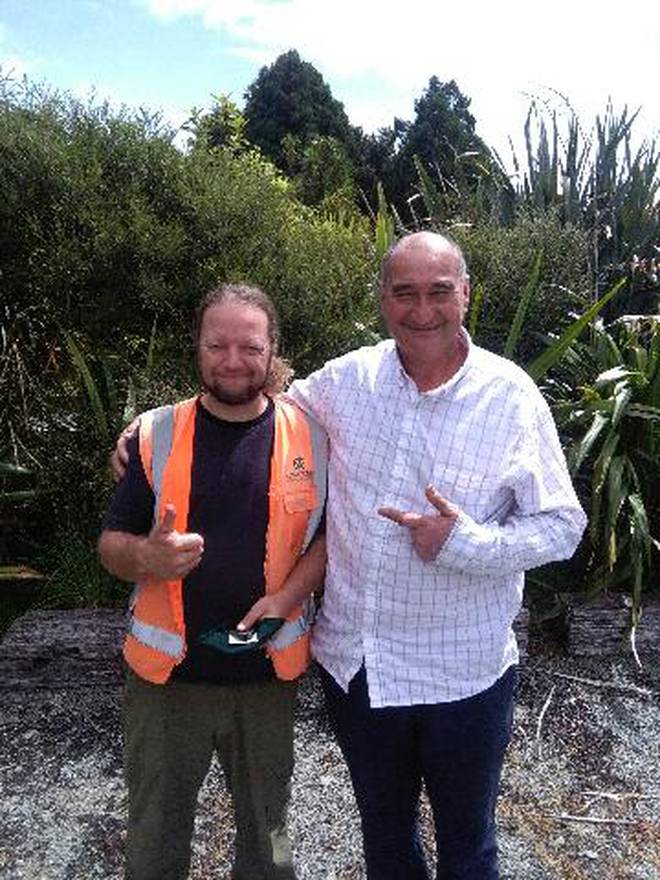 In a statement issued to the Herald, the Crooks family wanted to acknowledge the help of a number of groups, including Greymouth police, Victim Support, rescue helicopter workers, doctors, nurses, other West Coast District Health Board staff, family friends and members of the public.
The family also said having endured a "life-changing experience that could only be described as a test of faith and strength" they want to publicly acknowledge some individuals.
Top of that list is Alex Morley, the conservation volunteer who came to Shelley's rescue.
In a heartfelt bid to show their appreciation for "answering our prayers" the Crooks family met with the Englishman this week. Presenting him with a pounamu, they headed out with Morley to the riverbank where he found Shelley.
"The meeting for us can only be described as emotional," the family statement said.
"Thanks to what Shelley described as what she thought was an angel. Alex is the man who saved her life.
"A special thanks to nurse Dianne Pollard from the intensive care unit for allowing Shelley uninterrupted recovery in these vital days of repair and rehydration.
"Shelley has once again expressed her aroha to all concerned and looks forward to the road to recovery. She has a special thanks to her mum Helen Fry for being by her side and supporting her through this time.
"We as a whanau would like to have time to allow us to come to terms with all that has happened and allow us privacy. Not only to heal Shelley, but ourselves as well."