The lantern festival is the most popular Chinese New Year event back in her home country, Taiwan. Parnell District School teacher Stephanie Lin is happy that, even though the festival is celebrated differently, it has become the same in Auckland.
The Lantern Festival traditionally marks the end of Chinese New Year festivities and is celebrated on the 15th day of the first Chinese lunar month. This year it falls on Saturday.
The 18th annual Auckland Lantern Festival, celebrating the Year of the Rooster, will be hosted for the second time from tomorrow until Sunday at the Auckland Domain, since moving from Albert Park.
"There is just something magical about the lights in lanterns, and it is a great way for people to experience a bit of our traditional Chinese culture," Lin says.
"Chinese New Year is all about family, but it is fantastic that the lantern festival turns it into a public celebration."
On the day of the lantern festival, or Yuan Xiao, thousands of people would write their wishes on sky lanterns and release them in the night sky.
They would watch them float in the air and bring their hopes and wishes for the new year to the gods, Lin said.
Rules in Auckland prevented the Taiwanese community from doing the same here, but Lin has found a way to continue sharing the tradition at the Taiwan Hwa Hsia Society headquarters in Otahuhu.
"The fire hazard concerns means we need to tie a string when we fly one," she said.
Sky lanterns date back to the Three Kingdoms period (AD 220-265), Lin said - and were initially used as a means to transmit military information.
It was introduced to Taiwan in the early 19th century where people would write their wishes and release these lanterns as a prayer for the coming year.
"Many of my students get excited when I get them involved in writing their wishes and lighting the lanterns," Lin said.
"Lanterns, in all forms, always fascinate people, and so I feel it is a good tool that can be used to share our culture."
The domain will be lit up from tomorrow with approximately 800 lanterns in the form of roosters, dragons, dinosaurs, polar bears, as well as more traditional Chinese designs.
The Auckland Lantern Festival will also feature lion and dragon dances, acrobatic and martial arts demonstrations, food and craft stalls, and a fireworks finale.
Lin's traditional Chinese dance and drumming troupe, Macang, have been performing at the festival for the last 15 years.
They will be back this year, and it will be 10-year-old student Reign Kamuhemu's first time performing with the group at the event.
"It is a really, really big event and I am really excited," said the Parnell District School student.
Since she joined the group with her sister nearly two years ago, Kamuhemu said she had learned a lot about Chinese culture and Chinese New Year celebrations.
The lantern festival is Auckland's and New Zealand's biggest Chinese cultural festival, drawing more than 200,000 attendees last year.
The new Night Noodle Markets - known for their range of Asian cuisine and the hawker-style atmosphere akin to the back streets of Singapore and Hong Kong - will offer festivalgoers even more food choices this year.
A new layout, including smaller and more intimate performance spaces and additional areas for stalls and workshops, promises to provide "a better overall experience".
"The 2017 layout will mean the crowds will have more space to spread out, and there will be better movement and flow throughout the festival," said Charmaine Ngarimu, Auckland Tourism, Events and Economic Development (Ateed) head of major events.
"They will complement the lantern-viewing experience."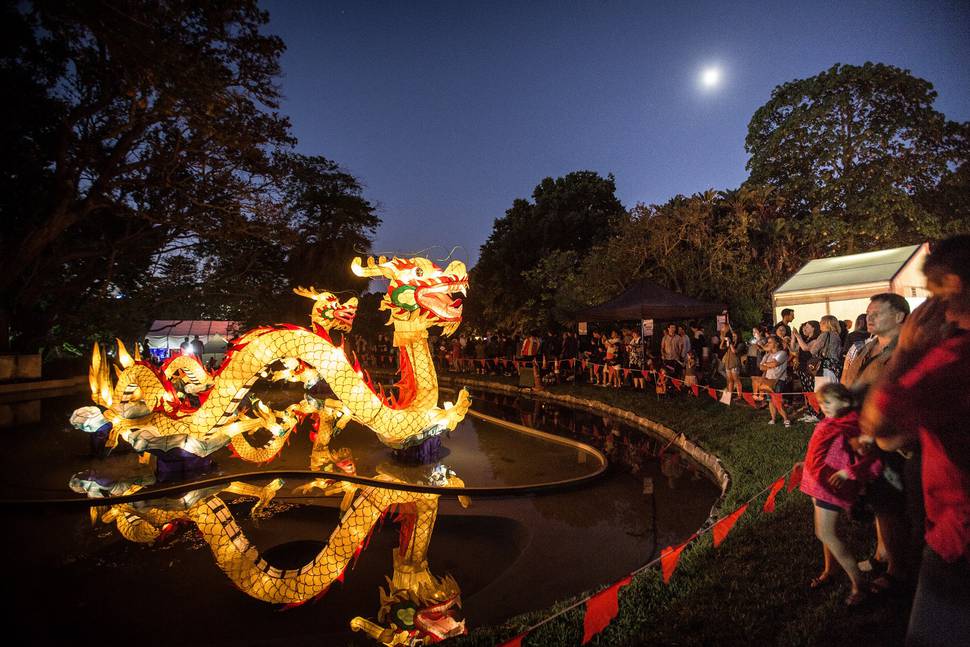 Auckland Council Environment and Community Committee Chair Penny Hulse said the festival helped deliver social and economic benefits, as well as added to Auckland's cultural vibrancy.
"It is great to see the Auckland Lantern Festival continue to evolve and improve the experience for the thousands of Aucklanders and visitors," Hulse said.
Another first at this year's festival will be a business forum exploring bilateral investment opportunities with China.
The ASB Lantern Forum will be held tomorrow and aims to connect around 200 Chinese delegates, political leaders, migrants and business people.
"China is Auckland's second-largest export market and there is huge potential for further growth," said Ateed general manager business, innovation and skills Patrick McVeigh.
"The forum will look to determine how to convert that potential into real economic gain with discussions around current economic ties, investment, Government policy and future trading opportunities."
Tomorrow evening is the lantern appreciation evening and opening ceremony, when lanterns are lit for viewing but there are no performances or stalls operating except for the Night Noodle Markets.
Stage performance highlights include Chinese rock performances, extreme tea pouring and Mongolian folk music.
International acts Askar Grey Wolf, the Nair Ensemble and the Shanghai Shanwu Group will perform from Friday to Sunday.
Founded in China's Xinjiang province, rock band Askar Grey Wolf fuses modern rock with a mix of Han Chinese and Xinjiang elements, creating a unique sound that had seen them being likened to "Asia's Pink Floyd".
Nair Ensemble, from Mongolia, will perform traditional Mongolian folk music with a modern twist.
The Shanghai Shangwu Group, a martial arts performance troupe that had performed at the opening and closing ceremonies of the Beijing Olympic Games, will perform a water pipe dance, kung fu sleeve dance and a bubble magic show.
A freestyle tea pourer, who pours tea from brass pots with metre-long sprouts, will also join the group's performances.
Roaming the festival grounds throughout the event will be musicians and stilt walkers, with martial arts demonstrations taking place in a new, expanded martial-arts area.
Simon Draper, Asia New Zealand Foundation executive director, said the festival was a "fantastic opportunity" to learn more about Chinese traditions and contemporary culture.
A special guided tour for the blind and low-vision people is also being offered tomorrow evening.
Using discreet headsets with single earpiece headphones, the free audio-described tour will be delivered by a professional audio describer.
"The festival is a huge and popular event in Auckland," said audio describer Nicola Owen.
"The audio description commentary enables visitors who are blind or have low vision to appreciate the lanterns and learn about the festival."
Peter Low, founder of Epacs Lion and Dragon Dance Troupe, said the festival was the highlight of the group's annual calendar.
"We perform our lion and dragon dances at all sorts of events, but nothing can quite compare with the lantern festival," Low said.
"This is where we get the biggest audience, and where our boys and girls feel most proud to perform."
AUCKLAND LANTERN FESTIVAL
• Auckland Domain, tomorrow till Sunday, 12 Feb
• ASB Lantern Forum tomorrow to focus on trade and investment between China and NZ
• New to festival - Night Noodle Markets
• Best of traditional and contemporary Chinese culture, including lanterns, live music, performances, food and fireworks
• Marks the close of Chinese New Year festivities
WHAT'S HAPPENING
• ASB Lantern Forum: tomorrow, Auckland Museum
• Lantern Appreciation Evening: tomorrow from 4pm
• Audio-described Tour: tomorrow, 5.45pm. To register email audiodescribedaotearoa@gmail.com or 021 035 8513
• Night Noodle Markets: tomorrow to Sunday, Kari St Commons
• Lanterns, stalls and performances: Friday to Sunday
• Fireworks Finale: Sunday, 10pm