Warning: graphic content
A retired champion greyhound is recovering after a frightening attack by another dog, which has left his uninsured owners facing thousands of dollars worth of vet bills.
Lincoln Lane was walking 9-year-old Sammy, formerly known by his race name, Sergio, at Drury's off-leash Slippery Creek Reserve on Wednesday last week when the pair came upon a large black dog.
A man had the dog on a lead, but it broke free and "launched" at Sammy.
The attack on Sammy, the 2011 Greyhound of the Year and 2016 Sire of the Year, was terrifying, Lane said.
"It was big and strong and the owner couldn't control it. Sam ended up on his back, screaming for his life."
The two men battled to separate the dogs, and although the other man asked if Sammy was okey, the pair did not exchange details as the man was still struggling to keep his dog under control.
Lane then carried Sammy, who weighs 36kg, the 20 minute walk to the reserve's car park.
Sammy suffered bite marks to his chest and belly, and underwent surgery amid fears his intestines had been punctured. That had not occurred, but swelling and infections left him at times struggling for survival until he recovered enough to be discharged yesterday.
Sammy was now in the care of his former owner, top greyhound owner Gary Harding, but was likely to return to the Drury home of Lane and his wife, Natalie, this week.
The couple adopted Sammy 18 months ago and were unable to secure pet insurance for him because of his age, Natalie Lane said.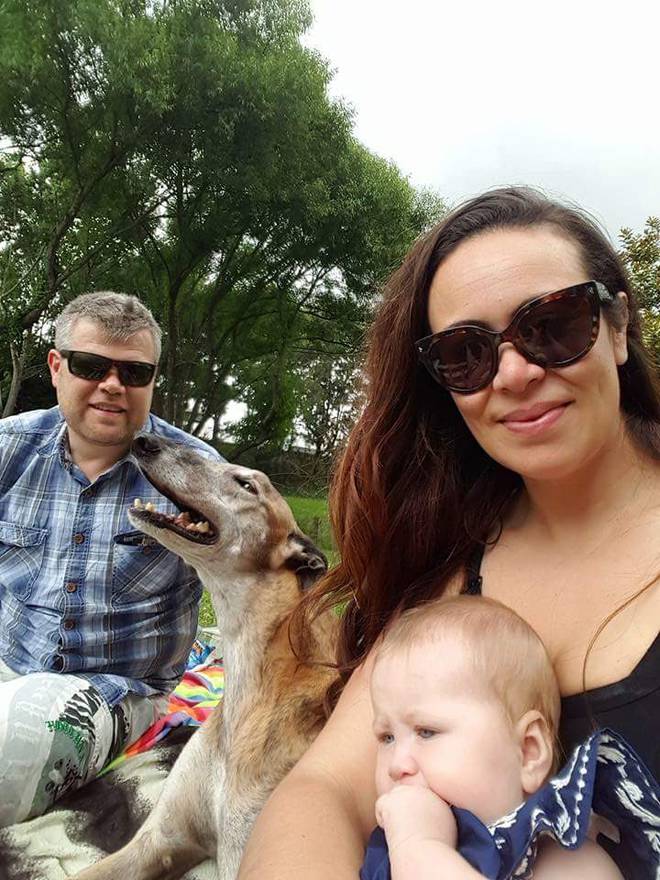 They were unsure how much his vet bills would be - but there had never been any question that he would be given every chance to survive.
"We stopped counting at $6000. But, he's our family member, it was not an option not to do anything. We thought if he's going to die, we don't want it to be this way. We want him to die of old age with his head on a soft pillow."
Sammy had a beautiful nature and was loved by everybody who met him, she said.
But they were still overwhelmed by the support given through a Give a Little page set up by a friend.
It had raised almost $5000 by 5.30pm today and the couple had already decided any surplus funds would be donated equally to support groups Greyhounds as Pets and The Greyhound Collective, Natalie Lane said.
"We've been blown away by the generosity of people. These are all sorts of people, greyhound people ... some are people that don't even like dogs."